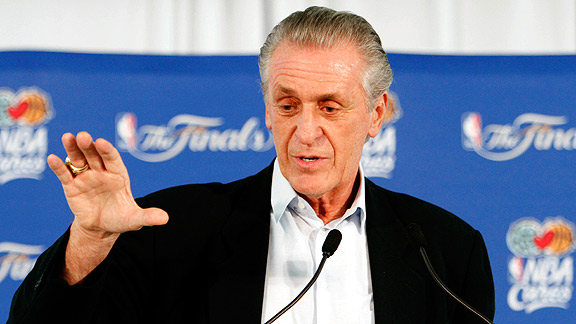 AP Photo/Alan Diaz
With the Heat's season officially over, the focus shifts to the organization's architect.
MIAMI -- Pat Riley, the patriarch of a Miami Heat team forced to pick up the pieces of a season shattered by the Dallas Mavericks over six games in the NBA Finals, is described as many things.
He's strategic and successful. Creative and cunning. Fearless and feared. Purposeful and passionate. Leader and legend.
But there are two things Riley clearly isn't in the aftermath of a season, whether it ends in a championship parade or a franchise-worst 15-67 debacle.
Those two things? Dumb and desperate.
So any notion that the Heat should even entertain dismissing coach Erik Spoelstra, trading LeBron James or diverting after one season from a plan that took three years to orchestrate should be described as two other things entering the offseason.
Those two things? Idiotic and asinine.
Riley would say the very same thing. It's in times like these when a man who has been around the NBA for nearly 40 years as a championship player, coach and executive often does his best work.
These are times when, after such a stunning meltdown in the Finals, the obstacles are adversity, doubt and, as Dwyane Wade described in his exit interview with the media, depression. And it's in times like these when Riley, who commands six figures for motivational speeches in the business sector, knows exactly how to keep the message as plain and simple as possible.
And Riley repeatedly has shown he possesses the two most important tools to combat turbulent times. One is big-picture perspective. The other is patience. So it came as no surprise when Riley, a man of relatively few public words this season, beat Spoelstra to the coaching offices after the Heat's season ended Sunday night and initially met him with quiet and calm instead of counterproductive criticism.
"Right after the game, I was walking mindlessly down the hall," Spoelstra said of the moments immediately after his team left the court following the Game 6 loss to the Mavericks. "You're not expecting it at that point and you're not thinking about anything. And the first person I saw when I opened up my office [was Riley]. It surprised me he was in there."
Riley runs the building. So, of course, he had the keys to his coach's office. But far more important, he had the ability to unlock the first stages of the recovery and rebuilding process. The secret was silence.
"We just sat there for a long time, even after I talked to the players," Spoelstra said of his time with Riley. "We just sat there, without saying a word. And [Monday] it was the same thing. I came in and we met informally for two or three hours. The first 20 minutes, we didn't say anything. Not a word was said. And again, he's been there. If you get here and you feel this, you can relate. There wasn't a whole lot that could be said initially."
As of Wednesday afternoon, Riley didn't have any plans to break his public silence and speak to the general media as the Heat wrap up Season 1 of the biggest project the franchise has ever undertaken. So the process of trying to figure out his mindset, mood and next set of moves requires the piecing together of his messages to the coaching staff and players, as well as revisiting some of his previous methods and missions amid moments such as these.
If I've got Riley pegged correctly after seeing his work through the years, the first step he's likely to take in fixing the Heat's problems is first realizing the team doesn't have much of a problem at all.
Sure, the Heat will search for ways to upgrade the roster at the point guard and center positions that have failed most of the season to provide consistent support for Wade, James and Chris Bosh. But Riley's hands are tied on that front until the looming lockout is resolved and what figures to be a more restrictive collective bargaining agreement is in place.
But for now, Riley's hope is that the Heat can learn a history lesson from some of his former teams. Among all the highs and lows Riley has experienced over the course of his Hall of Fame career, the 2010-11 Heat offered something he's never seen before with a team.
According to Spoelstra, Riley told the players in an emotional locker room that "in 50-something years he's been around the NBA, he's never been around a team that's been such a lightning rod," in terms of the level of scrutiny, criticism and emotion from the media, fans, league executives and former players.
The Heat brought a lot of that on themselves -- from the way James handled his decision to leave Cleveland, to the manner in which the team put on that over-the-top celebration to salute Miami's unprecedented free-agency signings.
At times, it was difficult for Riley to comprehend the additional burden under which this team played. I asked Wade during Tuesday's exit media session if, beneath all the other emotions and feelings the team had after the closeout loss to Dallas, there was a sense of relief.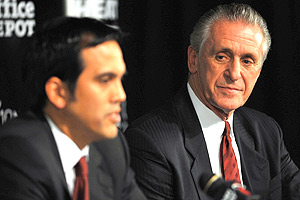 Doug Benc/Getty
Pat Riley was waiting in Erik Spoelstra's office after Game 6 to offer support.
The deep exhale and smile with which he initially responded seemed to agree with the line of questioning. But then his words just wouldn't allow him to go there.
"Not in sense of relief that it's over," Wade said. "It hasn't been many teams that experienced what we've experienced this year. The thing I think is more impressive than anything -- and I've only been in this league eight years [and] said this to LeBron the other day. Through everything that this team went through, no one got in trouble this year. No one was in headlines. I've been around; there have been things off the court that guys got in trouble for. No one showed up late to practice. We had a true, professional, hardworking team."
Despite the Heat's failure to win a championship, Wade said he'd remember this season not only for the way they came together last summer, but also for the way they stuck together through the season's storms.
"In a sense, [other than] coming short of winning a championship, this team was as perfect as we can be -- in terms of not getting wrapped up in anything outside of what our goal was," Wade said. "You get to the Finals, you're a pretty good team. You don't win, there's always adjustments. But we'll see over the summer what we have to get better at."
That's where Riley comes in. He already has told players and team officials that the biggest improvements must -- and will -- be made from within.
So what can be expected from Riles?
Expect him to give a commitment to owner Micky Arison that he'll remain on board to see this polarizing Big Three project through to at least their first championship together. There's no way Riley, who had hinted at retirement before he hit the free-agency jackpot last summer, can bolt right now.
Then, expect Riley to lock himself in a room with Spoelstra and break down every major decision from every key game this season -- from player rotations to schemes to motivational tactics. There was a reason Riley kept taking all those notes on the back of stat sheets from his seat during games. Spoelstra wasn't the problem this season. The problem was, despite his preparation and pleadings, Spoelstra couldn't get his players to come up with solutions in the Finals.
From there, expect Riley to demand that Bosh get heavier and that LeBron get lighter. The man is a conditioning freak and stickler to details when it comes to how a player should perform based on his age, body fat level and strength. James is an athletic freak, but Riley constantly strolls the halls in AmericanAirlines Arena prodding and playfully pinching players to check body fat. If he made a big deal of Wade's conditioning level a couple of years ago, he certainly won't bite his tongue with James. Riley would like to see LeBron add more to his offensive arsenal and be more explosive late in games.
At some point, also expect Riley to pull Wade aside and remind him that he needs to be the dominant force on and off the court. As talented and gifted as James is, it became obvious in the Finals that he ultimately is a player who needs to be led. No more of this No. 1 and No. 1A casting. This process, again, will come from the Riley vault. There was a time when he had to let those 1980s Lakers teams know that it was Magic's team and no longer Kareem's. That distinction also had to be made eventually with the Heat's 2006 championship team, when Wade was thrust, albeit reluctantly at the time, into a leadership role ahead of the more popular and sometimes petty Shaquille O'Neal.
And if nothing else, expect Riley to make sure this team, this franchise and these players draw much less attention to themselves this offseason after such a flashy, splashy summer of 2010. Riley knew immediately after that pep rally ended last July that it was, perhaps, a bit too much. He didn't need to be reminded privately by other league officials, although they took the liberties to do so anyway.
"We're going to take the next month, six weeks to go over the specifics on what we can do better," Spoelstra said of the Heat's deliberate offseason approach under Riley. "We don't want to make any knee-jerk evaluations right now, or corrections at this point."
There will be change, but the core is expected to remain.
"When you know you're coming back with some of the same guys, most of the same team, it definitely helps," James said of the painstaking process of an offseason improvement plan. "In order for us to compete again, we have to get better as individuals. I definitely have to get better for us to reach our goals. This isn't the end of the road for myself. This isn't the end of the road for the Miami Heat."
For Bosh, it's about looking forward.
"We didn't accomplish our goal, but we can use that as fuel moving on," Bosh said of the Heat, already established in some circles as the odds-on favorite to win a title next season. "We stood up to a lot of tests. This is what elite basketball is about. We're going to know what to expect moving on."
For Riley, progress never comes without first peeking in the past to find a path.
Spoelstra said that when he and Riley finally broke their reflective and supportive silence in the office suite the other day, Riley launched into a story about how this Heat team's journey in the Finals was similar to that of his 1984 Lakers team.
Just like Wade, Kareem had dealt with migraine headaches throughout the season and playoffs.
Just like the Heat, the Lakers were considered the younger, explosive and more talented team.
Just like Miami, Los Angeles cruised to a 2-1 series lead and seemed in control of the series.
Just like in this year's Finals, the 1984 series turned in Game 4 after a fight between Kevin McHale and Kurt Rambis.
Just like LeBron, Magic had some of his worst stretches of postseason play on the biggest stage, and at one point was dubbed "Tragic Magic" in the media.
And just like Dallas, Boston rallied to snatch the championship away.
"One of the stories he brought up was the '84 team, which he could relate to," Spoelstra said of Riley. "They went up 2-1, looked like they really had an opportunity to close out, in control against the Celtics. The infamous fight broke out and the series changed and they ended up losing. They had to sit with that pain for an entire offseason."
So will the Heat.
"The one thing we can always guarantee: We will do absolutely everything we think is necessary to put ourselves in position to compete for it again," Spoelstra said. "There won't be too long of a period where we feel sorry for ourselves. We can't hide from it. We'll get back to work, lace up the shoes and figure it out."
Spoelstra's words; Riley's plan.
Their silence spoke volumes in the season's initial aftermath.
But Riley has both the words and wisdom to get the Heat through this healing process.