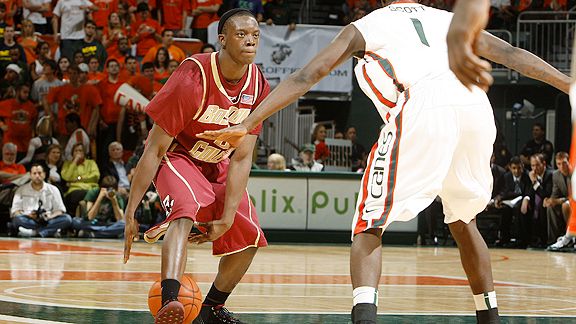 Joel Auerbach/Getty Images
Looking at the numbers, there's a lot to like about Boston College standout Reggie Jackson.
The Heat are reportedly targeting Boston College point guard Reggie Jackson with the 31st pick in the 2011 draft. With Mike Bibby and Mario Chalmers both hitting free agency this summer, the Heat potentially have a large void at the point guard slot heading into next season.
What do we know about Jackson?
He's a 21-year-old hyper-efficient point guard who left Chestnut Hill after his junior year, in which he was selected first-team All-ACC. Recently, he shut down all his workouts after he underwent a minor knee procedure on May 17. He has great size for a point guard (6-foot-3, 208 pounds and a 7-foot wingspan). For reference, he is longer fingertip-to-fingertip than Dwyane Wade, John Wall, Derrick Rose and Russell Westbrook.
First, his traditional per-game averages last season at Boston College: 18.2 points, 4.5 assists, 4.3 rebounds, 1.1 steals, and 2.4 turnovers; 50.3 field goal percentage, 42.0 3-point field goal percentage, 79.6 free throw percentage.
When looking at prospects, it's important to look beyond point totals, where Jackson excels, and focus on efficiency since they won't see nearly as many shots in the pro game. And Jackson shines there as well. The Heat need a guy who can spot up from downtown and capitalize on the few scoring opportunities he receives. Jackson scored 55.6 percent on 2s and, as listed above, shot considerably above average from beyond the arc and at the foul line.
If the Heat want an efficient point guard, Jackson's their guy. Jackson led the ACC in true shooting percentage (61.8 percent) which is a metric that incorporates 3-point shooting as well as free throw shooting. The last time a point guard led the ACC in true shooting percentage? Denver Nuggets starting point guard Ty Lawson in 2008-09 when he posted a 65.9 true shooting percentage for North Carolina. Ranking second that season was Jeff Teague, a combo guard from Wake Forest, who had his breakout performance in the playoffs this season for the Atlanta Hawks.
The 3-point shooting from Jackson is a recent development. During his first two years at Boston College, Jackson shot just 28.4 percent from downtown, which posed as a major drawback for his prospects as a future NBA player. But last season, he drilled 42 percent of his 169 3-pointers during his junior year. Statistically speaking, 3-point shooting in college has a stronger correlation to NBA 3-point shooting than regular field goal percentage.
Looking at his Synergy numbers, Jackson nailed 40 percent of his 88 catch-and-shoot jumpers, a shot he'll need to get used to if he plans on playing in Miami. Among the 45 players in the ACC who put up at least 50 such shots, Jackson's conversion rate ranked 18th. For reference, Chalmers shot 43 percent on his catch-and-shoot jumpers for Kansas during his NCAA championship season.
The Heat are a unique team in that they don't need a distributor at point guard so much as they need a knockdown shooter. Take the case of Mike Bibby this past season. The veteran point guard watched his assists per 36 minutes rate drop from 4.3 in Atlanta to 3.4 in a Miami uniform. Chalmers also experienced a similar dip in his assist numbers this season just by virtue of playing alongside two other ball distributors in Wade and LeBron James. If the Heat select a point guard, he'll be asked to hit shots more than create them for others.
With this in mind, Jackson's assist numbers at Boston College may seem underwhelming at 4.5 per game, but keep in mind that (A) NCAA games are shorter and (B) generally speaking, college players can't shoot a lick. Jackson actually ranked third in the ACC in the assist-per-game category. He also outranked fellow point guards Brandon Knight, Kyrie Irving and Jimmer Fredette in assist-to-turnover ratio.
Statistically, Jackson should hold great value for whoever selects him in the late first round or early second round. If the Heat can snag him at 31st, they may have found their backup point guard next season without spending a dollar in free agency.