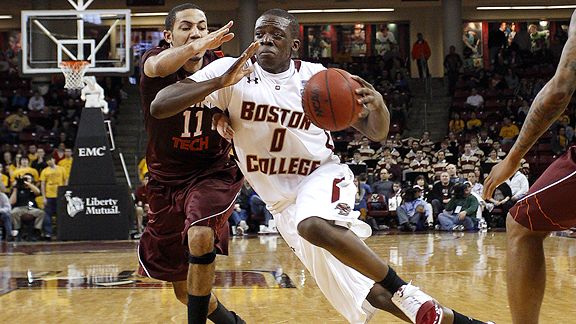 Mark L. Baer/US Presswire
If the Heat draft Reggie Jackson, they'll get a reliable defender with some promising offensive skills.
Any evaluation of Reggie Jackson begins with his absurd 7-foot wingspan. Jackson's length is important not only because it's his most distinguishing physical attribute, but because it's an asset he uses so well all over the court.
Jackson is not an elite athlete. His footwork is good, but he struggles, perhaps in part because of his length, to change direction laterally with explosiveness. But his ranginess, impressive understanding of angles and advanced court awareness more than compensate for any athletic deficiency -- something that often dooms point guard prospects.
In his final season at Boston College, Jackson took a major step as an organizing presence on offense. He is a smooth operator, always playing with his head up and at his own, somewhat slower, pace. Instead of trying to break defenders down at will, Jackson relies on screen-and-rolls and moments when his team's motion enables him to attack the rim. He has a very long first step that's particularly effective off of his shot fake/triple-threat game. If Jackson has a signature move, it's probably his low and very wide crossover. It's not devastating, but he can create plenty of space and uses the flashy move judiciously.
Jackson prefers to attack in a straight line to the basket and elevate off of one foot. Because he lacks great leg strength, he sometimes struggles to finish in traffic or off of two feet. However, he is also comfortable jump-stopping and passing out if he can't get the angle, and generally excels at driving and kicking to shooters.
As a passer Jackson is precise, if not all that creative. On pick-and-rolls, for example, Jackson rarely wows with a brilliant pass to the roll man. However, he makes the fundamental play almost every time, and shows an extremely advanced understanding of his third and fourth options. That is, he'll pressure the defense by driving, then look for his roll man, then the man popping to replace the screener, then the corner shooter -- whoever is open gets the ball.
That patience is perhaps the most striking aspect of his offensive game. He takes his time, doesn't get sped up by pressure defense and consistently uses his length to his advantage.
Jackson's consistent shooting motion is flawed, but should still translate well to the pro level. His shot pocket is a little low, though it may appear more awkward because his arms are so long. He shoots a set shot from distance and doesn't show great elevation even on closer pull-ups (a side effect of his issues exploding off of two feet). However this also encourages him to get his feet set every time, setting a solid foundation for his deep stroke. Jackson's follow-through is regular, and he looked comfortable in his few attempts from NBA range. Considering all the 3-point attempts he was forced to take late in the shot clock as his team's primary scorer last season, his 42 percent mark on 3s may undersell his ability.
The Heat likely see Jackson as a steady offensive player with strong decision-making skills and a passable 3-point stroke. His shot-fake game certainly helps, as well. One imagines him making good decisions about shooting and driving as a play finisher, rather than creator -- important within the Heat's "off the ball" point guard role. Jackson will need to beef up his frame to become the kind of screener that the Heat's offense demands from its guards, but his disposition on the court suggests he will be willing to do the dirty work.
But if the Heat do pick Jackson, it will likely be his defensive potential that drives the decision.
On the ball, Jackson uses his long arms and solid footwork to stay in front of his man without having to get too close. He rarely reaches or takes chances, opting instead to force his man into a contested jump shot. That's due in part to Boston College's conservative defensive strategy, but it's a style that suits Jackson as his ability to change directions laterally is only average. Instead of forcing his man to change course or "turn" by cutting him off, Jackson tries to take him off a direct line to the hoop then force the driving player to finish or pass over his outstretched arms. Against taller scorers like North Carolina's Harrison Barnes, Jackson does not appear at all undersized and should be able to defend both guard positions well once he adds strength.
Jackson is a nightmare in the passing lanes. He will make ridiculous interceptions and deflections, anticipating well and often surprising opponents by erasing passing angles with rangy strides and long arms. Jackson is especially dangerous when a driving or otherwise harried player tries to get rid of the ball, because he rotates aggressively and understands his opponent's options. As a weakside defender, Jackson has the unique ability to cut off the primary outlet then sprint to intercept a pass to the second player.
It's easy to envision Jackson fitting in well with the Heat's defense, sparking "skirmishes" with his intelligent and athletic play in the passing lanes. He has the wingspan of a small forward, and his solid decision-making in the transition game suggests he would take full advantage of live-ball turnovers. Although he is not an elite individual defender, he would be a major upgrade over Mike Bibby defending quick point guards. The Heat's defensive scheme demands that defenders guard multiple positions, rotate presciently to close out shooters and gang rebound. Jackson fits that bill to a "T."
Overall, Jackson leaves something to be desired. He isn't a knockdown shooter from NBA range like, say, Ben Hansbrough, and he's not a shutdown one-on-one defender like Nolan Smith. But he is a trustworthy floor general who knows his game and limitations, and projects to be a terrorizing team defender. He should be a capable backup from day one, and could develop into a Derek Fisher-esque steady-handed point guard on a championship-level team.