Meet Norris Cole, the newest addition to the Miami Heat -- no, not that Norris Cole.
The player the Heat selected with the 28th pick on Thursday is not a 71-year-old British soap opera character, but a 22-year-old point guard who played four years at Cleveland State, although you may find some other slightly famous Norris Coles out there with a Google search.
First, a funny little bookkeeping note about this pick. You could say the Heat traded up for it but really, it was their pick all along. The Heat were the original owners of the 28th slot but they traded the rights to it in the summer of 2010 when they completed a sign-and-trade with the Toronto Raptors for some guy named Chris Bosh. From there, the pick changed hands twice again, going to the Chicago Bulls at the February trade deadline and then to the Minnesota Timberwolves on Thursday night.
To sum up: Miami selected 28th via Minnesota via Chicago via Toronto via Miami. Got that?
Although it's not official yet, the Heat dealt their 31st pick, a future second-rounder and cash considerations to Minnesota in order to reclaim their spot at 28. And it's odd to see a team trade up from 31 to 28 since it's more expensive to select a player in the first round than in the second round (the borderline is after the 30th pick).
But the Heat may be paying a premium for certainty in uncertain times. By jumping up to 28th, the Heat gain more long-term control over Cole's rights over the next four years. The Heat can keep Cole in the fold through 2015 without letting him hit the free-agent market. If Cole were a second-round pick, he could opt to hit free agency after a couple of years like Mario Chalmers (a former second-round pick) did this summer. With a cloudy future due to a new CBA on the horizon, the Heat may have preferred to have as much control as possible, even if it's more expensive this way.
So, on to the good stuff: Who is Cole and how can he help the Heat?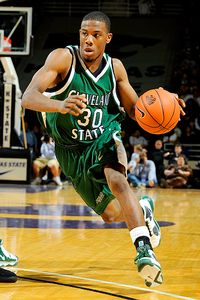 Peter G. Aiken/Getty Images
Is Norris Cole the Heat's answer at point guard?
The first thing to know about Cole is that he's a pure point guard, not a combo guard like Chalmers, but that doesn't mean Cole possesses a narrow skill set. Cole averaged 21.7 points, 5.8 rebounds and 5.3 assists during his senior season for Cleveland State while posting a 29.5 player efficiency rating (PER). He was listed as the 23rd-best prospect in the draft according to ESPN's Chad Ford, and the fifth-best point guard prospect behind Kyrie Irving, Brandon Knight, Kemba Walker and Jimmer Fredette.
Cole may stand just 6-foot-2, but he's an incredibly gifted rebounder for a point guard. In fact, he and Blake Griffin are the only two players of the past 15 years to record at least 40 points and 20 rebounds in a college game. Sure, Cole may have accomplished the feat against the not-so-mighty Youngstown State Penguins, but 40-and-20 is 40-and-20.
In his draft grades column for Insider, Ford handed the Heat an A-minus for their selection. Here's what Ford had to say about it:
Had [Cole] played at a school like Duke instead of Cleveland State, he'd probably have been 10 to 15 spots higher on the board. Point guard was a need and, frankly, I think Cole could end up being a significant upgrade over Mario Chalmers down the road.
So, strictly looking at the player and not the collegiate laundry, Ford believes Cole could have been a lottery pick if he went to a blue-chip school. That's a veritable bargain at pick 28.
But not all draft experts are sold on Cole. Jonathan Givony, founder of DraftExpress.com and a Yahoo! Sports contributor, expressed some skepticism on Twitter early Friday morning, saying he doesn't believe Cole is a better option going forward than Chalmers, citing concerns about the Cleveland State product's length and ability to play off the ball.
When we talk about a player's ability to play off the ball, we're addressing a few questions, but here's the main one: Can he live as a spot-up shooter? As we saw with Mike Bibby's epic demise as a downtown weapon in the playoffs, the Heat's point guard won't thrive in Miami unless he can hit open shoots once LeBron James or Dwyane Wade kicks the ball out to him on the perimeter.
So, can Cole shoot? Coincidentally, the Horizon League's Player of the Year shot exactly 34.2 percent on 3s in each of his final two seasons at Cleveland State, which isn't the most inspiring conversion rate. For reference, Chalmers hit 46.8 percent of his 3s during his championship season as a Kansas Jayhawk.
But thanks to Synergy Sports, we can dig deeper into Cole's 34.2 percent and see how he fits in with the Heat as a shooter. Like most point guards, Cole generates a large percentage of his 3-pointers off the dribble and not off a pass from a teammate. Synergy tells us that on catch-and-shoots (which is exactly what it sounds like), Cole shot just 17-for-60 (28.3 percent) last season in a Vikings uniform, which ranked 32nd in the Horizon League among 35 players with at least 60 attempts of that variety. That's not the track record you want to see for a guy who is set to be on the receiving end of a ton of kickouts in his future.
When Givony expresses doubt about Cole playing off the ball, that's what he's talking about. According to Synergy, Cole's primary scoring attack was as a ball handler in the pick-and-roll, which is a stark contrast to what we saw with Bibby last season, who floated on the perimeter waiting to launch a brick at the rim. His ability to penetrate will be a plus, but the Heat would rather have a marksman alongside Wade and James. But when you're picking that late in the draft, it's slim pickings.
Could the Heat have done better with their selection?
As Ford noted, the Heat filled a need at the point guard position, but it's hard to say whether Cole was the best available player on the board, much less at his position. Michigan point guard Darius Morris, who went to the Lakers, could have been a more solid option as a ball handler, but Cole represents a far better alternative from downtown. Charles Jenkins, the Hofstra product who was profiled on TrueHoop TV (must watch, by the way), may be a better scorer but the Heat passed on him before the Warriors snatched him up at 44.
The Heat haven't come out with an official statement on Cole, since the flurry of trades on draft day has delayed processing from the league office. However, it's safe to say they like what they see from Cole, enough to trade into the first round for the first time since 1996. Knowing how fragile the Heat's starting rotation can be next to the Big Three, Cole may even get some starts next season. And right now, he's the Heat's only true point guard on the roster.