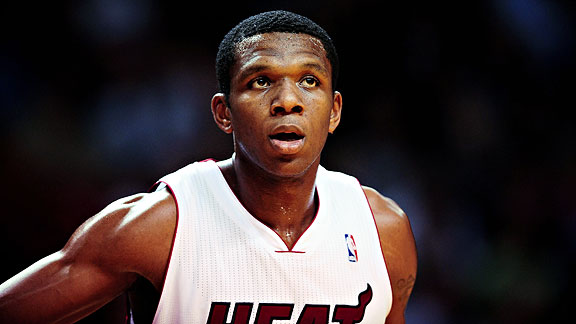 Mark J. Rebilas/US Presswire
Sharpshooter James Jones has opted out of the second year of his contract with the Heat.
MIAMI -- There's little, if any, debate around the Miami Heat as to whether James Jones is the brightest and smartest player in the locker room.
But it goes without saying that his decision on Wednesday to opt out of the second season of a two-year contract for the league's veteran minimum contract was essentially a no-brainer. Yes, even as every player in the NBA moves a step closer to unemployment with a seemingly inevitable labor lockout set to start Friday.
Jones, a finance major who graduated with honors from the University of Miami, told the Palm Beach Post on Wednesday that he decided to forgo the final $1.4 million on his contract for the 2011-12 season because he wanted to "explore all my options" at this stage of his career.
The truth is, money aside, James has nothing to lose by making this move.
Why? Because whenever the lockout ends -- most expect it to drag on for months and jeopardize part or most of next season -- the league's reigning 3-point shootout champion from All-Star weekend will have a job somewhere in the league.
And at the very least, that job will pay Jones somewhere in the neighborhood of the $1.4 million he's stepping away from right now. Few players in the league have a handle on the labor situation better than Jones, who is heavily involved in negotiations between the league and players in his role as secretary treasurer of the players' union.
Don't mistake this move as an indication that Jones wants any part of leaving Miami, where he grew up, attended college and finally got the chance after five NBA seasons to join his hometown team.
Jones recently build a new home in Broward County -- one that includes a prized playground he and his wife built for their three young children. He actually contemplated retirement last summer rather than sign with another team in free agency after he negotiated a buyout with the Heat that allowed Pat Riley to create even more salary-cap space for Miami's big roster makeover headlined by the arrival of LeBron James and Chris Bosh to join Dwyane Wade.
Once the Heat landed the core of their playing rotation in free agency, Jones was extended a two-year deal to come back, with the expectation that his 3-point shooting would help space the floor for James and Wade. Statistically, Jones didn't disappoint. He shot 42.9 percent from 3-point range and averaged 5.9 points in 19.1 minutes during the season despite inconsistent playing time.
In the playoffs, Jones emerged as the team's best perimeter shooter in the early rounds and shot 45.9 percent from beyond the arc while averaging 6.5 points and 22.7 minutes in 12 playoff games. But his playing time dwindled after he sustained a foot injury in Game 1 of the Eastern Conference finals against Chicago.
Jones insisted he recovered from the injury in time to be available for the Finals against Dallas, but he remained out of coach Erik Spoelstra's playing rotation throughout the Heat's 4-2 series loss to the Mavericks even as other shooters struggled.
If there's anything Jones might struggle to calculate, it could be his potential standing in the Heat's rotation moving forward. Of the Heat's three primary shooting specialists, Jones easily has been the most reliable this past season.
But Miami invested nearly $30 million over five seasons in Mike Miller, who was injured most of the season and will spend much of the offseason recovering from a second thumb surgery. Eddie House, like Jones, also holds a player option to return for the veteran's minimum next season but had yet to indicate his plans as of Wednesday. The deadline to opt out is Thursday night.
Also like Jones, House was put off at times by his disappearing act in Spoelstra's rotation. And it's likely that both Jones and House would command interest elsewhere in free agency from strong playoff teams such as San Antonio, Boston, Los Angeles, Portland, Atlanta or Denver -- organizations that frequently search the free agency bargain bin for shooters at discount prices.
The Heat will need a couple of guys like that, too. Although they won't have much -- if any -- money to spend on outside options, depending on how the new Collective Bargaining Agreement is structured. LeBron and D-Wade will need kick-out options who can make teams pay for loading up on them.
If Miami allows Jones to get away, best believe the team will be looking for another James Jones-type player who would come cheaply on a veteran's minimum deal.
That's why I seriously doubt, amid his decision to opt out of his contract, that Jones has played his last game as a member of the Heat -- unless some team makes his a deal for far more than than the minimum. Otherwise, Jones is the kind of guy who would turn down a little more money to stay here.
This was a business decision by a finance guy who has little to lose in this transaction.
Jones will cash in again, eventually, and land a reasonable deal for at least the vet's minimum.
He'll just have to wait until after the NBA goes out of business for a few months.