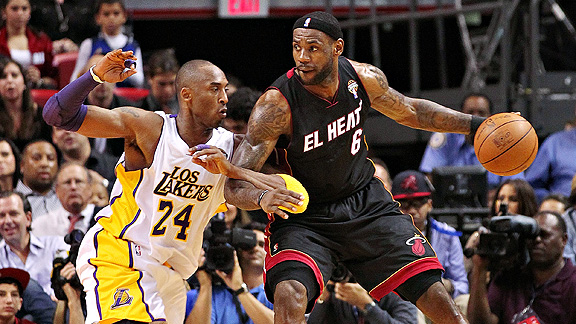 Mike Ehrmann/Getty Images
After seeking the expertise of Hakeem Olajuwon, will LeBron's post-up game improve like Kobe's did?
This summer, LeBron James worked out with Hakeem Olajuwon, master of the post and inventor of The Dream Shake (watch him paralyze David Robinson). James isn't the first player to seek the tutelage of the Hall of Famer. Since his retirement from the league, the former Rocket has tutored many NBA All-Stars looking to expand their games, including Kobe Bryant and Dwight Howard. Often, the Olajuwon workout has been cited as the reason why Bryant and Howard were able to take their games on the block to the next level.
But did it really make a difference?
I am usually skeptical when it comes to these things. In 2009-10, after Bryant spent a week with Olajuwon, every successful pivot or smooth up-and-under in the paint spurred a line from the color commentator about Olajuwon's influence. Same goes for Howard this past season.
But I know that Bryant and Howard already had post games on the block. They wouldn't be in the NBA without them. When we witnessed some crafty plays underneath in the seasons following the Hakeem workout, maybe our direct attributions to The Dream were overstated. After all, it's possible they picked up those moves from watching Kevin McHale, or seeing some old tapes of Michael Jordan ... or just from thin air.
So I decided to do some digging. How often did Bryant and Howard use the post-up before they went to school in Houston? How about after? Were they more efficient after the workouts?
Luckily, I can get some help answering these questions with Synergy data. Synergy Sports tracks this sort of thing in their database. A couple clicks later, I produced the following chart:
The Hakeem Workout effect, by the numbers
So what do we find?
Let's start with Bryant's huge before-and-after split. In 2008-09, Bryant 14.2 percent of his overall play repertoire was used on post-up plays, or, put another way, he used 4.1 post-up plays per game. This includes post-up plays like drop-steps, turnaround jumpers, and even pass outs when the defense collapsed. On average, 1.035 points were scored per post-up play (you can find this under the "Efficiency" column).
And what happened the following season? Everything went up, but mostly his usage. Whether it's a product of age slowing him down or a newfound confidence sparked by Olajuwon (or both), Bryant almost doubled his diet of post-ups in 2009-10. That's an astounding change in playing style which we rarely see in the game today. His efficiency also saw a slight uptick from 1.035 to 1.058.
And Howard? Looking at the data, his effectiveness in the post hardly changed. His numbers don't jump off the page the way that Bryant did, although it's hard to see the Orlando center spending more time in the post than he already did. With Howard, he just needed to sharpen his skills, not necessarily to use it more often. Although he improved there, the margin in efficiency is virtually negligible.
Now, what does this all mean for James? Will he take Bryant's lead and incorporate a more prominent post game? Or will he venture down Howard's route by sharpening his effectiveness slightly?
Tough to say. Bryant and James are wing players. With that in mind, I imagine that James will follow Bryant's lead, not Howard's. As a perimeter player, James enjoys more room to grow on the block, since he rarely spends time there. Last season, he only used 8.7 percent of his plays on post-ups, which is almost half Bryant's rate in 2008-09, pre-Hakeem.
Another thing to note: James does have a post game. In fact, his efficiency on the block is already on par with Bryant's average on a per-play basis. A few months ago, Couper Moorhead of Heat.com wrote a fantastic breakdown of James' post-up development, but has since been removed by the lockout-induced carwash on team websites. (You can still read my Heat Index post that expanded on his work).
But the main difference between Bryant and James is that Bryant embraces his post game, while James treats it as a cameo. Sure, it's nice to be efficient, but it won't move the needle if it only comes out once or twice a game. James has yet to develop the same style and grace that we associate with Bryant and Olajuwon, but he's still a monster when it comes to efficiency.
As raw and unpolished as James may be on the block, his starting point is already vastly superior to most players in the league. Should Olajuwon raise James' comfort factor, who knows what kind of impact it can have on the Heat forward's game. If James absorbs Olajuwon's teachings like Bryant did, there won't be much left for everyone to criticize.
But that's a big 'if.'