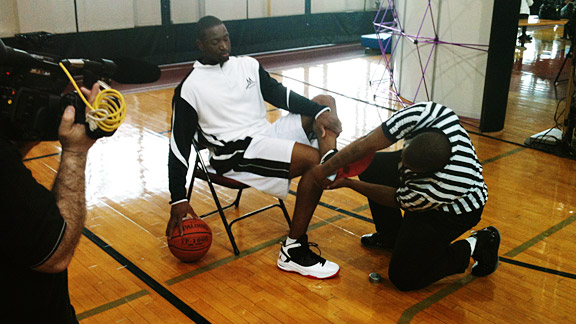 ESPN.com
Dwyane Wade receives some help applying Court Grip, a product to help increase traction in basketball shoes.
NEW YORK -- Throughout his career, Dwyane Wade has had to adjust to more adversity on the court than most players. Double teams, triple teams and the scrutiny of being a superstar, especially on a team that's highest on the pressure pedestal, the Miami Heat.
But who would've thought that one of his many obstacles was the occasional slipperiness he experienced while driving to the basket? On Wednesday, Wade was at New York City's Chelsea Piers sports and entertainment complex to launch a new athlete-care device called Court Grip developed by Mission Athlete Care, in which he has an equity position. Now, Wade says, Court Grip "gives me the confidence to play my game, regardless of the court's condition."
In an interview with Jared Zwerling of ESPN.com, Wade revealed how he had to adjust his game in his pre-Court Grip days, why he enjoys being fashion-forward not only with style, but also on the product development side and some of his favorite memories of the summer.
Jared Zwerling: Welcome back to New York City. First got to ask, now that the Brooklyn Nets is the official name of the team, what are your thoughts on their future?
Dwyane Wade: It's something that obviously I knew it was a two-year down-the-line thing with them back because I got recruited, in a sense, by them. We sat down and I listened to the story of where they were going and I think they have great potential. I mean, Brooklyn is a brand. The word Brooklyn is a brand, the city, so they've got a great platform. Hopefully they do well -- not too well (laughs).
Zwerling: Overall, how has your summer been going?
Wade: It's been going. It's been busy. Obviously with the uncertainty of what's going to happen this season, I've been doing a lot of things I normally don't get a chance to do. I've been keeping myself very busy.
Zwerling: Like launching Court Grip. How did the relationship come about with Mission Athlete Care to develop the product?
Wade: Before even Court Grip, I just wanted to be a part of a brand that I felt that listened to the athlete and really catered to the athlete, and gave us what we were looking for. That's what they do. When I sat down with Serena [Williams], Alonzo [Mourning], Steve Nash, people who were associated with the brand said, "It's really for athletes, by athletes. It really is. That's how we came together. Once I sat down and became a shareholder with them, I was like, "I want to develop something that I've been looking for a long time as an athlete." I'm sure other guys and kids will like it. We came to this Court Grip, and here we go.
Zwerling: I know there's the mat by the scorer's table where players wipe their sneakers to get more grip. How does Court Grip differ?
Wade: Yeah, the Slipp-Nott. Court Grip is totally different. I mean, the Slipp-Nott is like a quick-strike type thing. It's something that works at that moment as soon as you step on the floor, but then after a while it goes away very fast. What I feel with this is it just seeps in the pores of your shoes a little different, it stays in there a little longer and it gives you a better opportunity to have that traction and that grip than you would if you used a Slipp-Nott or you spit in your hands and all that stuff.
Zwerling: Were there moments in the past where you lacked confidence on the court because you felt like you were slipping around?
Wade: Yeah, in certain cities, in certain arenas. Over my career, I've had to adjust my game. I had to say, "Okay, tonight's going to be a pull-up night for me" because I couldn't drive and do the things I normally want to do. I couldn't stop on a dime because the floors were dirty and they're not clean. But there are so many things that are going on and there are reasons why. It might be a big concert the night before, it might be a halftime show, it might be fireworks before the game. There are all these things that no one's cleaning up. The Miami Heat floor is great, but a lot of them are not.
Zwerling: Did you ever consider that feeling too sticky on the court might increase the chance that your knee might buckle?
Wade: Yeah, that was one of the main concerns when we started testing this product. We didn't want it to be anything that was going to make an injury; we wanted it to prevent an injury. We went through so many different applications to get it right. It's not too slippery now. What it does is it helps my shoes perform the way that my shoes are made to perform.
Zwerling: From McDavid to Court Grip, you've had an eye through the years for forward-thinking products. Is that the entrepreneur inside of you talking?
Wade: I guess so. I kind of want to get in front of things a little bit, and it takes on. I've been blessed to be one of those guys who's looked at as a fashion-forward type of guy. But this one I'm excited about because this one is really something that I had a lot to do with, and hopefully people like the idea and people really catch on to it.
Zwerling: What's next in the D-Wade product arsenal?
Wade: I've got a few, I've got a lot (laughs). I've got too many. Every time I come up with an idea, I've got to sit down with my team and we've got to try to find the people who can help us put these ideas out there. Right now, this is the main one, but I've got a couple more coming down the line, so it ain't going nowhere.
Zwerling: How's the Fatherhood Initiative coming along, working with President Obama?
Wade: It's going great. I've been a spokesperson for fathers, in a sense, and even fathers who travel as much as me, how can you really be an active parent, how can you be an active dad? I love it. I love being a dad. Fatherhood is the best thing that could happen to me, and I'm just glad I can share my voice.
Zwerling: Speaking of the offseason, are there any new moves or other things you've been working on to prepare for hopefully the new season?
Wade: I ain't really got nothing new right now. My moves kind of come and once I see something, it's just like I do it. I start working on it. All my moves that I've done over my career so far are something I've just done off natural reaction. I was like, "Oh, I like that. Let me work on it a little more." I just like to get in the gym and just do stuff, and then if I see something that works.
Zwerling: Have you been watching a lot of Hardwood Classics during this downtime?
Wade: I've been watching too much of that (laughs). I'm bored with watching all that. I mean, I love the game, but I want to get into some real action.
Zwerling: This has obviously been the summer of streetball. What's been your favorite highlight so far?
Wade: Well, I haven't played in any, but as a fan I did like the Goodman League game in D.C. because Kevin Durant played in it. That right there was awesome to see how much the guys really cared. They're representing where they're from, and everybody's been taking off with that concept.
Zwerling: And now you, LeBron James and Chris Bosh will have your own game on October 8 in Miami.
Wade: We've got a little showcase going on in Miami (laughs). We picked up the phone and called our friends and asked them to come down. But we really wanted to do something for the community of Miami. It's not their fault that we're not playing basketball, so we just want to give them something, and I think it'll be a pretty good game.