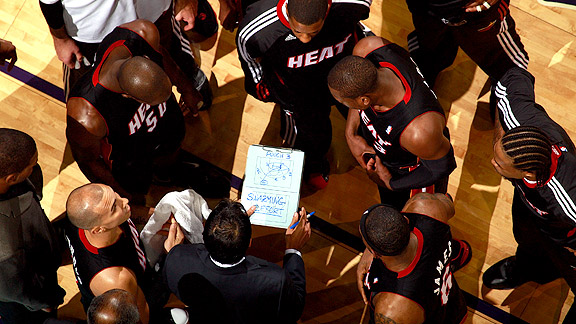 Chris Graythen/NBAE/Getty Images Sport
Erik Spoelstra wants the Heat to tighten the circle and ignore the noise outside.
MIAMI -- The Heat are trying not to care what you think.
Three losses in eight games. Problems with guarding big men and point guards. Unsure moments at the end of close games. Record-setting ratings. A massive media corps documenting every possible moment.
This is reality for the Heat. Every time they take the floor is like a mini-playoff game because of the exposure and the star power -- and sometimes the jealousy.
It means that just two days after blowing a 22-point lead at home to the Utah Jazz, they must prepare to face another high-profile test Thursday night when the Boston Celtics visit.
Earlier this week, coach Erik Spoelstra spoke to his team about the situation. He is trying to get his players to adopt a bunker mentality. He wants them to ignore what is being said and written as they've stumbled a bit at the start, losing three of the four games they've played so far against what could be considered elite teams.
"I told the team I'm not concerned at all with people are saying or their timeline," Spoelstra said. "We have a different timeline."
That's right out of the coaches' handbook and Pat Riley's patented style, which is to wire the team to prevent any outside influences. Opinions on the "timeline," as Spolestra calls it, are deemed a potential toxic element. Especially when things aren't going so well.
"There's such a heightened awareness about this team this year that everyone is ready to pontificate their opinion about us hourly, daily," Spoelstra said. "We can't get caught up in all that. It's a whirlwind, a hurricane of different stories every single day, and some expert has an idea of what is going on."
He's practicing what he's preaching. When Spolestra was being asked about Carlos Arroyo, his starting point guard, and his defense before Tuesday's loss to Utah, the Heat's head coach bristled slightly. After having trouble with other star point guards like Rajon Rondo and Chris Paul, Arroyo was about to confront Deron Williams.
"I answer you guys' questions," Spolestra said. "I think people are just searching for stories right now."
Williams had 21 points (19 in the second half) and 14 assists (12 in the second half). Arroyo was only one of the players who had trouble with the All-Star guard.
But Spoelstra is sticking to his script. He expects his team to follow and not get distracted at the start of what he expects to be a long season of growth.
"It's not the easiest thing in the world [to ignore outside opinions]," Dwyane Wade said. "Of course everyone wants perfection. That's the growth there. It is for the players, the coaches and our fans to understand some nights you'll look amazing, some nights you'll see we have things to work at. It is all a process. To be a championship team, you understand where you go through different times in a season."
As Celtics coach Doc Rivers was preparing his team for a rematch of opening night, when the Heat had their first of many growing pains in a loss at Boston, he was having some flashbacks. He watched the Heat's Tuesday's loss to the Jazz in Miami, as the Celtics had an off day after flying in from Dallas.
It reminded him of three years ago and some of the things he saw when Ray Allen and Kevin Garnett joined incumbent star Paul Pierce in Boston.
"The first year, [the troubles] came at the end of games more; the execution, the timing, the rhythm, the speed," Rivers said. "It just takes time. And it takes everybody buying in, too. In fact, that might be No. 1. ... In our first year, our Big Three were in each other's way early. We started out great, but during that stretch, it was the end of games that was the problem."
The Heat have several issues. Although they have been one of the league's stingiest teams for prolonged stretches, defensive lapses have been their undoing. Chris Bosh has admitted he feels lost out there on offense at times. LeBron James barely touched the ball in overtime Tuesday night, as Wade was dominating the action on the offensive end. But on Friday in New Orleans under similar circumstances, Wade was deferring.
As Rivers said, this will all probably take time to work out. In the meantime, the Heat plan to block everything else out. Time will tell whether that exercise works, too.
"If you don't know the game, it is easy to look at what is on paper and says this team should do this and do this right away," James said. "If you know the game, you know it doesn't happen overnight."