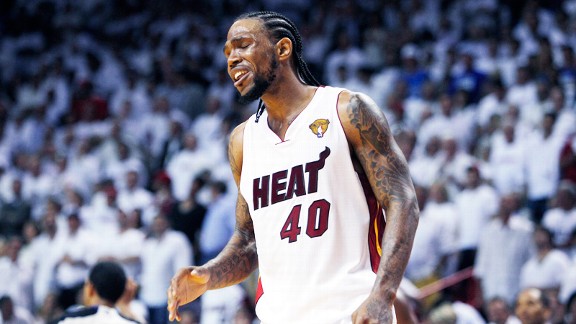 AP Photo/Lynne Sladky
Udonis Haslem missed most of the 2010-11 season to injury -- but played big minutes in June.
It was a tough season for Udonis Haslem. He and Wade are the only players on the current Heat roster to have won a championship with the team in 2006, and the former undrafted free agent was supposed to provide versatility, rebounding and locker-room stability to the new-look Heat. Unfortunately for Haslem, he tore a tendon in his foot on November 22, and didn't play more than three minutes in a game from the day he got the injury to Game 2 of the Eastern Conference Finals. Haslem helped turn the tide of the Conference Finals after Miami's Game 1 loss, and essentially replaced Joel Anthony in the rotation during the NBA Finals, but overall it was a disappointing year for Haslem, who took a huge pay cut to stay with the Heat.
According to Haslem's brand-new twitter account, he's been doing further rehab on his foot all summer long, and was cleared by his doctors to participate in full workouts on Monday. Here's some of what Heat fans can expect from Haslem now that he's finally healthy:
What worked
When Haslem did play in the regular season, he wasn't half bad. Haslem seemed comfortable with his new teammates from the get-go. In the 13 regular-season games Haslem played in, he averaged eight points and eight rebounds a game on 51.2 percent shooting from the floor, which isn't bad at all. And Haslem's rebounding and toughness really did help turn the tide of the Chicago series -- his work on the glass, energy level, man-to-man defense and willingness to take timely charges allowed the Heat to beat the Bulls at their own slow-paced, physical game. Against Dallas, Haslem allowed the Heat to function offensively (which they couldn't do with Joel Anthony on the floor), and did a better job defending Dirk Nowitzki than any other Heat forward.
Haslem is a talented rebounder, plays with a lot of energy, and can finish around the rim very well -- those qualities alone would make him a serviceable NBA forward. However, Haslem also has an extremely accurate mid-range jumper for a big man, and he never hesitates to let his flat-footed, high-release jumper fly when he's left open. According to Hoopdata.com, Haslem made 53.8 percent of his 10-15 foot jumpers and 48.0 percent of his 16-23 foot jumpers during the regular season. That data is from a very small sample size, and Haslem's jumper wasn't nearly as good in the playoffs as it was in the regular season, but Haslem has proven capable of knocking down open jumpers throughout his career.
Defensively, Haslem has always had a good reputation due to his blue-collar playstyle, but he's historically been merely an average to above-average defender. However, his defense in the Dallas and Chicago series was particularly good, and there's a chance he might build on those defensive performances next season.
What didn't work
Well, the big issue was that Haslem's foot kept him out for most of the regular season, and likely kept him from being 100 percent effective during the playoffs. Beyond that, Haslem struck me as being a bit too in love with his mid-range jump shot, much like his former teammate Zydrunas Ilgauskas was. Haslem is a good shooter for a big man, but he would let it fly any time he got a decent look at a mid-range jumper, no matter how much time was left on the shot clock. Those shots are an effective way to keep the defense honest and give James, Wade, or Bosh a safety valve if they draw a double-team and time is running down on the shot clock, but the Heat should theoretically be able to produce a better look than a Udonis Haslem 18-footer over the course of a full possession.
Possible lockout viewing material
I love the way Haslem moves without the ball and works to get himself catch-and-finish opportunities at the rim. I love the way he stretches the floor with his mid-range jumper. What I'd like to see Haslem do is put the pieces of his offensive game together by working on a solid up-fake and some dribble-drives. As it is now, Haslem shoots layups when he catches it inside and shoots jumpers when he catches it outside -- if he added a way to get from the 15-19 foot area to the rim into his game, he'd be much more effective.
Incidentally, no power forward in the league uses their jump shot to set up their dribble-drives as well as Chris Bosh, Haslem's teammate. Bosh is a good shooter for a big man, but he understands that he's much more efficient when he can get to the basket for a layup or draw a foul than he is when he's shooting an 18-footer, so after he makes a jumper or two to keep the defense honest, he'll start up-faking his defenders in pick-and-pop situations and driving to the hole for a layup or some foul shots. It's simply a smart way to keep defenses off-balance, and it's a wrinkle I'd love to see Haslem add to his game.
Haslem is a player that any coach would love to have in his rotation because of all the things he brings to the table both on and off the court -- if he can stay healthy and learn how to use his jumper to open up the rest of his game next season, he could do a lot to help the Heat solve the depth problems they faced in the 2010-11 season.
Coming Wednesday: Mario Chalmers