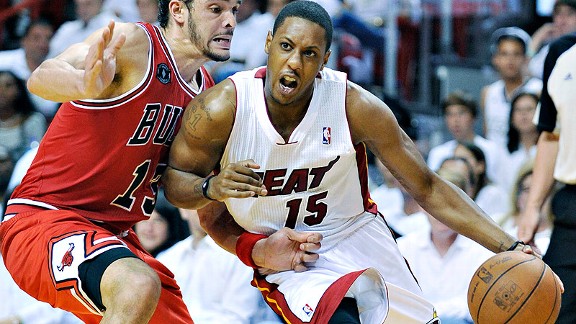 AP Photo/Lynne Sladky
Is Mario Chalmers the answer at the point guard position for the Heat?
Oh, Mario Chalmers. It was, if nothing else, an interesting year for Chalmers, one of the few players who was actually on the Heat roster before "The Decision" and the team's lone important free-agent this summer/fall/lockout. After starting the season slowly due to a high ankle sprain, Chalmers, despite his characteristic inconsistency, turned out to be the Heat's most consistent point guard over the course of the season. Only Dwyane Wade, LeBron James, and Chris Bosh played more minutes for the Heat in the regular season than Chalmers did, and the Heat relied heavily on Chalmers in the playoffs when Mike Bibby refused to stop committing crimes against basketball.
Chalmers stepped up and did what the Heat asked him to do -- he made the open threes that Bibby missed, was immeasurably better than Bibby on defense, and nearly saved the Heat's season when he made a game-tying three with 24 seconds left in the Heat's season-dismantling collapse against the Mavericks. (The Heat, of course, failed to stop Dirk Nowitzki from ending the game on the Mavericks' final possession.) As I wrote in late May, Chalmers is a roller-coaster ride to watch, but he brought things to the table that the Heat may not be able to afford losing. Here's a look at Chalmers' season:
What worked
No player outside of the Heat's big three showed more flashes of brilliance than Chalmers, particularly on the offensive end. Chalmers isn't the most efficient scorer or a lights-out shooter, but he can stretch the floor from beyond the three-point arc. He was the only player outside of the Big Three who never looked afraid to create and make aggressive plays for himself or his teammates, whether that meant firing up a three, driving to the rim and trying to finish with a floater, or making a home-run pass attempt. It didn't always work perfectly, but Chalmers' style of play was a welcome breath of fresh air compared to the rest of the Heat's role players, who often seemed content to sit around and watch the Big Three do their thing while waiting for a wide-open shot to fall into their lap.
Chalmers also played an aggressive style of defense that would frustrate opposing guards and lead to lots of turnovers, which would ignite the Heat's deadly fastbreak. If Chalmers could somehow divorce the effective parts of his game from his mistakes, he'd be a viable long-term option at point for the Heat, especially considering the Heat's price range at the point guard and center positions.
What didn't work
Now, about those mistakes. The 25-year old former NCAA champion may have the best college pedigree of any Heat player, but he made far more forehead-slapping mistakes than any player on the Heat roster. He would follow up a swished three from the corner with a forced jump shot. He would follow up a beautiful pass by trying to force a 50-foot bounce pass between two defenders. His aggressive style of defense created turnovers, but it also led to silly fouls, particularly on the perimeter -- Chalmers had one of the highest foul rates of any point guard, and many of those fouls would come when his man was settling for a jumper. And he may be the worst ball-handler of any NBA starting point guard -- his tendency to dribble the ball up to the letters on his jersey turned any sort of token full-court pressure into an adventure.
Chalmers is also a bit of a hothead, which he showed in the final game of the Heat's season when he got into a needless fight with Mavericks swingman DeShawn Stevenson. The incident ultimately ended up being moot, but it could have easily gotten Chalmers tossed from the game and suspended from Game 7, which could have made the difference between the Heat winning and losing the NBA Finals. All over a disagreement with DeShawn Stevenson. Simply put, Chalmers needs to mature a bit if he wants to be the Heat's long-term starter at point guard. And, you know, sign a contract with the Heat sometime in the near future.
Possible lockout viewing material
It's a bit of an obvious pick, but I'm going to go with the Detroit vintage of Chauncey Billups. Like Chalmers, Billups isn't a slashing point guard, but a physical defender who works from the perimeter offensively. Billups is a better shooter than Chalmers, and Chalmers is slightly quicker than Billups, but Billups is the kind of player the Heat want Chalmers to become. Chalmers doesn't need to constantly put pressure on teams with dribble-penetration, but he's too skilled to be Mike Bibby or Eddie House and simply hang around the three-point line all game long.
Ideally, Chalmers will mature into a "game manager" -- a point guard who the offense doesn't always run through, but can do damage from the perimeter, make the smart pass when the situation calls for it, and mix in enough drives to the rim to keep the defense honest. Also, Heat fans should truly hope that Chalmers is working on his ball-handling with someone like personal trainer Idan Ravin, because that's a fundamental part of any point guard's game that Chalmers desperately needs to improve in.
When Chalmers was on his game, he gave the Heat a new dimension on both ends of the floor. When he had one of his "Chalmers being Chalmers" moments, he took more off the table than any other Heat player. If Chalmers can tighten up his game and learn to play more under control while still being aggressive at times, he could be all the Heat could ask for out of a low-cost starting point guard. If he can't, he'll continue to show tantalizing flashes of brilliance while ultimately being a consistent source of headache-inducing play. Either way, I think that Chalmers has too many tools and too much potential to blossom alongside the Big Three for the Heat to let him walk, but I would also understand if Pat Riley is wary of making a significant commitment to a player who still seems to be figuring things out at the age of 25.
Coming Thursday: Chris Bosh