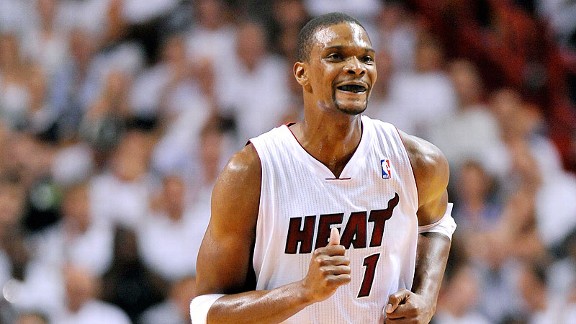 AP Photo/Lynne Sladky
Chris Bosh went from being the No. 1 option in Toronto, to the third wheel in Miami.
No player sacrificed more of his numbers for the Heat last season than Chris Bosh. In his last season with the Raptors, Bosh averaged 24 points and 10.8 rebounds per game while finishing with a PER of 25.11. In 2010-11, Bosh averaged only 18.7 points and 8.3 rebounds per game, and his PER fell to 19.44. Bosh had a harder time adjusting to being a third option than either LeBron James or Dwyane Wade did adjusting to each other, and spent much of the first half of the season channeling his inner Antonio McDyess and settling for pick-and-pop jumper after pick-and-pop jumper.
Eventually, though, Bosh started being aggressive again, and was clearly an invaluable member of the Heat in the playoffs, when he punished the Bulls by averaging 23.2 points on 60 percent shooting in the Eastern Conference finals, although he wasn't able to score very efficiently or slow down Dirk Nowitzki in the NBA Finals. Bosh's defense was also a bright spot -- after being a major part of one of the league's worst defenses in Toronto. Bosh made major defensive strides under Erik Spoelstra in Miami, and made up for his lack of strength at the power forward position by using his quickness to cover a lot of ground and avoid needless gambles. Overall, it was a bit of a disappointing year for Bosh, but he wasn't bad by any stretch of the imagination, and there was a lot for him to build on next season.
What worked
When Bosh is mixing up jumpers and drives to the basket from the 15-to-20 foot area, he's nearly impossible to stop. Bosh makes 45 percent of his long 2s and 44.6 percent of his shots from 10-to-15 feet, which are both great marks for a power forward. He uses that jumper to set up the rest of his offensive game -- he has one of the better pump fakes in the league, and can attack the basket to either get a layup or draw a foul with an aggressive dribble or two as well as anybody. (Bosh's slender build and willingness to accept contact allows him to shoot a LOT of free throws when he's attacking the basket, and he's a career 79.8 percent free throw shooter.)
As I mentioned, Bosh's defense was also something of a revelation -- the Heat were actually significantly better defensively with Bosh on the court than they were when he sat, and he did a great job of rotating, staying in front of his man, and being an effective part of Erik Spolestra's beloved defensive "swarm." Bosh's numbers weren't great, but he never tried to do too much, and the Heat definitely worked when he was on the floor -- Bosh, not James, led the team in +/- last year with a +9.86 rating. His +/- is far from perfect, but that number does show just how well Bosh fit in with the Heat despite his severely diminished role with the team.
What didn't work
Of course, there were times when Bosh simply was not aggressive enough. Bosh is too good to allow himself to be invisible for extended periods of a game, but there were times when he'd wait for pick-and-pop jumpers all game long and do just that. He also wasn't a go-to scorer in the post -- his preferred move with his back to the basket is a fadeaway over his left shoulder, which isn't a high-percentage look. And while Bosh's defense was certainly a lot better than most people thought it would be, Nowitzki showed that he's far from a lockdown defender at this point in his career.
Possible lockout viewing material
The easy answer here would be that Bosh should watch tapes of how he played offense in Toronto -- everyone knew Bosh was going to have to sacrifice some of his numbers, but there's a difference between deferring and being passive, and there were times when Bosh found himself on the wrong side of that line last season.
I'd also really like to see Bosh pass the ball more -- Bosh did a good job of finishing plays at the rim, creating plays for himself, and knocking down open jumpers, but he finished 47th among power forwards in assist ratio, which is ludicrous when you consider how often he shared the court with Wade and James. Wade or James passing to Bosh is an effective connection -- if Bosh was able to hit cutters from the high post or on the drive and work some high-low post ball, it would add so much to the Heat's offense -- for the big three to mesh, all three of them should theoretically be comfortable passing the ball to one another.
One player that Bosh might want to watch tape of is Joakim Noah -- Noah isn't nearly the scorer that Bosh is, but he's about as good of a ball-handler, and the rare occasions that Chicago had offensive success against Miami came when Noah got the ball, forced the defense to pay attention to him, and then made a beautiful pass to a cutter or an open shooter. Bosh played very well as a third option, but no player should be a ball-stopper when they spend as much time on the court with James and Wade as Bosh does.
Overall, Bosh had a very, very good season for a third option, but the Heat didn't sign him to play like a third option -- they signed him to be one of the 10 best offensive players in basketball who just happens to have two better offensive players on his team. That's the kind of campaign the Heat are hoping Bosh can have this coming season (if there is one), and based on the extended flashes of brilliance he showed in 2010-11 and his offensive effectiveness in Toronto, it's the kind of season he's capable of having.
Coming Friday: Dwyane Wade