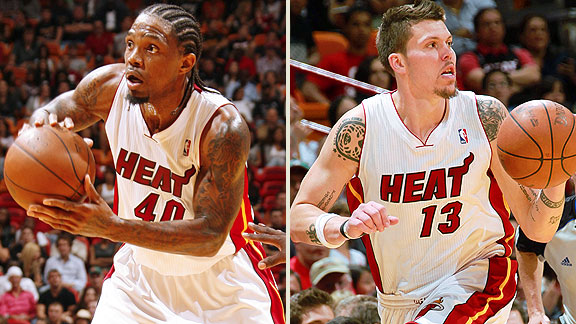 Getty Images
In Game 2, Udonis Haslem and Mike Miller shared the court with the Heat's three stars for the first time.
MIAMI -- The Miami Heat's charter jet was cruising over the Midwest after midnight before the realization hit the group of sleepy and sore players.
Under the pressure and intensity of their Game 2 victory over the Chicago Bulls to even the Eastern Conference finals, followed by the mounds of ice bags in the locker room afterward, they had largely missed the moment. It took until they were watching the game film on the trip back home for everyone to pick up on the event.
During a strong second half that led to the Heat's 85-75 win, LeBron James, Dwyane Wade and Chris Bosh were joined on the floor by Mike Miller and Udonis Haslem. In the 376th quarter the Heat played this season -- the fourth quarter Wednesday night -- the five big free agents from last summer finally played together.
"It was the first time that lineup we envisioned finally happened," James said. "And it worked."
Those five players, as has been well-documented, worked with their agents and the Heat front office to maneuver themselves under the salary cap last July. It created one of the grandest free-agent group signings in league history. All five players took less than they were offered elsewhere, collectively leaving tens of millions on the table during the span of their various contracts. But it took nearly 10 months for it to actually play out on any court.
"It was a surprise for all of us; it reminded me of training camp," Heat coach Erik Spoelstra said. "It was encouraging and it gave us a lift and it is something we can build on."
One of the reasons they all signed was that they're friendly. Wade was close with James and Haslem. Miller was close with Haslem and James, etc. At the core, however, it was also because they felt they fit well together as a unit.
James and Wade are wing scorers, while Miller is an excellent shooter -- and all three have the ballhandling abilities. Bosh and Haslem are versatile, each able to play both power forward and center at times, and they're both excellent pick-and-roll players. All five have reputations as good rebounders for their positions.
The idea was they'd be especially effective in crucial stretches of playoff games because they can guard and play different positions. They can create the kind of matchup problems that frequently decide postseason games that come down to a couple of possessions.
It lasted for just six minutes but it was the first six minutes those five have played on the floor together since training camp. Not even in the preseason, when Wade suffered a hamstring strain and Miller broke his thumb, were they able to play in a true game.
That group started the fourth quarter together, which was not the finest basketball in team history. The Heat, in fact, made one basket in a seven-minute span. But the group was very strong defensively and on the glass, potentially the biggest sore spot in the series for the Heat. It is a lineup that has the potential to become a staple for the rest of the Heat's playoff run.
"Some of the things we'd planned on doing we've shelved for five months, and now we're revisiting some of that," Spoelstra said. "But we'll see; each game is different."
Spoelstra continues to be cautious. Because of injuries and because his rotation was playing well, Spoelstra had Miller on the third string and Haslem on the inactive list just a couple of games ago. On Friday, even as the Heat returned to the practice floor, Haslem did not go through the entire workout to help his still-healing foot recover.
It isn't clear how much the team will be able to rely on this group in this series, even if Miller and Haslem's rebounding -- they combined for 12 in Game 2 -- might end up being vital.
"The stakes are high, obviously," Haslem said. "That was a deciding factor in me stepping back out on the court. You don't want to reinvent the wheel right now."
The Heat weren't necessarily expecting this group to be intact when the playoffs started. Haslem was given a three- to six-month recovery time, a window that made it hard to judge when he'd be back, if at all, this season. When he had some setbacks in his rehab at the end of the regular season, it was seen as a greater long shot.
Admittedly, when Haslem was able to have his first contact practice just before the start of the playoffs, it was a symbolic gesture more than anything. But those practices started to get more frequent and, just in case, Spolestra played his five best players together just to give them some court time in case such a situation developed.
"We've been able to build a little chemistry because we've had some practice time," Bosh said. "We've used that as much as we can. We're just making it happen right now."
That is very much the mood as the Heat go forward in the series with the Bulls. Despite the potentially pivotal development of finally getting their dream lineup working, they aren't expecting instant consistency.
A season full of setbacks has taught them to temper expectations. Often they are just going to have to figure things out on the fly, which is how it happened in Game 2. Haslem, in fact, wasn't even in the planned rotation at the start of the game.
"We haven't been able to ease into anything this year, right?" James said to Wade as they talked about the circumstance.
Wade just dropped and shook his head while cracking a smile.
"Nope."