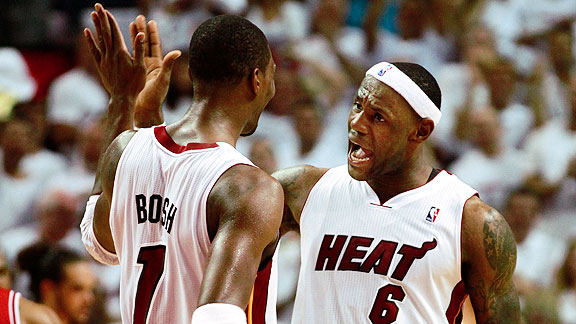 Marc Serota/Getty Images Sport
Body language and momentum suggest the series has turned strongly in Miami's favor.
MIAMI -- There comes a time in every NBA playoff series when the will of one team overwhelms that of the other, when one team realizes its best is better than the other squad's best, when possibility crosses that threshold and creeps toward the inevitable.
That point in the Eastern Conference finals between the Miami Heat and Chicago Bulls came midway through the fourth quarter of Game 3 on Sunday night at AmericanAirlines Arena.
The Bulls could very well come back Tuesday and knot this best-of-seven series up at two games apiece. But the gut feeling now is that the Heat delivered the definitive blow in this matchup with Sunday's 96-85 victory to take a 2-1 series lead.
Things won't be the same after this. Sure, Chicago can come back and find a way to make this a competitive series that drags on a bit longer. But if it didn't sink in after the Heat got a split in Chicago with a resounding finish in Game 2 last week, it should be firmly ingrained in the Bulls' minds after what happened at the end of Game 3.
The Heat convinced the Bulls that Miami is simply the better team. Pride won't allow Chicago's players to admit it. Confidence in what his team accomplished this season won't allow coach Tom Thibodeau to acknowledge it.
But everyone who was on the court midway through the fourth quarter knew it.
If body language and facial expressions are any indication, that definitive moment in this matchup might have come with 5:10 left in the fourth quarter, at the end of a lethal Heat run that not only put Miami in command of Game 3, but also in control of the outcome of this series.
It was the sequence in which Derrick Rose saw his path to the basket cut off by Mario Chalmers. Rose tried to launch a cross-court pass to Luol Deng in the corner, but the pass never had a chance because the Heat's swarming defense never gave it one. LeBron James darted through the lane like a strong safety shooting the gap on the football field, stole the pass, raced downcourt and was fouled as he made a layup in transition to give the Heat their largest lead.
Thibodeau immediately called a timeout.
As the players headed toward their respective benches, Joakim Noah shook his head in denial, Carlos Boozer slouched his shoulders and Rose slumped his head and starred down at the court.
At that stage, the Bulls were well on their way to outproducing the Heat in rebounds, 3-point shooting, points in the paint, second-chance points and fast-break scoring. They had four players in double figures, including a 26-point, 17-rebound breakout performance from Boozer.
But none of it mattered. It wasn't enough. Just like it's becoming obvious with each quarter of basketball played that the Bulls don't have enough to overcome the Heat.
"It's definitely frustrating," Rose said after the game. "Our will wasn't there tonight, where they still found a way to win playing good basketball, moving the ball to one another, playing easy basketball."
No, it wasn't easy. The Heat are just making it seem that way at times.
For the second time in three games, Thibodeau's defense was able to contain James and Dwyane Wade for most of the game. And for the second time in three games, the Bulls had no answer for Chris Bosh, whose game-high 34 points paced the Heat on a night when James added 22 points and 10 assists and Wade chipped in 17 points and nine rebounds.
Miami carries a 2-1 series edge into Game 4 on Tuesday night, with a chance to take a commanding lead and move one step away from advancing to the NBA Finals for the first time since 2006. The Heat put themselves in this position with another strong closing performance in the fourth quarter.
It wasn't too long ago that closing out close games was considered a weakness for the Heat. Now, it's clearly becoming a strength, during a series in which Miami is conquering what was considered the league's toughest and stingiest defense.
The Heat have not only found a way to match the Bulls' defensive dominance, they're also doing a pretty good job of executing on offense in key stretches. Miami shot 50.7 percent from the floor, converted 25 of 29 free throw attempts and had 20 assists on 34 made baskets.
Simply put: When the going gets tough in the fourth quarter, the Bulls have shot-takers. Meanwhile, the Heat have shot-makers.
"We understand what's going to win this series for us -- and it's defense," Wade said. "Offensively, we understand it's going to be opportunities … when we're going to go on a run. But defensively, it's all about effort, it's all about toughness and heart at this point."
It was during that play midway through the fourth quarter when you saw James, Wade and Bosh get that same look in their eyes -- that look of approval when they realized that they didn't just like their chances of beating the Bulls in this series, they now fully expect to do so.
Miami has cracked the code. Wade, James, Bosh and their teammates will still be respectful. They'll still say and do the right things. They still know that Chicago is capable of coming back in Game 4, getting a win and sending the series back to Chicago tied at 2-2.
But it almost feels like the Heat know they've taken the Bulls' best punch. And, as it turns out, it doesn't sting quite as badly as they may have thought coming into this series.
"You definitely respect what they're capable of," Heat forward Udonis Haslem said. "But we're not focusing on them. We're focusing on us. They're probably one of the most mentally tough teams in the league. But we know it's about us doing what we've got to do. Then, let the chips fall where they may."
The Heat have reached that moment at which it appears they have their opponent figured out.
That moment came in Game 2 against Boston in the previous series, when the Heat went on that brutal 14-0 run in the fourth quarter. That's when James stood up and faced his Celtics demons. It's when the Heat made the switch from hoping to get past Boston to knowing they would get the job done.
Miami wasn't to be denied after that. At the time, I likened it to the look Buster Douglas had in about the fourth round when he realized he wasn't just in that ring in Tokyo to fight Mike Tyson, but that he was there to beat him.
The Heat had a similar epiphany Sunday night.
The momentum has firmly shifted in this series, despite the MVP, NBA Coach of the Year, home-court advantage and the league's best record all belonging to the team on the other bench.
Now the Bulls are the team desperately searching for answers.
"You have to commit to Wade and James, but that doesn't absolve you from covering the others," Thibodeau said. "You have to go in with a multiple-effort mindset. You have to close hard. Whenever you put two on the ball, you have to protect the paint and then get back out."
Sounds like Thibodeau would need to have seven defenders on the court to do all of that.
When you have to defend the Heat, it's always a matter of giving up something.
On Sunday, the Bulls gave up much more than a game to the Heat.
Miami snatched control of this series, and a bit of the Bulls' confidence along with it.
"They're looking at it like we looked at it after Game 1," James said of Chicago's approach to Tuesday's game. "Saying 'If we can walk out of here with a split, then we feel comfortable going home.' That's how they're thinking."
It's reached that point in this series -- the turning point.
The Heat are showing they can handle what the Bulls are doing.
And what they're thinking, too.