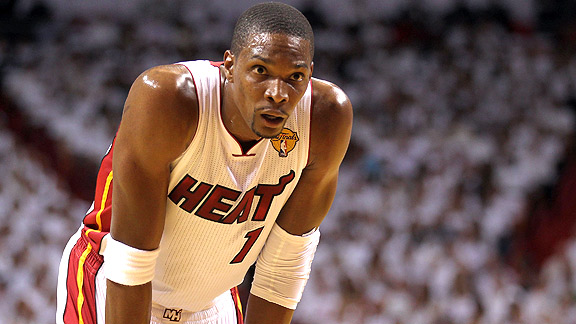 Mike Ehrmann/Getty Images
Chris Bosh has looked lost in first NBA Finals, and the Heat need him to bounce back for Game 3.
DALLAS -- It's probably not a good sign when you're in the middle of your first NBA Finals and you're thinking about the time you shot 1-for-18 in a game. But that's where Chris Bosh is right now.
Before the Heat's first practice in Dallas on Saturday, Bosh stood before the media and assured everyone that he will bounce back in Game 3 after shooting 26 percent in his first two games of the series.
How does he know that? In his mind, he has been here before. No, not in the Finals, but mentally, this is familiar territory. Back in late February against the Chicago Bulls, the Heat power forward endured one of the worst shooting nights in NBA history, missing 17 of his 18 shots from the floor. Those memories came rushing back after another off shooting night in Game 2.
"This is the Finals, and I have to really use what I've learned in crucial situations," Bosh said Saturday. "I just have to trust in myself. I know I can play the game."
Bosh's shooting woes have erased all the positive momentum that he built during an impressive Eastern Conference finals in which he shot a blistering 60 percent from the floor while averaging 23.2 points per game. On Saturday, Bosh said he sets his bar at 50 percent. If he shoots above that threshold, he's satisfied. If he doesn't, he beats himself up over it. Considering he's barely shooting half that here in the Finals, he has a lot to think about heading into Game 3.
What has been the main cause of his off-target shooting?
This isn't just a product of missing midrange jumpers. While he's shot just 3-for-11 this series on long 2-pointers, the real issue is the chip shots around the basket. Inside 10 feet, he has shot a putrid 5-for-21 (24 percent), which is an area in which he converted 57 percent of his attempts during the regular season.
In Game 2, nearly every big man on the Mavericks roster got a chance to guard Bosh. While Tyson Chandler was responsible for the majority of assignments, Bosh also went against Dirk Nowitzki, Brendan Haywood, Shawn Marion, Peja Stojakovic and even Brian Cardinal in Thursday's loss. And the only player Bosh looked comfortable against was the 33-year-old Stojakovic, who looked stiffer than a telephone pole when Bosh juked him on the right baseline in the first quarter.
Other than that play, Bosh looked rushed and off-balance. When Bosh is at his best, he's calm and collected, attacking with poise and calculated movement. On a wide-open jumper with five minutes left in the fourth quarter, Bosh hurried his launch and nearly missed everything as the shot clock expired. From that point on, the Heat offense completely ignored him.
It's no coincidence that the Heat offense degenerated in the final minutes of the game, a span of time during which Bosh never got a shot off. The Heat's offense used to be anchored around Bosh in the high post, but in Thursday's game he touched the ball as part of a half-court set just five times in entire quarter. Bosh didn't make the most of his few touches, either.
On one play in the final frame, Bosh tried to get Chandler off his feet with an assortment of pump fakes, but Bosh ended up losing the ball off his knee, turning the ball over to the Mavericks. Another time, he tried to take Chandler baseline but lost control of his dribble and the ball sputtered out of bounds with 2:53 remaining in the game.
Bosh insists that these miscues and misfires are behind him. But there's still reason to be concerned since Chandler isn't going anywhere. Chandler, who stands a solid 7-foot-1, has largely neutralized Bosh, not falling for his up-fakes and contesting without fouling. In Kevin Garnett and Joakim Noah, Bosh has faced premier defenders before, but Chandler, who finished third in the defensive player of the year voting, ranks as the tallest and strongest defender that Bosh has drawn in the playoffs.
For Bosh to be successful, he must do a better job of drawing contact on Chandler without worrying about getting blocked. Bosh only drew one whistle on Chandler the entire night off an offensive move. With a gimpy Haywood as Chandler's only legitimate backup, Bosh's aggressiveness against Chandler becomes even more imperative.
If Bosh turns it around on Sunday, many will attribute it to coming home and playing in front of his family and friends. As we all know by now, Bosh was born and raised in Dallas, but the homegrown Texan has maintained that he hasn't let the homecoming become a distraction. Bosh needs to forget about the environment and stay focused around the rim and stay assertive, regardless of how many errant shots he made in the first two games of the series.
He has bounced back before, and the Heat need him to be a focal point of the offense again, not an afterthought as he was in the final minutes of Game 2.
"I know I am capable of big games," Bosh said. "I just have to let it happen."