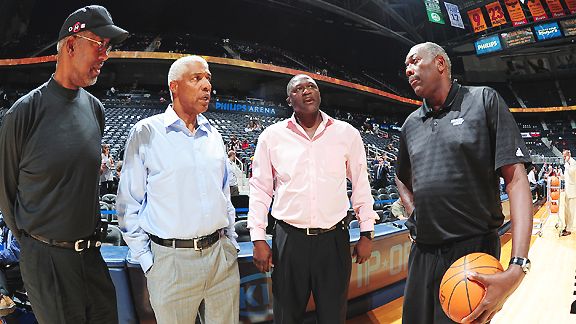 Scott Cunningham/NBAE/Getty Images Sport
Bob McAdoo (right) and Dominique Wilkins (second from right) won European championships after racking up scoring titles in the NBA.
Editor's note: Upon the news of Allen Iverson's move to Turkey, ESPN researcher Mike Lynch provided the following look back at some pioneers of the game, led by Miami Heat assistant coach Bob McAdoo.
Allen Iverson's decision to sign with Istanbul-based Besiktas isn't without precedent. In fact, he'd become the fourth former NBA scoring champion to play professionally overseas, among them Miami Heat assistant coach Bob McAdoo.
McAdoo won three straight scoring titles from 1973-74 through 1975-76 for the Buffalo Braves. His 2,831 points (34.5 points per game) in 1974-75 still represent the eighth-highest single-season total in NBA history (only Wilt Chamberlain, Michael Jordan and Kobe Bryant have ever scored more points in an NBA season). What makes McAdoo's MVP season even more impressive is that he was just 23 years old and also averaged 14.1 RPG. Unfortunately, that was his apex. He was traded to the Knicks in the midst of his 5th season and proceeded to bounce around the league for the next several seasons before surfacing as a valuable reserve for the Showtime Lakers from 1981-82 to 1984-85. He averaged at least 20.0 points per game every season until 1979-80, but played for five teams from 1976-77 to 1980-81 (Braves, Knicks, Celtics, Pistons and Nets). McAdoo finished his NBA career with the 1985-86 76ers (a team that had four NBA MVPs on its roster in McAdoo, Moses Malone, Julius Erving and an emerging second-year player named Charles Barkley).
Following his stint with the Sixers, McAdoo was far from ready to retire. He played professionally in Italy from 1986 to 1993 and led Milano to two FIBA European Champions Cup titles. McAdoo won the inaugural Euroleague Final Four MVP in 1987-88 at the age of 36. In 2008, McAdoo was named one of the 50 greatest contributors in Euroleague history.
Two other scoring champions ventured to Europe in the twilight of their careers. George Gervin, the leading scorer in Spurs franchise history -- that's right, it's not Tim Duncan -- and a four-time scoring champion, resurfaced in 1989-90 when he played in both the CBA and in Spain after dealing with substance abuse problems. And Dominique Wilkins, the Human Highlight Film, signed with Panathinaikos in Greece for the 1995-96 season. Wilkins led his club to the European championship and was named Final Four MVP. He became the 2nd American player to win Euroleague Final Four MVP, joining McAdoo. After a season with the Spurs, Wilkins went back to Europe (this time to Spain).