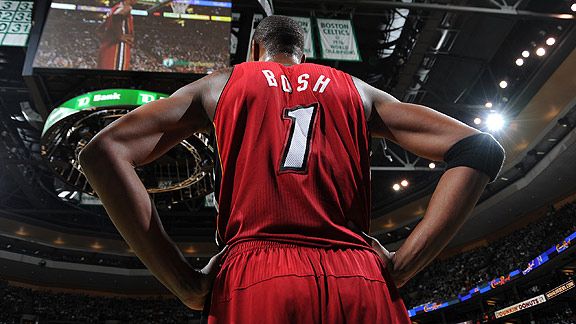 Brian Babineau/NBAE/Getty Images
Chris Bosh on his split with the Raptors: "I've never said anything bad about the city or the organization, and I've never felt bad about it."
When the NBA schedule came out last summer there was a lot of focus on Dec. 2, LeBron James' return to Cleveland. That date stuck out on the Miami Heat's calendar and arrived like a lion.
Meanwhile, Chris Bosh had another date burned on his brain, the game he wasn't looking forward to. It was Feb. 16, which is now here, even if it has come like a lamb.
It's time for Bosh's potentially uncomfortable return game, as he and the Heat make their first visit to Toronto since Bosh bolted the Raptors in free agency last summer.
The circumstances and the intensity will be different than with James, it would seem, but the game still figures to be a bit of an event. It's certainly a date Raptors fans have been waiting for. They have been through it before, raining displeasure down on Tracy McGrady and Vince Carter for years after they made their high-profile exits from Canada.
Now Bosh is up and, apparently, ready for it.
"I'm as ready as I'll ever be, you know, bring it on," Bosh said. "We've experienced some things from the crowds, and pretty much it is every arena we play in. [Fans] are extra motivated to talk crap or cheer a little louder."
Bosh believes he and James, who faced an unprecedented level of hostility when he made the visit to Quicken Loans Arena more than two months ago, had different departures. While James said he regretted the way he made his announcement that he was leaving the Cavs, Bosh said he has no such feelings.
Bosh even said he was "happy" with how his exit unfolded.
"I've never said anything bad about the city or the organization, and I've never felt bad about it," Bosh said. "Sometimes there's no good way to separate or move on. I never said anything degrading or bad or acted uncivilized. I'm pretty happy with the way things went."
Much of the vinegar was created when Raptors general manager Bryan Colangelo suggested that Bosh had quit during the back half of his last season in Toronto. That included the last six games, when Bosh was medically cleared to play after taking a nasty blow to the face at a game in Cleveland, but did not suit up as the Raptors were fighting for a playoff spot.
"Whether he was mentally checked out or just wasn't quite into it down the stretch, he wasn't the same guy," Colangelo said in a July interview. "I think everybody saw that, but no one wanted to acknowledge it."
Bosh didn't help himself with a few quotes from the start of the season. He said being on national television more was a motive for signing in Miami, though he later claimed the quotes were taken out of context. Then a few weeks later, just before his first meeting with the Raptors, Bosh made some headlines with an offhand comment about not having good cable at his building in Toronto that prevented him from watching more NBA games.
Those dustups, though, were minor compared to Colangelo's charges, which Bosh strongly denies.
"It is a hard job to play every night, especially with the things I was dealing with at the time," said Bosh, who battled a knee injury last season as well.
"It was very tough. I came, I competed every night when I was out on the court when I was healthy. Even when I wasn't 100 percent, I still went out and gave it my all. With me knowing that, I don't have to worry about what other people say. I know, good and well, what I did and I would never, ever check out of anything."
Nonetheless, the Raptors fans are going to have their say about it. No one seems certain how Bosh, generally regarded as laid-back, will deal with it. The Heat have absorbed their share of venom as they've crossed the country this season, but rarely has Bosh been the target.
"He saw when I went through Dec. 2, so he should be prepared," James said. "It will not be as bad as it was for me. He can expect boos. He can expect a little hatred from them. As teammates, we'll be there for him. I haven't seen him in that situation. He's a great guy, he's laid-back and I haven't seen people get on him about anything because he stays to himself. We'll see. He doesn't have to do it alone."
If Bosh is stressed about the experience, it isn't showing. Part of his ease, he says, is that he's at peace about his time in Toronto. Even if the fans won't feel the same way, Bosh plans on trying to take a mellow approach to the game.
"I don't regret anything," Bosh said. "You know what you did. It is like marked of the beginning of my manhood, so to speak. I don't stress too much about many things. It is what it is and whatever will be, will be."
Que sera, sera?
"That was kind of nice, right?" he said with a smile. "I've been listening to a little soft rock lately."