MIAMI -- For a guy who's one of the quietest stars in the NBA, Chris Bosh certainly finds himself in the crosshairs of controversy and criticism quite frequently.
It's been that way all season.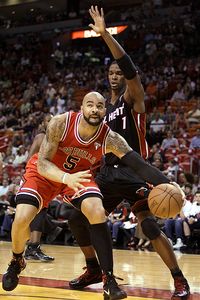 AP Photo/Lynne Sladky
Carlos Boozer and Chris Bosh: The pivotal matchup?
Bosh wouldn't expect anything different entering the Eastern Conference finals, where he'll take his normal seat under the spotlight of scrutiny as the Miami Heat prepare for Game 1 against the Chicago Bulls on Sunday at the United Center.
"Bad games are going to happen," Bosh said Saturday in trying to both justify and dismiss that career-worst, frigid 1-of-18 shooting performance from his last visit to the Windy City. "I can't point the finger at anything on that one. I just want to force myself to be more aggressive."
With the Heat and Bulls each having distinct matchup advantages in the series, it's Bosh's presence -- or potential lack thereof -- at power forward that could prove to be pivotal in this showdown.
Before moving forward, let's quickly recap how we arrived at the place where Bosh became the key that could unlock the Heat's door to the NBA Finals. Here's a quick matchup breakdown:
Point guard: No brainer. League MVP Derrick Rose will dominate, and there's nothing the Heat can do about it -- other than continue to curse those wretched pingpong balls that bounced Chicago's way in the 2008 draft lottery. So no sense in debating it. Simply check this one off for the Bulls.
Shooting guard: Apply everything I just said in the point guard matchup, sans the lottery reference, to this position and score it in favor of Dwyane Wade and the Heat.
Small forward: While Luol Deng is certainly versatile, and will make LeBron James work extremely hard on both ends of the court -- much the way Ray Allen did last series with Wade -- it's clear LeBron and the Heat have the upper hand here as well.
Center: Be honest here, folks. If you were holding a draft of only the centers on both rosters, Joakim Noah would go first and Omer Asik would be second. Some might even take Kurt Thomas third. Erik Spoelstra would tell you that it's no indictment on the serviceable Joel Anthony, Zyrdunas Ilgausas and crew. But honestly, it is.
Bench: Here's where Gar Forman earned his share of the league's executive of the year award. Pat Riley stocked up on top-heavy talent in Wade, James and Bosh and caught a few bad breaks beyond that in rounding out the roster. Forman struck out on stars but built a superb supporting cast. C.J. Watson, Ronnie Brewer, Kyle Korver, Taj Gibson and Asik win this matchup easily for the Bulls.
Two other categories -- coaching and intangibles -- are pretty much even. So, if you're keeping score so far, that leaves one position that could very well tip the balance of power in the series.
Power forward. Bosh versus Carlos Boozer. Two players who have rotated between scapegoat, X factors and heroes throughout their first seasons with their respective teams. Two players who have a lot more in common than it would appear on the surface, including their initials.
There are times when home fans wish these contracts came with return policies.
And there have been just as many times when teammates of Bosh and Boozer have labeled them the most important pieces to their teams' success.
So, it's no coincidence that Boozer and Bosh both opened the previous series struggling and finished them on productive surges.
"He's a great player," Spoelstra said Saturday. "He's playing well now. We saw that in the series before. He just needed all of those games and criticism as fuel. You can expect that. Everybody was writing him off, and he responded."
Spoelstra could just as easily have been referring to Bosh in those statements, considering the flak the Miami forward took after admitting he was psychologically shaken by the atmosphere in Boston before the Heat's Game 3 loss at TD Garden.
Instead, Spoelstra was talking about Boozer, who was vehemently booed at the United Center early in the series against the Atlanta Hawks as he struggled to play through a nagging toe injury.
Their respective teammates spent last series taking up for Boozer and Bosh. This series, they're turning to them to fill in the gaps as potential difference-makers.
Including the playoffs, the Bulls are 28-6 this season when Boozer gets a double-double in points and rebounds. As the Bulls finished off the Hawks, Boozer had 11 points and 12 boards in Game 5, then 23 points and 10 rebounds in the series clincher in Game 6.
"I'm just trying to get a little bit better every game," Boozer said. "I'm just playing my game, playing off my teammates, playing off the MVP [Rose]."
There's a parallel line with Bosh's production. The Heat are 27-7 this season when Bosh posts a double-double, including a 6-0 mark in the playoffs.
Do the math. And it's a simple equation.
"I think that's probably the key matchup," James said of the Boozer-Bosh showdown. "When Booz plays well, Chicago's pretty much tough to beat. When C.B. plays well for us, we're pretty much tough to beat. So if they both play well for both teams, then it's going to be a great game."
But the Heat want more than great games out of Bosh. They want victories. So Wade came up with his own formula for success in the series, which includes getting at least 12 rebounds a game from Bosh.
"He can be a huge factor for us," Wade said of Bosh. "We're going to need his outside shot. We're also going to need his rebounding. [The Bulls] are a really great offensive rebounding team. We're going to need him to be big down there rebounding the ball, averaging at least 12 rebounds a game. What we do and are successful at, Chris is very, very big in that. He understands that and knows that. We just want him to go out and play. He did some great things last series that can carry over."
After hearing about Wade's 12-boards-a-game challenge Saturday, Bosh set the bar even higher.
"The more the merrier," said Bosh, who averaged 16.3 points and 9.6 rebounds this season. "I definitely think it'll help. If D-Wade wants me to get 12, I'll try to get 13. I'll shoot for the stars on this one, man."
Bosh would rather not overstate the importance of his matchup against Boozer.
"I don't think it's about individual matchups in this one," Bosh said. "It's a collective effort. We're a different team. This is a different game now. Over the course of the season we've gotten better. They're one of the teams that helped us get better because we realized we had a long way to go in terms of chemistry and execution."
There's a chance, as James pointed out Saturday, that the two might not be assigned to defend one another. Chicago could just as easily decide to have the more defensive-oriented Noah assigned to Bosh, which would allow Boozer to match up with Anthony, the Heat's offensively challenged center.
That strategy would allow Boozer "to be a roamer" defensively, James said. And Bosh's ability to step out on pick-and-rolls and help defend Rose could be just as important as offsetting Boozer's production at power forward in the box score.
"He needs to be an active participant," Spoelstra said of Bosh's multi-demensional role. "Defensively, he's a catalyst for us, and we'll need that, dealing with all of Rose's pick-and-rolls. He needs to play the role we need him to play to be successful."
There's also a back story that adds intrigue to the Boozer-Bosh tale of the tape.
They entered free agency last summer as the two of the top power forwards on the open market. Boozer, who owns a home in Miami, where his children had been attending school, openly campaigned for consideration from the Heat.
Riley and the Heat were more enamored with Bosh, who shared an agent with Wade and was always considered part of a package deal. The Bulls also recruited Bosh, and Boozer didn't appreciate having his free agency essentially put on hold until Bosh made up his mind.
Bosh joined the Heat and Boozer was quickly snatched up by the Bulls.
So it created only more suspense when Boozer, asked about facing the Heat after the Bulls eliminated the Hawks, mentioned that Miami had two great players. It was widely viewed as a shot at Bosh as much as it was an offering of praise for Wade and James.
No problem. Bosh has been taking those type of hits on and off the court all season.
It's kind of been a nonstop, round-trip journey between overlooked and underappreciated. Boozer has racked up frequent flier miles along that route, too, this season.
Bosh has bounced back strong before to quiet the skeptics.
If the Heat are to win this series, they'll need Bosh to do so again.