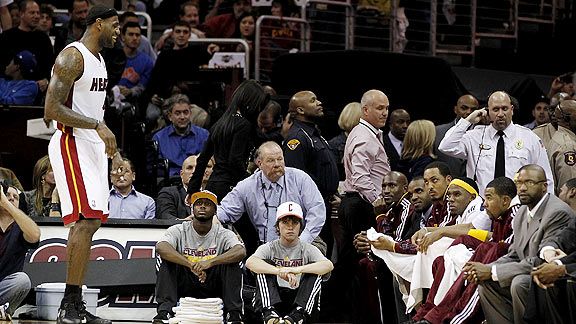 Gregory Shamus/Getty Images
On Tuesday, LeBron James is unlikely to engage -- or even recognize -- the Cavs' bench.
CLEVELAND -- Ditching his usual smile, Daniel Gibson put on a tough guy act when talking about LeBron James' most recent return to his hometown.
"That ain't going to happen," the usually affable and always polite Cleveland Cavaliers guard said. "We can definitely rule that whole thing out."
Gibson took unwanted flack when James made his memorable return to Cleveland in December after cameras caught him talking to and smiling at his ex-teammate from the bench as the Heat were blowing out the shell-shocked Cavs. This time, Gibson vows, no such pleasantries will be permitted.
Frankly, it won't be that hard for Gibson to back up his word. Should James try again to engage the Cavs' bench he may not be able to find anyone he even knows over there.
With injuries that have knocked starters out for the season and a couple trades that began a large-scale rebuilding process, James' former team is nearly unrecognizable. There are only three players currently on the active roster who played with James last season.
It's just one of several reasons James' second return with the Miami Heat on Tuesday night isn't generating the furor in Northeast Ohio as his first visit did back on Dec. 2.
That night will be remembered for some time, if not for the lopsided game, then for the atmosphere created by five months of pent-up anger from jilted Cavs fans. Fans started getting removed from the Heat's bench area as soon as James took the court. The air in Quicken Loans Arena was hot with hostility. The most cutting moment might have been when James got the never-before-seen standing boo when he went to the foul line for the first time.
The Heat will certainly remember it. As they've traveled the NBA and routinely dealt with varying levels of boos on the road, Heat players have often shrugged off the treatment by referring to the inoculation they got that December night. Dwyane Wade and James giggled at the Raptors fans' attempts to intimidate Chris Bosh in his return when they compared it to what the team endured in Cleveland.
"It can't get no worse than it was Dec. 2," James said when asked what he's expecting this time around. "I know that for a fact."
Now, though, things are different. For one, the Cavs are playing out the string of one of the worst seasons in team history as injuries have plagued them all season. Second, the rabid fans from December have been disenchanted after seeing the Cavs set an NBA record with a 26-game losing streak. At 24 hours before tipoff, Tuesday's game was not even a sellout. With two lottery picks, the organization has turned much of its attention toward the draft.
Right now the Cavs, even with James' making his second local appearance, rank behind the Browns' draft and this week's Indians' season opener in general fan interest. Some of that is the natural order of things, but some of it is a coping mechanism as James revisits a team that is a shell of the two 60-win outfits he led over the past two seasons.
James didn't expect the national fallout from his free-agent choice nor did he quite prepare himself for the level of venom he'd get in his hometown. But one thing he did know was that the passage of time would be therapy for everyone involved. Not surprisingly that process has already started as his first regular season in Miami draws to a close.
The scars in Cleveland are still fresh, but the feeling is no longer that of a bleeding wound. The Cavs and their fans, after all, have bigger things to worry about than the memory of July 8, 2010.
So do the Heat, who were deep in search mode when they last came to Cleveland at 10-8, but now are in a fight with the Boston Celtics for the No. 2 seed in the playoffs as they sit at 51-22. Miami is at the start of a four-game road trip against teams they expect to beat, including Washington, Minnesota and New Jersey.
Meanwhile, the Cavs were 7-10 when they last hosted the Heat and hopeful of assembling some sort of run for the playoffs. After the difficult loss, the Cavs went into a tailspin and are 7-48 since.
So saying Tuesday is just another game wouldn't be true. But it isn't a defining moment either. Both teams are thankful for that.
"[Last time], every channel they had a special about LeBron going back to Cleveland," Bosh said. "But it's a little bit different this time."