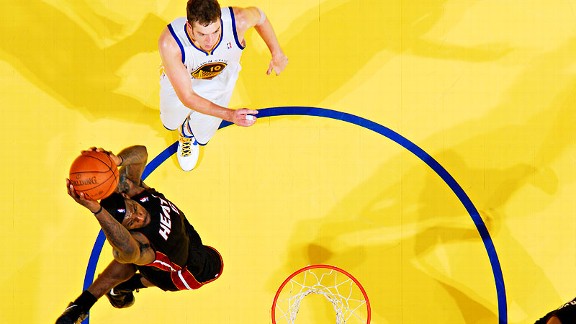 Rocky Widner/Getty Images
LeBron and the Heat look to soar to a 9-1 record against the Warriors. Should Wade take flight, too?
The Warriors and the Heat might be separated by conferences, but they share this commonality: they have been missing one of their top guards. Dwyane Wade and Stephen Curry have each been battling foot injuries -- Wade's left foot and Curry's right ankle to be exact -- but the Heat have held out hope that Wade can play Tuesday; the Warriors will be without Curry again.
The Warriors could certainly use Curry, as the 2-6 club will have their hands full against a Heat team that has trampled opponents as of late -- with or without Wade. For Tuesday night's matchup, Wade is considered a gametime decision.

Would Wade be wise to try to give it a go? Is Monta Ellis better than Chris Bosh? Would Steph Curry be an ideal fit for the Heat? Were the Heat wise to let Dorell Wright walk? Do the Heat have a chance at winning twice as many games as the Warriors this season?
In another edition of the Heat Index's 5-on-5 series, our stable of writers play some "Fact or Fiction" with some of the story lines surrounding the Heat-Warriors matchup.
1. Fact or Fiction: Dwyane Wade should suit up tonight.
Tom Haberstroh, Heat Index: Fiction. Let LeBron James and Chris Bosh continue to show what we would've missed if the Cavs traded for Bosh instead of Antawn Jamison in 2009-10. The Heat need Wade for Wednesday's tilt against the Clippers and an immediate back-to-back sounds like a recipe for re-aggravation.
Jorge Sedano, ESPN radio/790 the Ticket: Fiction. The Warriors are missing Curry, arguably the best shooter in the game. Wade's injury seems more significant than the Heat led on initially. So, one more game of rest before Lob City and the Mile High altitude won't hurt the Heat here. Grab your best Armani suit and take a seat on the bench.
Ethan Sherwood Strauss, WarriorsWorld/HoopSpeak: Fiction. As a non-medical doctor, I believe Wade will be fine if he puts a few leeches on the foot. But after consulting some doctor friends ... it seems best to rest a possible plantar fasciitis. Also, Wade might hurt himself stomping on Monta's throat.
Michael Wallace, Heat Index: Fiction. While I find it hard to believe that neither Wade nor the team know exactly what he's dealing with regarding the foot injury, I do believe that the best option right now is to sit him until whatever it is has a chance to completely heal. This sounds similar to an injury Tim Duncan had a few seasons ago in San Antonio that affected him at least a month. We'll see with Wade, but it's smarter to err on the side of caution.
Brian Windhorst, Heat Index: Fiction. There is simply no reason. This injury is more serious than anyone thought and it is taking longer to heal and it has Wade concerned. There will be times when the Heat can't afford to give Wade rest, now they can.
---
2. Fact or Fiction: Monta Ellis is the third-best player on these two rosters.
Haberstroh: Fiction. Fans are obsessed with points per game like a mosquito to a light zapper, but the red flags surrounding Ellis' game are real. He's launching over 20 field goals per game and shooting 41.8 percent from the floor and a grotesque 23.5 percent from downtown. Give me Bosh, who has become a more-than-solid two-way player, and I'll show you winning basketball.
Sedano: Fiction. Did Shaq sneak this question in here? Ellis is an elite scorer at a highly competitive position. But, if there's a position that's just as competitive, it's power forward. If you crunch the numbers, Bosh's production has been superb on both ends of the floor. Can't say the same for Monta. The Atlanta game is a reminder that Bosh is an elite player in this league. Yeah, I'm talking to you, Shaq.
Strauss: Fiction. I'll take the taller guy who makes All Star teams (Bosh). There is a wrinkle here, because Ellis often plays masterfully in a season's beginning, before teams remember how to play him. Monta might have the edge, but it is an edge that quickly dulls.
Wallace: Fiction. I absolutely love Monta's talent, effort and heart. I've seen him develop from a high school sophomore to one of the most productive guards in the NBA. Although I strongly disagree, some might try to convince you that Monta isn't even the best player on his team. But I've always preferred a gifted "big" over a gifted guard. So I'd say Chris Bosh is the third-best player on these rosters. It's close, but I'd take Bosh by about 10 inches.
Windhorst: Fiction. Ellis is super-talented and he certainly feels he's a great player. But he's never been able to lift his team and never been able to set a defensive example. Chris Bosh led the Raptors to the playoffs on his own with less talent than Ellis has had over the last few years. In addition, it is hard to overlook some of the decisions Ellis has made off the court in his career.
---
3. Fact or Fiction: Of all young guards, Steph Curry is best fit for the Heat.
Haberstroh: Fact. If you went into a basketball lab to build a point guard to amplify the Big Three and their high-flying attack, you'd probably build Steve Nash. But if you want to find the youngster who fits the mold of sharpshooting, creativity and speed, good luck finding someone better suited for the job than Curry.
Sedano: Fiction. Picture this, Sicily, 1939... Wait! Sorry, the Golden Girls was on the TV set. I mean, my wife left the Golden Girls on. Anyhow, picture Ricky Rubio making those insane passes to the two best transition players in the game. How great would the Heat's "Quack Attack" Offense look with Ricky pulling the strings? Plus, he's shooting well. Small sample size, I know. But, c'mon!
Strauss: Fact, and let's pretend Curry's ankle tendons don't comprise a wobbling Jenga tower. A healthy Steph provides Miami with spacing, 3-point shooting -- just what they need. As for his defense? The shimmering vision of a LeBron-Steph pick-and-roll is the best defense against nagging defense questions.
Wallace: Fiction. I understand the intrigue with Curry. But I'll reserve judgment on him until he's consistently able to stay on the court. These ankle sprains are a chronic concern. I don't buy that he'd be a better fit on the Heat than, say, MVP Derrick Rose. What does "fit" actually mean anyway at this level? Being "effective" is far more vital. Just think about it this way: had the Heat drafted Rose in 2008, there might not have been a need to get LeBron here.
Windhorst: Fiction. I would not take any guard in the league over Derrick Rose right now just on principle. But of all the guards who have come into the league in the last three years, Curry is probably the best pure shooter and that is what would have the most value next to Wade and LeBron James. So the Heat might maximize their team if they had a player like Curry. But Rose is Rose.
---
4. Fact or Fiction: Miami was wise to let Dorell Wright go.
Haberstroh: Fact. Wright thrived in his role as a downtown sniper for the Warriors last season, but he wouldn't be getting 14 shots a game on the Heat and he most certainly wouldn't be averaging 38 minutes a game. As a starter for an organization in rebuild, you could do worse than Wright. But the Heat are the furthest thing from a rebuilding organization.
Sedano: Fact. I know Dorell played really well last year. But, this Heat team was not in a position to hope Dorell developed in Year 7. He got shots and put up numbers. He wasn't getting those shots here. Mike Miller when healthy is a better all-around player. Miller's injuries aside, the Heat got Udonis Haslem for the price Golden State is paying Dorell. No-brainer.
Strauss: Fiction. So far, Dorell's still locked out of the 2011-12 season. Teams are chasing him off the 3-point line and his pump fake isn't buying him any space. But I believe he'll tilt back towards the mean, and if he does: Miami erred in going so hard after Miller.
Wallace: Fact. In order to pull off the grand plan of creating enough cap space to get Wade, Bosh and LeBron together, the Heat needed to squirrel away every penny possible. They couldn't afford to keep Dorell and pay him what he commanded as a young and promising free agent in 2010. It worked out best for both sides, because Dorell needed to go elsewhere to reach the next level of his game. He had two seasons to lock down a starting role here but never could for several reasons.
Windhorst: Fact. Wright is off to a terrible start to the season so it is not a fair discussion at the moment. I think the better analysis is to look at the fact that he's making $3.8 million and the Heat are paying Mike Miller, Shane Battier and James Jones a combined $10 million. Last year, Wright almost had better numbers than those three combined. But at the time the Heat felt getting more experienced and proven players was important with where they were going and it is hard to disagree with that mindset even if Miller has been crushed by injuries.
---
5. Fact or Fiction: Miami's final win total will at least double Golden State's.
Haberstroh: Fact. If the Warriors were fully healthy, I probably don't feel good about this ruling. But the Warriors could be without their best player (yes, that's Curry) for weeks and that's a huge blow during this condensed season. When Nate Robinson comes to the rescue, that's like using a cinder block as a life preserver.
Sedano: Fiction. I have the Heat winning 55. I have the Warriors winning 28. I'm not a math major, but that sounds like the Warriors eek this one out.
Strauss: Fact, which might be fantastic for GSW, since their draft pick is top-seven protected. The Heat are losers in this scenario because the win total just ramps up expectations that they grab rings like a 9-1-1 operator.
Wallace: Fact. I love first-year coach Mark Jackson's enthusiasm for predicting the Warriors would be a playoff team this season. But the reality is that they'll be fortunate to win 25 games. There are some nice pieces in place, but the chemistry seems to be slow in developing. They're a trade away from being a serious playoff contender in the West. So if they can get to 25 victories, that will leave the Warriors right at the halfway mark of the 50 wins I've predicted for the Heat.
Windhorst: Fiction. It doesn't look like the Warriors are going to be a playoff team as they were expecting this season. But they are not as bad as they have been over the last two weeks. Curry's injury is a big blow. This is a talented team that historically is very good at home. They will get their wins and despite the Heat's great start, Miami probably isn't going to keep winning 90 percent of their games.
---