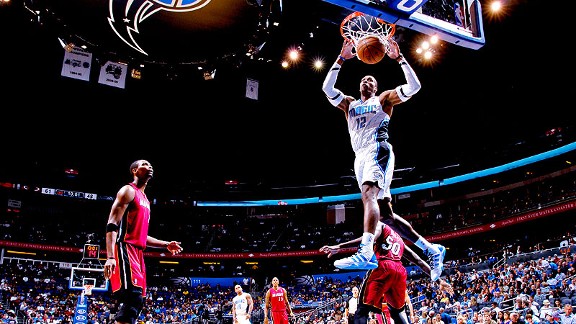 Fernando Medina/Getty Images
Dwight Howard has dominated the Heat in Orlando, but can he and the Magic do the same in Miami?
Never known to mince words, Orlando Magic coach Stan Van Gundy has an interesting take on so-called "statement" games like the one his team faces Sunday against the Miami Heat.
"I always call B.S. on that," Van Gundy flatly said. "After the game is usually when you call them statement games. It's usually easy to say after the game. You don't make statements. You either win or you lose. It's a regular-season game. They don't give you any more credit for one than the other."
Leave it to Van Gundy to attempt to knock as much steam off what's become one of the more heated rivalries in the NBA. But the fact remains that a victory Sunday against the Heat would speak volumes for the Magic's development and direction this season.
A week ago, Orlando was in the midst of potentially franchise-crippling trade speculation involving center Dwight Howard. Had the most dominant big man in the game been dealt at Thursday's trade deadline, the Magic likely would have immediately stumbled from third place in the East standings to possibly among the teams fighting for one of the final playoff spots.
Now, with Howard committed to Orlando through the end of his contract next season, the Magic believe they have enough in place to make a run and contend with conference front-runners Chicago and Miami.
After beating the Bulls and Heat in the past nine days, the Magic are now 1-1 against Chicago and 2-1 against Miami this season. Only one other team -- the Milwaukee Bucks -- has defeated the Heat twice. And although regular-season results didn't prove to mean much once the playoffs arrived last season, the Magic's formula for relative success could hold up in certain postseason matchups.
"We're going to show it," Howard said of trying to make a run down the stretch. "I'm going to make sure these guys are fired up every night to where we believe we can win. And everybody has to feel the same way. We all have to believe we can do it. That's the message."
That message is even more specific when it comes to facing the Heat, who have won 12 consecutive games at home.
"The next game is going to be very important," Howard said. "We haven't played good in Miami. They turn it on when they play at home. We have to be able to weather the storm early and play our brand of basketball. That's why we were able to beat those guys [in Orlando]. We just have to be able to take that on the road."
Howard destroyed Miami in the Magic's two home victories by averaging 24.5 points and 24.5 rebounds. Two of his league-best eight games with at least 20 points and 20 rebounds have come against the Heat. But he was barely a factor offensively in Miami's 90-78 home victory between those two games. The Heat's interior weakness and recent rebounding struggles would appear to play right into Orlando's strengths. In addition to the rebounding woes, the Heat also rank among the worst teams in the league in giving up 3-pointers. That, too, is a Magic specialty.
In the three meetings, the Magic have shot 33-of-99 from 3-point range and have outrebounded the Heat by 10 boards per game. Despite that level of success against a Heat team that ranks in the league's top five in overall defense, Van Gundy also has legitimate cause for concern.
"They have a great system and they work at it," Van Gundy said. "They have phenomenal strength and quickness. They cover a lot of ground. Their quickness, their overall length and the fact that they know what they're doing and work their [tails] off at it … nobody can cover as much ground as their guys."
The Heat have forced Orlando into 55 turnovers that have led directly to 69 points in the three games. Because Miami counters Orlando's size and strength with relentless perimeter pressure spearheaded by LeBron James and Dwyane Wade, Van Gundy tweaks his philosophy when facing the Heat.
"I go into most games really thinking 75 to 80 percent in terms of defense [and] 20 to 25 percent offense," Van Gundy said. "Against the Heat, offense becomes a lot more important than what it normally is. The one difference for us, maybe as opposed to some other people, is our offense is much more important against them than it is against most people. If you have bad offensive possessions against Miami, particularly if you turn the ball over, you pay virtually every time."
As a result, the approach for Orlando is predicated on Howard making the smart reads when he sees double-teams coming. It also requires the Magic's perimeter players to make the right passes inside to Howard and anticipate weakside help coming to disrupt his rhythm.
But more than anything else, Orlando must also get the level of support that limits it from being a one-dimensional team. On Tuesday, the Magic weathered a turnover-induced 20-0 Heat run in the second quarter by getting a strong finish from point guard Jameer Nelson, who had 25 points and was 4-of-7 from 3-point range.
In the first meeting of the season, forward Ryan Anderson provided the outside touch to complement Howard's inside force. Anderson had a team-high 27 points and 11 rebounds, and Orlando knocked down 17 of 42 attempts from beyond the arc.
"If we can play to our game, especially defensively, we feel like we're a team that can go to the Finals," Magic forward Glen Davis said. "The East is tough. Miami is tough. They take the little things you do wrong and turn them into big things, and they're gone. We can't hurt ourselves and let them get away from us. It takes all of us to do it."
Regardless of Sunday's outcome, Van Gundy won't make too much -- or too little -- of the result. He knows the Heat won't, either.
"Whether you're 3-1 or 2-2 against them isn't going to make any difference if you end up playing them in a playoff series," Van Gundy said. "If we win, I don't think they're going to all of a sudden have no confidence if they play us in a playoff series. That's just not the way it works."