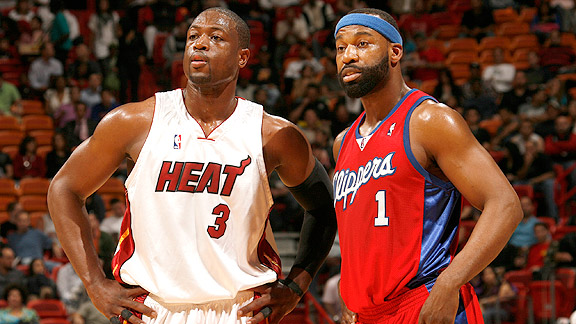 Evan Gole/NBAE/Getty Images
Dwyane Wade and Baron Davis will undoubtedly watch Blake Griffin do something otherworldly.
Heat big men, meet Mr. Griffin
You know how coaches like to yell, "Put a body on him!"? You can't put a body on Blake Griffin. He's simply too agile, physical and hungry to muscle away from the hoop. If the Heat want to combat Griffin with size, they could hand the assignment to Erick Dampier or Zydrunas Ilgauskas. Their size might give Griffin momentary pause, but the presumptive Rookie of the Year is far too quick for them. Joel Anthony had success using his quick feet and defensive instincts against Amare Stoudemire, but Griffin is more explosive at this point in his career. Chris Bosh? He's performed fairly well this season defending the post (surrendering only .76 points per possession in post-up situations), but he'll have to summon every last one of his superpowers to keep Griffin away from the rim. Furthermore, checking Griffin isn't just a matter of challenging him when he has the ball on the block. Half a defender's grade will come when Griffin is off the ball, setting screens for Eric Gordon, cutting sharply to the hoop and hanging out on the baseline waiting to pounce on the offensive glass.
Know what would be glorious to see? LeBron James guard Blake Griffin. Which brings us to ...
Can Heat afford to go small again?
On Sunday night in Portland, Heat coach Erik Spoelstra reached into his "back pocket," where he keeps all his unconventional options. He plucked out the Heat's small lineup of Carlos Arroyo, Dwyane Wade, James Jones, James and Bosh for the final stretch against Portland. Down seven late in the fourth, the Heat caught the Trail Blazers in regulation and surged past them in overtime. Miami won its 7-minute small ball stint 25-11. What made the decision interesting was the opponent. Portland is a lanky unit that ranks first in the NBA in offensive rebounding. The Clippers, meanwhile, are the league's second-best rebounding team and have the largest offensive rebounding differential. Griffin, DeAndre Jordan -- even Ike Diogu and Al-Farouq Aminu -- have been pummeling teams on the offensive glass. Those highlights you see online of Griffin and Jordan brutalizing the rim? They're the results of the Clippers' ability to use their size and athleticism to get easy buckets at close range -- only Memphis and Charlotte take a larger percentage of their shots inside of 10 feet. James and Griffin are roughly the same size, but Bosh and Jordan are not. Going small in Portland opened up the court beautifully for the Heat in crunch time. But Miami might want to find a more standard way to do so in Los Angeles on Wednesday.
Force the Clippers to move on defense
The Clippers rank only 20th in defensive efficiency but have improved a great deal since the beginning of the calendar year. They have mobile big men who can hold their own on the perimeter and a couple of sturdy wings in Gordon and Ryan Gomes who won't embarrass themselves in isolation situations. Gordon did a nice job on Wade when the Heat and Clippers hooked up last January at Staples Center, keeping Flash off the line and limiting his playmaking. Impatience only plays into the Clippers' hands, but force them into making decisions and you can find points in the half court. After struggling against the Clippers for three quarters, Atlanta picked them apart in the fourth by running a 1-2 pick-and-roll for Joe Johnson. The Hawks drew the switch virtually every time and rode that scheme to a comeback win. A few nights earlier against Utah, the Clippers turned in their worst defensive performance since ... their last game against Utah on Nov. 28. Utah's constant motion disoriented the Clippers, who overreacted to the Jazz's cutting big men, left Gordon Hayward wide open and were slow to commit help to Al Jefferson down low. When the Heat aren't flowing offensively, they tend to let defenses off the hook with quick jumpers. Against the Clippers, who often feature a zone, they should demonstrate patience. A good shot will usually materialize, but it might not be immediately apparent.
Keep an eye on the Clippers' backcourt
Griffin's exploits are electrifying NBA fans, but nobody is having more fun watching Griffin than Baron Davis. The point guard has had a tumultuous two-plus seasons in Los Angeles, but this season he's deferred to the Clips' young tandem of Griffin and Gordon. He's taking far fewer shots from 16 feet and beyond and has made finding Griffin at the rim his first offensive priority. Those alley-oops, deep feeds and nifty interior passes off drag screens that feed the Griffin highlight reels don't happen by accident. Griffin's freakishness finishes the plays -- but Davis' playmaking usually starts them. Like most teams that face the Clippers, the Heat will likely be posterized by Griffin at some point Wednesday night. If the Heat want to limit the fallout, they should pay Davis ample attention, because when it comes to setting up big men for pure, high-percentage looks, Davis is among the best in the business. Gordon, meanwhile, has become one of the league's most reliable and efficient perimeter scorers. The Gordon-Griffin angle pick-and-roll is the Clippers' bread-and-butter. As devastating as Griffin might be diving to the basket, Gordon exacts the most damage -- only Kobe Bryant, Kevin Martin and Wade have scored more per 40 minutes at the shooting guard position. The 6-foot-3 bowling ball pressures defenders because he's a potent double-threat: Gordon's 3-point touch has returned after a rough start to the season, so he must be guarded from distance. But play Gordon too close and he'll unleash his hard dribble and bully his way to the hole.
Get back to attacking the basket
When you scan Miami's game log, one fact rises to the surface: The Heat post their most efficient offensive games when they make a concerted effort to get to the line. That's true of most teams, but few squads have the one-on-one ability to force the issue more capably than the Heat. Yet over their past four games against inferior offensive opponents, the Heat are about even with the competition in free throw rate. On Wednesday night, the Heat will be tempted again to take perimeter jumpers (Clippers opponents shoot nearly 40 percent from the arc), but their best course of action will be to force the Clips to defend them on the attack. Watch out for Jordan, who has blocked 22 shots in his past four games and has become one of the league's most menacing weakside defenders. Both he and Griffin are prone to foul trouble (the former more so than the latter). Though it would be a tragedy to see Griffin sit for extended stretches of the game, the Heat shouldn't worry about entertainment value. Instead, they must force Griffin to defend actively each time down the court.