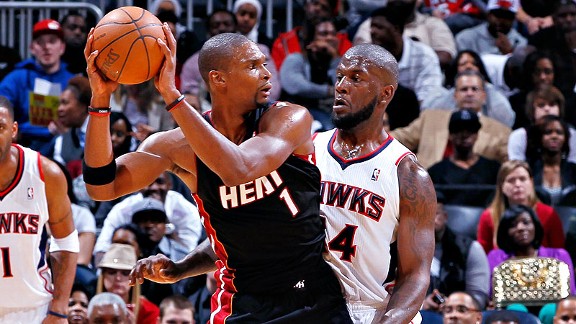 Kevin C. Cox/Getty Images
Chris Bosh ran solo against the Hawks last time around, but he'll have some help on Sunday.
Here it is, the day the Heat have dreaded since David Stern announced that the lockout was over: the start of the back-to-back-to-back. Miami kicks off their three-games-in-three-nights whirlwind on Sunday night against the Hawks, who will be without their All-Star big man Al Horford.

Should the Heat spend time watching the last meeting between these two teams? Is Erick Dampier amped to play his former team? How will the Heat do on the three-game slate?
In another installment of Heat Index's 3-on-3 series, our writers give their takes on the story lines before the Heat (20-7) take on the (18-9) Hawks.
1. Fact or Fiction: The Heat should look at film from the 3-OT game.
Tom Haberstroh: Fact, because they need to figure out how to stop the Ivan Johnson train. Well, maybe not. They should spend at least a few minutes going over some of their game tape, but considering Al Horford played and Dwyane Wade and LeBron James didn't, I'm not sure how much they can take away from the film study.
Michael Wallace: Fiction. That was such a weird game that there might not be much you can take away from it other than a few minor scouting tips. I'm sure Chris Bosh has probably considered producing a personal documentary that stems from his stellar performance that night when LeBron and Dwyane Wade sat out with injuries.
Brian Windhorst: Fact. Maybe not to watch themselves but certainly to watch the Hawks. That game was loaded with late-game strategy decisions. I know this is a semi-joke question because that was such a bizarre out-of-sequence game for the Heat. But I will stick with my premise: The next time the Heat need a 3-pointer to win or tie a game in the last 10 seconds I'd give it to Chris Bosh. Or Mario Chalmers. If Erik Spoelstra goes with LeBron James or Dwyane Wade, I hereby promise to rip him for it.
---
2. Fact or Fiction: No one is more anxious to play tonight than Erick Dampier.
Haberstroh: Fact. Did you know that Erick Dampier started for the Heat on Apr. 6 against the Bucks and then never played another minute again? Yeah, I think there's some residual bitterness there. Whether he can do anything it is another story.
Wallace: Fiction. The Hawks picked up Dampier, who seems to have picked up a few pounds while waiting on a job prospect after the Heat refused to bring him back. Damp feels he was slighted at times last season, but he shouldn't be the most motivated player today. That should be Shane Battier, who's finally escaping that long shooting slump and is anxious to keep his modest turnaround going.
Windhorst: Fiction. I don't think Damp is too anxious about anything these days. He was upset the way his tenure in Miami ended. So was Zydrunas Ilgauskas. Spoelstra just quit playing them both.
---
3. Fact or Fiction: Miami will win at least two on this back-to-back-to-back.
Haberstroh: Fact. I'm not 100 percent sold that the Bucks are the Heat's kryptonite and I think Al Horford means that much to the Hawks' chances. That said, even though the Heat beat the Pacers by 35 last time they faced them (35!), that's their toughest matchup of the trio.
Wallace: Faction. I'm going with the old reliable fence position here. The Heat might not win two games on this stretch, but they'll emerge with two victories - they'll win at least one on the court, and they'll survive the gauntlet without a major injury. That's a win-win in my book, considering the back-to-back-to-back circumstance.
Windhorst: Fact. They're a good team that's been playing well. Wade is hot, Bosh looks like he's coming out of a slump and they have a score to settle in Milwaukee.