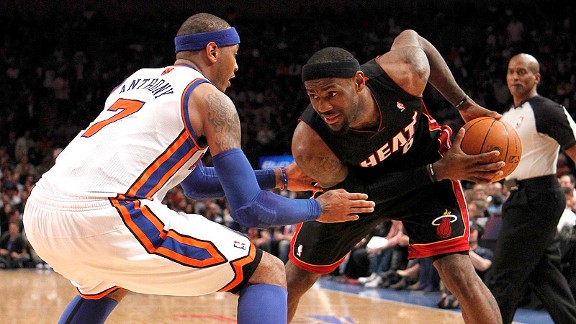 Jeff Zelevansky/Getty Images
Is this the look the Heat should have if Game 5 is on the line?
In another postseason installment of the Heat Index's 5-on-5 series, our writers give their takes on the storylines before the Heat host the Knicks in Game 5 Wednesday night.
1. Fact or Fiction: The Knicks were smart to hold Jeremy Lin out.
Jim Cavan, KnickerBlogger: Fact. Look, we get the whole Willis Reed resurrection narrative thing. But Lin ain't no Reed, and these ain't no 1970 Knicks. Besides, I'm not totally convinced that a 60 percent Lin is any better than whatever 100 percent point platoon the Knicks end up going with. Better to wait until next year. We Knicks faithful are used to that anyway.

Tom Haberstroh: Fact. This was fascinating to watch because the organization needed to weigh the short-term payoff versus the long-term risks. Play him now and try to fight your way back into the series at the risk of another knee injury? Sit him and ensure that you have a healthy point guard on the roster for next season? They chose the latter, and that was the smart decision; the realistic upside in playing him just isn't there.
Michael Wallace: Fact. If Lin isn't ready to return from that knee injury, then he simply isn't ready. No need to rush it, especially after seeing two of his backcourt teammates blow out their knees already in this series. It just doesn't make sense to risk setting yourself back for the start of next season in order to play in a series that seems all but over at this point.
Brian Windhorst: Fact. This is a complete no-brainer, to be honest. Let's assume you're Lin. Your knee doesn't feel right, probably more than you're even letting on to the media. Then you see Iman Shumpert and Baron Davis have to be carried off the court in the same week. Are you going to rush it?
Jared Zwerling, ESPN New York: Fact. First of all, Lin hasn't had ample court time to prepare for the Heat's swarming pick-and-roll defense, which forced him into eight turnovers on Feb. 23. In addition, playoff games, in general, are a different beast. In recent scrimmages, Lin has moved a bit gingerly and hasn't played with full intensity, so there's no way he'd ready for that level of physicality. After a season with so many injuries, the Knicks would look stupid if Lin suffered a setback for a vain cause. They should invest in his health to make sure he's their long-term solution at point guard.
---
2. Fact or Fiction: Stoudemire's 20-and-10 was a bigger deal than Anthony's 41.
Cavan: Fact. Carmelo Anthony has been on a rampage for a while now, but Amare Stoudemire's one-handed -- and level-headed -- performance proved how important his high-caliber play is to the success and effectiveness of the orange-and-blue. The optimist in me hopes his run-in with a fire squelcher proves to be a turning point. The realist in me thinks he just recovered really well from punching glass. Either way, the Knicks need a similarly sizzling Stoudemire on Wednesday night.
Haberstroh: Fact. No one saw this coming. The Heat knew he had no jumper and no ability to comfortably drive left, but still he managed to register his first 20-and-10 game in weeks. You have to, well, hand it to the guy.
Wallace: Fact. Considering the Knicks' shortage of players who can actually create their own shot, rebound and get to the free throw line, it baffles me that some thought New York was better off in this series without Stoudemire and no adequate replacement. Miami was able to absorb high-scoring games from Melo before and still won. But there's no excuse for allowing Stoudemire to go off for 20-and-10 with one good hand.
Windhorst: Fact. Anthony won the game for the Knicks, but does everyone appreciate what Stoudemire did? His hand was being kept together by staples and stitches. The palm. The area that touches the ball. You cannot numb this area because you can't play with numb hands. You can't wear too large of a pad because it has the same effect. So you play one-handed. And you go for 20 and 10. Pretty remarkable, no?
Zwerling: Fact. Just hear it from Anthony: "It was big-time. I was surprised at what he was able to do, due to his hand. But for him to just come back and just prove to us and to prove to everybody that what he did was a mistake ... it was a minor setback, he came back, he bounced back and we respect that out of him." The Knicks had been struggling to find a significant second scorer in Games 1 through 3 to complement Anthony, and Stoudemire provided that "punch," as Heat coach Erik Spoelstra said after the game.
---
3. Fact or Fiction: LeBron should be primary defender on Anthony.
Cavan: Fiction: The one glimmer of hope the Stoudemire-less Knicks had for stealing Game 3 -- namely playing Anthony at the 4 and forcing the Heat to throw Bosh on him in stretches -- might've flickered out. If I were Erik Spoelstra, I'd start a hot-shooting Shane Battier at the 3 and put James on Anthony as much as possible. Derp.
Haberstroh: Fact. Call me crazy, but I'd want James, the best isolation defender in the league, to guard the guy who lives on isolations. Battier isn't a poor defender against Anthony, far from it. He's just not the best option for the Heat. Udonis Haslem should take care of Tyson Chandler in normal circumstances; Sunday was the first time Haslem fouled out since Ricky Davis started for the Heat four years ago. Fluke situation.
Wallace: Fiction. For three games, I gave credit to Battier for doing his job and making Anthony work extremely hard to make difficult shots. Battier didn't stop doing his job in Game 4. Anthony just proved why he's an elite scorer in this league. Besides, James has been in foul trouble the past two games -- and Anthony has had calls go his way recently. Asking James to carry such a burden on both ends for extended periods in the playoffs is a bit much to ask.
Windhorst: Fact. At least in the clutch. The numbers speak for themselves. These teams have played five times over the past three weeks. It has been rather obvious with the eye test that Anthony doesn't drive on James as much and isn't able to create as much space against him.
Zwerling: Fact. While Mike Woodson and Spoelstra have given Battier credit for his defense on Anthony, the numbers don't lie. Anthony has been shooting 52.6 percent against Battier in the series, but only 29.3 percent against James. There aren't many players in the NBA who can match up physically and athletically with the Knicks' star, but James can, and he has made Anthony's catches and drives difficult. In Game 5, Anthony better hope his jump shot is on, like in Game 2. The emphasis on closing out the series should be enough motivation for James to guard Anthony down the stretch.
---
4. Fact or Fiction: James should be ball handler on next do-or-die play.
Cavan: Faction. As with most crunch-time calls, it's purely situational. If James is riding a Game 3-like fourth quarter, then sure, let him bring his boys home. He's been getting to the rim pretty much at will, after all. But if Spoelstra sees an exploitable matchup or scheme better suited for Wade or even Bosh, there's no reason the coach shouldn't roll those dice.
Haberstroh: Fact. Not only is James the better option to run a pick-and-roll, but Wade is the better option as the basket cutter. Also, not enough people have mentioned this, but Bosh? He was open on the roll to the rim. Regardless, the most important thing is that all three of the Heat's stars are involved. That didn't happen in Game 4.
Wallace: Fiction. Perhaps he should. But I wouldn't define it as a flat-out fact. It depends on what kind of game James is having to that point. It depends on potential matchup issues. There's no one-answer-fits-all equation to this scenario. The luxury Miami has that few other teams (if any) have is that either Wade or James can make game-winning plays in that situation. Both have had failures in those moments, as well.
Windhorst: Fiction. Or Fact. Either way is fine from my point of view. There was nothing wrong with the idea of that play; it just wasn't executed. It would be interesting if James demanded the ball in that situation. But that hasn't been his position all season. Wade has three game winners this year.
Zwerling: Fiction. During the series, James and Wade have both been effective in the all-important fourth quarter. James has been getting to the line (7-for-8), averaging 8.7 points in the period on 44.4 percent shooting, while Wade has been doing it from midrange, shooting 10-for-18 (55.6 percent). They're equally dangerous in a do-or-die situation because they demand double-teams and can get into the lane. And that's where they pose a big threat as passers because of their ability to find one of the Heat's potent 3-point shooters.
---
5. Fact or Fiction: Mike Bibby should be primary PG over Smith/Anthony.
Cavan: Fiction. Bibby has been somewhat effective off the ball, where he is better capable of hitting the glass (something he's done well of late) and the occasional open J. If I'm Woodson, making Wade and James work as hard as possible in blanketing the ball-handling J.R. Smith or Anthony might be worth the price of the latter two getting gassed. Which sounds insane, and probably is.
Haberstroh: Fiction. Big dilemma for the Knicks. Don't know how they can hide Bibby defensively; he won't be able to guard Mike Miller. But I also don't know how the Knicks can get the shots they want with Smith and Anthony initiating from the top of the key. If Smith didn't turn into Toney Douglas all of a sudden, this wouldn't be a huge problem. The Knicks might have to just rely on Anthony at point. Gulp.
Wallace: Fact. Bibby isn't the player he was 10 minutes ago, let alone 10 years ago. But by process of elimination due to knee injuries, he's the only true hope the Knicks have at point guard. He still knows how to run a team and push the pace in stretches, even though his shot is inconsistent to nonexistent. Smith and Anthony will need to spell Bibby at times, but they shouldn't handle the bulk of the point guard duties. It takes away from their strengths.
Windhorst: Fact. No one would ever mistake Smith or Anthony for a point guard. They're pretty much the exact opposite.
Zwerling: Fiction. But it doesn't really matter. Smith and Anthony are going to be handling the ball the majority of the time. What Bibby needs to be able to do is knock down the open 3-point shot off of Smith's and Anthony's penetration, which he did in Game 4. Bibby hit two clutch long bombs at the end of the third quarter and the fourth to keep the Knicks ahead. At this point in his 14-year career, Bibby is really more of a glorified shooting guard because he's not quick enough as a playmaker to put pressure on the Heat's defense.