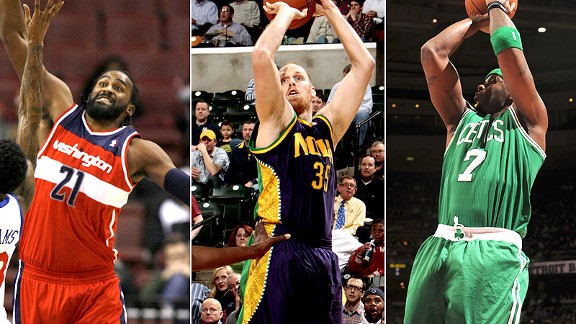 etty Images
Ronny Turiaf, Chris Kaman and Jermaine O'Neal will be on the Heat's radar this upcoming week.
MIAMI – Before any discussion on weaknesses the Heat have or what player they might add before the playoffs there needs to be some reality check. So here it is: the Heat are not desperate; there are probably between 20-25 teams that would gladly swap problems; they're still one of the favorites to win the title.
Now that's done with, there's a reason the Heat have been combing the country to find a player who could give them something, anything at the center position. Defending certain big men and rebounding – they have been outrebounded by 53 in their four losses since the All-Star break – are their biggest issues.
Since they decided to use their draft pick on a point guard and their free agent dollars on Shane Battier, the Heat have been scrambling to address this issue. From bringing in Eddy Curry and putting him on a weeks-long weight-loss routine to working out Rasheed Wallace to bringing in guys who are just back from the Chinese league like Shavlik Randolph, it's been a deep search.
They're not looking for a starter, there's barely a chance of that. The Heat's front office is hoping for a guy who might be able to play 5-10 minutes more effectively than Dexter Pittman, who ranks 73rd among centers in player efficiency rating (Curry, by the way, is 80th and the since deposed Mickell Gladness is 78th).
Now for some more reality: the pickings are slim, bare-boned in fact. Here's a look at what the Heat are looking at for their last roster spot:
Buyout options
The two on Heat fan's tongues are Chris Kaman, who survived the deadline with the New Orleans Hornets, and Jermaine O'Neal of the Boston Celtics.
The hurdles with Kaman are many. Team general manager Dell Demps told the New Orleans Times-Picayune "our intention is to keep Chris" but "never say never." Even if Demps wants to buy Kaman out the ownership – the league's 29 owners right now – would have to approve by a majority. There would seem to be little to no chance of that happening because owners wouldn't want to help a rival.
Even if that somehow too place Kaman would have other suitors and some may be more attractive to him than Miami. Clearly, he'd be the Heat's dream late-season pickup and likely would move into the starting lineup quickly. But it also seems like it's a bit of a long shot.
As for O'Neal, the Celtics just lost center Chris Wilcox for the season because of a heart issue and they are currently lined up to play the Heat in the first round of the playoffs. Very slim chance he's let go under those circumstances. It's also worth noting that O'Neal took to his Twitter account early Friday morning -- the first time he'd used it in six months -- to deny any rumors he'd wanted a buyout as was floated.
One name that likely will be on the market is Ronny Turiaf. The 6-10 energy guy is headed for waivers after the Nuggets traded for him Thursday as part of a larger deal. But he's only managed to play four games this season for one of the worst teams in the league in Washington.
There will certainly be a player or two who gets bought out before the March 23 deadline that is unexpected – it happened with Mike Bibby last year – and the Heat have their fingers crossed the surprise buyout this year is a big man. That's been their hope all along.
D-Leaguers
There are a couple of veterans who have been playing in the D-League waiting for a call up. Two that standout, scouts say, are Dan Gadzuric and Mikki Moore.
Gadzuric is not a banger but still moves well and that would fit in with the Heat's system. He's currently playing for the Texas Legends and averaging a double double. He played last year for the New Jersey Nets.
Moore hasn't played in the league in two years but has been playing well for the Idaho Stampede. He has never been a great rebounder, though, which might limit the interest the Heat have in him.
Free agents
There are a couple big bodies who are waiting for the phone to ring and presumably staying in shape. The names will not inspire confidence. The most intriguing – Kenyon Martin and Joel Przybilla – have already turned the Heat down to sign elsewhere.
At the top of this list is Kyrylo Fesenko, who hasn't been heard from since a deal to sign with the Golden State Warriors fell through in December. An injury and a long time in his native Ukraine left him badly out of shape at the time. He's supposedly been focusing on getting in playing condition. He's a wide body that the Heat would be interested in but they don't have time for him to play his way into shape like Curry and Pittman did.
Also on this list are Soloman Jones, recently cut by the Clippers, and DJ Mbenga, the rugged center who carved out a niche with the Lakers on their latest title teams. But neither would seem like a true upgrade from Pittman at the moment.
European options
There are several players who are overseas that could fill the spot. But there are contractual issues that often get in the way of these types of moves. Nenad Kristic, for example, is locked into a deal with CSKA Moscow. As is Andrei Kirilenko. There are some other former NBA big men like Darnell Jackson, Hilton Armstrong and Alexis Ajinca in Europe as well. But, again, it's a question of whether any of them could give the Heat more than Pittman or Curry.
It does seem likely that the Heat will add a big man with their 15th roster spot. Perhaps he's mentioned here and perhaps he's not. Pat Riley has pulled off roster miracles before but the overall outlook shouldn't be to expect the cavalry.