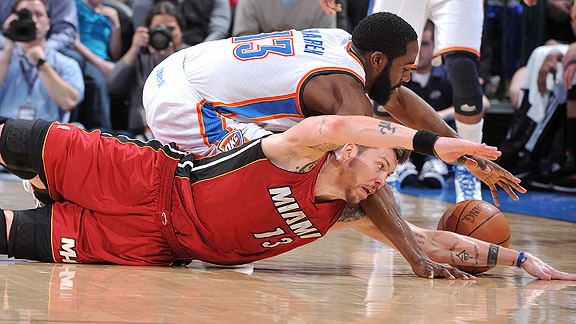 Garrett Ellwood/NBAE/Getty Images
How much does Mike Miller know about the long-term risks associated with concussions?
Mike Miller was taken to an Indianapolis hospital after suffering a head injury for the third consecutive game during the Heat's win last night over the Pacers. It's not the first time Miller has dealt with concussion-related injuries. During his stint in Memphis, Miller missed games due to head injuries.
Asked about his condition at the Heat's media availability Monday, Miller expressed little concern. "It is the way I play, I'm going to have [concussions] from time to time, you play through them," Miller said on Monday. "If I forget my name I'll be worried, right now I'm fine."
Miller's sentiment is hardly unusual. The gladiator culture of sports conditions athletes to play through injuries. Some of our iconic NBA moments celebrate a player's willingness to fight through pain and get out on the floor -- Willis Reed in Game 7 of the NBA Finals, Isiah Thomas in the 1988 Finals -- and we honor these displays of moxie. These are the instances when we ascribe things like "heart" and "guts" to a player. We also cluck our tongues at those reluctant to endure physical discomfort or risk further injury. Playing through it -- whatever it is -- is one of sports' most fetishized acts.
It's not just the average sports fan that places a premium on these attributes. Intelligent analysts and those who worship at the altar of advanced statistics preach the virtues of "drawing contact" and getting free points at the foul line. We often discuss the game as if the only consequence to a guy like Corey Maggette (whose primary strategy in the half court is to draw a foul) barreling into opponents at high speed is an impressive free throw rate.
Let's be clear at what drawing contact in the NBA means: A large man accelerating at full speed and intentionally colliding into another very large human being.
Is it a coincidence that Maggette has missed games over the past two seasons to concussion-related injuries? Is it, as Miller insists, just an incidental byproduct to the way Maggette plays?
Last week, Maggette's teammate Luc Mbah a Moute told The Associated Press that the NBA needed to look closely at its concussion policy:
There should be standards in the NBA. You need to do these tests and pass these tests before you can come back on the court. Bottom line. We definitely don't get as bad concussions as football and other sports, but a concussion is a concussion ... It's a serious injury and there should be tests.
Mbah a Moute was taken aback that after suffering a mild concussion on New Year's night, the Bucks' training staff waved him back into action with a simple, "How are you feeling?"
In an e-mail, NBA spokesman Tim Frank said the NBA policy on concussions is "Team by team, but we spend quite a bit of time educating team doctors on how to properly identify and treat them."
In the Jan. 31 issue of the New Yorker, Ben McGrath wrote a narrative history of the concussion in football. Over the past few years, in large part due to the dogged reporting of Alan Schwarz at The New York Times, the world has learned that chronic traumatic encephalopathy (CTE), a degenerative brain condition that we can fairly describe in layman's terms as gradual brain damage, has reached epidemic levels among former pro football players. The NFL has slowly come around from denial to an active awareness of the problem. They've implemented new rules, clamped down on particularly vicious hits and have encouraged teams to take concussion-related injuries more seriously, though the league still has a ways to go.
Basketball doesn't feature the level of violence pro football does, but players are undoubtedly stronger and more physical than they were a generation ago. Evolution is a natural phenomenon in sports. The Wrestlemania element that dominated the low block during the '90s might not be as prominent today, but ironically, the open court has produced more high-speed collisions, as speedy guards and slashers burst through seams en route to the basket.
Every facet of life comes with risk. In a mature, civil society, informed adults should be free to assume most of those risks and either reap the rewards or absorb the consequences that come with them.
But "informed" is the operative word here. Listening to Mike Miller, I'm not certain he's fully educated. Hearing Mbah a Moute recount his blithe interaction in Milwaukee after suffering his concussion in early January, I don't know that every NBA training staff is steeped in the new research on concussions and CTE.
That's a problem, because grappling with serious issues like potential brain damage requires serious information. "Playing through it," which is Miller's stated strategy with regard to his head injuries, is not the rationale of a serious person -- or at least an informed one.