Reports indicate that the Magic have upended their roster in two separate deals with Phoenix and Washington, acquiring Jason Richardson, Hedo Turkoglu, Gilbert Arenas and Earl Clark while sending out Vince Carter, Rashard Lewis, Mickael Pietrus, Marcin Gortat, a 2011 first-round pick and a few shekels.
The Magic and Heat will be fighting for supremacy in the Eastern Conference's Southeast Division and could very well encounter each other in a postseason series. What does the turnover in Orlando mean for that matchup?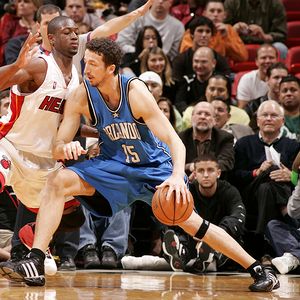 Victor Baldizon/NBAE/Getty
Dwyane Wade and Hedo Turkoglu: Intradivision rivals once again.
Orlando gets stretchier in the backcourt
Jason Richardson has been one of the most underrated shooting guards in the league for a good while. By some measurements, he was a top-five player in the 2010 postseason during Phoenix's exciting romp through the Western Conference. Richardson's true shooting percentage is a career-high 57.4, and he's a 42 percent shooter from beyond the arc. He's a far more lethal threat from long range than Vince Carter, is one of the fiercest rebounding guards in basketball and is a menacing post player. Gilbert Arenas' marksmanship has fallen off, but if we assume he'll take some of his minutes away from Chris Duhon, he represents an upgrade in that respect. And for all of Hedo Turkoglu's failings since he departed Orlando during the summer of 2009, he still commands respect from long range. Like Richardson, Turkoglu is shooting at a 42 percent clip from 3-point range, and his true shooting percentage of 56.7 this season is the second-best of his career. Incredible as it is, in the 6-foot-10 stretch hybrid category, Turkoglu's numbers best Rashard Lewis' as well as Mickael Pietrus', who is also on his way out.
The Heat have the length and discipline to chase these shooters off the line, but they'll have to be even more attentive now. Richardson, in particular, is a bear to defend coming around curls. And because he's second only to Landry Fields and Dwyane Wade as an offensive rebounder at the 2, Wade will have to be extra-careful about leaking out in transition, lest he give up second-chance points to the aggressive Richardson.
Stan Van Gundy's blue game card is more to his liking
Orlando's attack has always been predicated on flexibility in the pick-and-roll. Turkoglu has never been more valuable than he was in Van Gundy's system, where he could work as a popper with Jameer Nelson or a perimeter guard, or as the ball handler with a stretch big. Lewis was often Turkoglu's dance partner, but Ryan Anderson, who figures to inherit some minutes now that fellow stretch 4 Lewis is being shipped to Washington, will be a fine apprentice. Brandon Bass, who should move into the starting lineup as the Magic's power forward, adds another dimension as an expert roll man. All of this leaves Van Gundy with innumerable options to run his stuff. Pick any combination: Nelson-anyone, Turkoglu-Bass, Turkoglu-Howard, Richardson-Turkoglu, you name it.
The Heat's pick-and-roll coverage has been some of the best in the league, but Miami's task just got a little tougher. Chris Bosh, in particular, has his work cut out for him. The days of keeping an eye on Rashard Lewis out on the wing are over. Brandon Bass is more of a Paul Millsap analog, the kind of bruising power forward who eats up space and gives Bosh fits. LeBron James, who will draw Turkoglu, also must be prepared to both defend the ball and chase Turkoglu through screens, a job James can more than handle.
What happens when Dwight Howard picks up his third foul at the nine-minute mark of the second quarter?
With Brendan Haywood phoning it in with Dallas, Marcin Gortat had emerged as arguably the best backup center in the NBA. He was the consummate insurance policy for the occasionally foul-prone Dwight Howard. When Van Gundy wanted to maximize his frontcourt brawn, he'd even play Howard and Gortat together for stretches. With the Polish Hammer moving to Phoenix, the Magic are left with Anderson and rookie Daniel Orton as their backups for Howard. It's possible Magic GM Otis Smith has something in the works to acquire another big body, and he'll need one to contend.
In this respect, the Heat's oft-maligned center rotation catches a break. If Orlando opts to assign Anderson meaningful minutes at the 5, we'll likely see a scenario similar to Friday night's game at New York, during which the Heat went smallish. Gortat was by no means a huge difference-maker, but he afforded Van Gundy the luxury of not having to give up much on the glass when it was necessary to sit Howard.