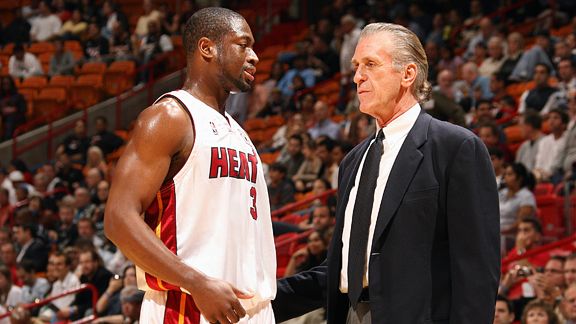 Victor Baldizon/NBAE/Getty Images
Free agency rejection in 2009 was the best thing that ever happened to Dwyane Wade and Pat Riley.
Was it more about Khloe or Kobe?
Even now, the mystery remains unclear when attempting to dissect one of the most critical free agency failures of Pat Riley's administration with the Miami Heat.
The offseason target was Lamar Odom.
The mission was to appease increasingly impatient Heat star Dwyane Wade, who was reluctant to even consider a contract extension unless there was clear evidence of a roster upgrade.
The result was a huge whiff. Odom never arrived. Wade didn't sign. And in hindsight, it was the best thing that could have ever happened to Riley, Wade and the Heat.
The NBA delivers a Christmas Day present at the Staples Center with Saturday's star-studded showdown between the Los Angeles Lakers and Heat. But one team should be thankful for an even bigger gift.
The gift of rejection.
Two summers ago, Odom and, to a lesser extent, Ron Artest, spurned free agency offers from the Heat to sign with the Lakers. Had either ended up in South Beach instead of Southern California in 2009, it could have ultimately knocked the Heat out of play to hit their jackpot last summer when LeBron James and Chris Bosh joined Wade in Miami to form arguably the league's most dynamic trio today.
Miami's big miss in 2009 produced 2010's great catch.
But the transaction that never took place for the Heat two summers ago turned out to be a win-win for both organizations. Odom flirted with the idea of returning to the Heat, where he played during the 2003-04 season. But on the verge of getting married, Odom instead chose to maintain his Los Angeles lifestyle with bride Khloe Kardashian. He also couldn't walk away from bonds with Kobe Bryant and Phil Jackson that produced champagne toasts after championships each of the previous two seasons.
With James, Bosh and Wade all locked into contracts with Miami for at least four seasons, the Heat's present and future are both promising as they try to deliver on vows to win multiple championships. But Riley was in a tough spot not too long ago.
The Heat's architect had been working since 2007 to position the team with enough salary cap space to cultivate the Summer of 2010 coup. But just prior to the summer that was, there were a couple of factors that made for some uncomfortable moments during the summer that wasn't.
Wade was two full seasons removed from leading the Heat to a championship in 2006, and was growing impatient with first-round playoff ousters and a roster youth movement that wasn't really going anywhere with Michael Beasley as the team's second-best player.
Wade, the league's scoring champion in 2008-09, was coming off the most statistically productive season of his career. He saw Cleveland, Orlando, Los Angeles and Denver making bold moves. He bought into the hope that Riley was selling for a 2010 roster revival. But Wade also wanted help in 2009, and didn't like the idea of toiling through another fruitless season.
What followed was the first -- and only -- public sparring session between Wade and Riley over the direction of the franchise. It was a fragile moment. Riley wanted Wade to sign a long-term contract extension and show potential free agents that he was committed to staying with the Heat. Wade wanted Riley to make a bold move to shore up the roster before he would think about offering his signature.
They met halfway. Armed with only the midlevel exception worth about $34 million over five seasons, Riley seriously pursued only three free agents that summer: Odom, Artest and Hedo Turkoglu.
Artest was off the market in a matter of hours into free agency, giving the Lakers a deep discount for his services. Turkoglu was priced out of the Heat's range, and took a $54 million deal with Toronto. Odom was there for the taking. Or at least that's the way it seemed amid tenuous contract negotiations with the Lakers. Wade jumped in on the recruiting, and there were reports he and Riley flew to Los Angeles to personally lobby Odom -- with the Heat's plane in place to immediately return to Miami.
But what could have been never came to be. And it was a blessing in disguise for the Heat. Patience proved to be a virtue for the Heat. Rejection was a gift.
Miami could have had Odom or Artest as Wade's sidekick.
Instead, they've got James and Bosh. Sometimes, the best moves you make are the ones you don't.
Regardless of the outcome of Saturday's game, it's a trade-off the Heat can live with for the long term.
Considering the rings he's since shared with Khloe and Kobe, Odom doesn't have any regrets, either.