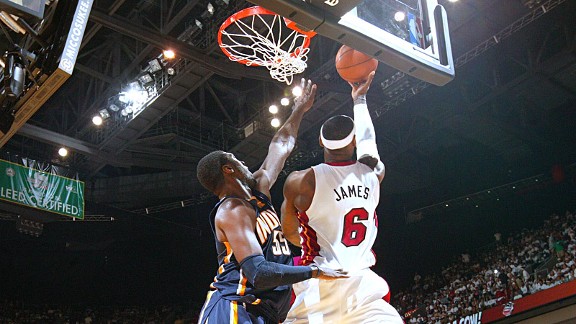 Nathaniel S. Butler/NBAE/Getty Images
Can LeBron continue to get Roy Hibbert in foul trouble or will the Pacers beat the Bosh-less Heat?
In another postseason installment of the Heat Index's 5-on-5 series, our writers give their takes on the storylines before the Heat host the Pacers in Game 2 Tuesday night.
1. Fact or Fiction: Roy Hibbert will get 20 and 10 in Game 2.
Tim Donahue, 8 points, 9 seconds: Fiction. It's possible, but unlikely. There are too many things that mitigate against Hibbert getting much more than 30 minutes - fouls, matchups, conditioning. In addition, Hibbert is too easy to take away, if he becomes the main focus of the offense. The 17 and 11 he put up Sunday feels awfully close to his peak to me.

Tom Haberstroh: Fact. Expecting big things from him in Game 2. I see Frank Vogel getting back to his roots, and studying the tape to find a better way to get Hibbert the ball in the post with Chris Bosh ailing. Secondly, the Heat know that locking down the perimeter and creating havoc in the passing lanes will lead them to fast-break opportunities. They'll "let" Hibbert get his.
Jared Wade, 8 points, 9 seconds: Fiction. He dropped a 20/10 only four times this regular season and couldn't manage to do so against the center-less Magic in the first round. Doubt he starts now against one of the league's premier defensive teams.
Michael Wallace: Fiction. I believe Hibbert will get the rebounding numbers. But he doesn't have to quite score 20 for the Pacers to be effective. In order for Indiana to fully exploit its size/strength advantage, Hibbert's production must be complemented by David West.
Brian Windhorst: Fact. He got only 27 minutes and 12 shots in Game 1 because of foul trouble. He also had to play a half against Bosh. And he still had 17 points and 11 rebounds. No excuse not to improve on that.
---
2. Fact or Fiction: Danny Granger needs to step up more than Hibbert.
Donahue: Fact. Miami proved that it can live with the Pacers' bigs having their way, provided Indiana gets little or nothing from the perimeter. The Pacers have little or no chance of winning a game - let alone the series - if Granger doesn't play better at both ends.
Haberstroh: Fact. This is their leading scorer and he was invisible offensively. The Heat don't respect Granger quite on the same level as Carmelo Anthony, but he's clearly much less capable against James. If the Pacers have any hope of stealing a game in Miami, Granger needs to hit his shots. Otherwise, where else are those points going to come from?
Wade: Fact. The Pacers spread the scoring around pretty evenly but Granger usually finishes near 20 points when they're playing at their best. This means he gets a few open 3s, a few transition points and a few points he creates by getting to the rim or pulling up in the midrange. He needs to find a way to score or Indiana is toast.
Wallace: Fact. Granger claimed that Vogel apologized after the Game 1 loss for not getting him more involved offensively. Granger also has to be much better than 1-for-10 from the field. Bottom line is Granger must make James work much harder defensively at a time when he'll be carrying an even bigger load to make up for Bosh's absence.
Windhorst: Fiction. The Pacers' hopes are on Hibbert, he has to be a force. He has to compel the Heat to alter their defense and get out of their preferred style. Granger of course has to play better, he can't be going 1-of-10. But after watching Granger play against James about 25 times over the years, I do not expect greatness.
---
3. Fact or Fiction: You expect the foul disparity to even out in Game 2.
Donahue: Fact. No good way to answer this, but 9 is a big gap, so it will likely go down. Miami (read: James and Wade) attacks the rim much more, and that will create more fouls. Unless Granger and Paul George become much more active, the Pacers will remain upside down when it comes to foul count.
Haberstroh: Fact. Call him soft or whatever, but Bosh is one of the top whistle-drawers in the game. He'll be missed in the free throw column and it's not like Ronny Turiaf, Joel Anthony and Udonis Haslem need to be fouled underneath. James and Wade won't stop attacking Hibbert and West on the front line, but don't forget that that Pacers posted a higher free throw rate (percentage of shots coming from the free throw line) than the Heat this season. It'll balance out some.
Wade: Fiction. I expect it to be closer, but still favor Miami. The Heat are just so much more aggressive in terms of attacking the hoop with abandon. Sunday wasn't a single-game aberration as much as it was a continuation of a season-long trend for both squads.
Wallace: Fiction. James and Dwyane Wade will always get calls, many of which they deserve and some that are byproducts of superstar treatment. That won't change. The only thing the Pacers can do is attack the basket on the other end and make the refs occasionally call it both ways.
Windhorst: Fact. It'll tighten up. But how much disparity was there? The Heat took 10 more free throws than Indy. That's not exactly normal but it's not obscene. The Heat average eight more free throws than their opponents in the playoffs. The Pacers foul a lot. The Heat are going to take more free throws in this series most likely.
---
4. Fact or Fiction: James should start at power forward.
Donahue: Fact, though I'm not entirely sure if it matters. It seems unlikely that experimenting with starting Turiaf or Anthony will hurt the Heat much. However, James should see significant time at power forward, because it puts the most pressure on the Pacers. It's also the most likely way to neutralize the one advantage West and Hibbert give Indiana.
Haberstroh: Fact. If it means more floor-spacers in Mike Miller and Shane Battier on the floor instead of Turiaf or Anthony, the Heat should seriously think about starting James at the 4 -- although the MVP clearly said he didn't expect (er, want) to start at the power forward slot at Monday's practice. Normally, I don't care who starts or finishes, but in this case, I think the upside is great enough that James should get the start. Playing Turiaf or Anthony means more 3-on-5 ball.
Wade: Fact. Getting Battier on the court for more minutes is better than extending the time given to any of Miami's bigs.
Wallace: Fiction. Keep James in his comfort zone for now. Besides, there's no need to risk the early foul trouble or the physical exertion banging with West and Hibbert down low from the start. Put Turiaf at center and keep Haslem at power forward for the time being.
Windhorst: Fiction. I don't care who starts, he'll likely finish playing power forward.
---
5. Fact or Fiction: The Heat should still be favored in this series without Bosh.
Donahue: Fact. Bosh is a significant loss, but it remains to be seen how quickly Miami will feel it, or how quickly the Pacers can capitalize on it. Ultimately, the Pacers still have to overcome first James, then Wade before making Bosh's absence matter. The reward's richer if they can, but overcoming those two isn't all that much easier for Indiana.
Haberstroh: Fact. I originally had the Heat in five, but I'll push that back to seven games. Even without Bosh, the Pacers still don't have any answers for James and Wade's attack. If Granger doesn't show up, might have to keep this at Heat in five.
Wade: Fact. But barely. It is now a very even series if Bosh doesn't play again this round. In Game 1, Indiana showed that it can play with, and perhaps even better than Miami for long stretches. The Pacers will have to withstand great play by two great players, but they now have a clear advantage in roster spots 3 through 10.
Wallace: Fact. The Heat still have two of the top five players in the game, still have home-court advantage and still have a level of confidence and mental toughness the Pacers have yet to show on a postseason stage with this much intensity.
Windhorst: Fact. They still have the two best players including the MVP.