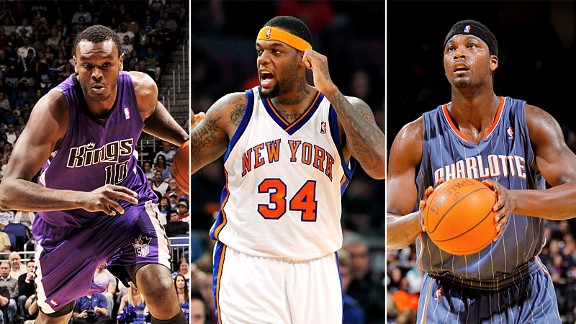 Getty Images
The Heat will have little money to burn, but a big hole to replace at center. Who will they sign?
Let's just get this out of the way up front:
Heat fans want Nene and Tyson Chandler, but there's almost zero chance they take their talents to South Beach (or Miami, the actual location of arena).
The Heat could entice the two biggest fish on the free agent market, but they'd have to leave dozens of millions on the table to do it. Yes, the Big Three sacrificed money to play for Pat Riley, but don't count on a one-in-a-lifetime event repeating itself. No, we shouldn't count out Riley's magic in free agency, but the chances are about as close to zero as it gets. Consider it a pipe dream.
But Samuel Dalembert? Kwame Brown? That's a different story. In this edition of The Heat Market, we take a look at the crop of centers in the Heat's price-range.
Be warned: it's not pretty.
Miami Heat's center targets
---
Samuel Dalembert | #NBArank: 112th
AGE: 26 | STATUS: Unrestricted | 2010-11 SALARY: Sac Kings - $13.3M
STATS: 24.2 mins, 8.1 pts, 8.2 reb, 1.5 blk, 2.8 PF | 47.3 FG%, 73.0 FT%
ADVANCED: 14.1 PER, 17.1 USG%, 50.9 TS%, 91100 ORtg, 3.4 Est. Wins Added
Hollinger's 2011-12 projection

: 12.3 pts, 13.6 reb, 48.2 FG%, 13.8 PER (per 40 minutes)

TH: Among the starter-worthy available centers, Samuel Dalembert remains the most realistic option for the Heat. Nene, Tyson Chandler, and Marc Gasol? Dream on. Dalembert doesn't scream "championship-caliber center" but then again, the Heat were two wins away from attaching that label to Joel Anthony. He'll likely receive more compensation elsewhere, but there's reasons he could eventually land in Miami. What would it take for that to happen?

MW: It would take sacrificing about $15-20 million over the life of his next contract and a willingness to set aside any demands for the number of offensive touches he wanted so badly in Philadelphia and Sacramento. That's a bit much to ask of an athletic and defensively gifted big man who still believes he's in the midst of his prime playing years. That said, Dalembert makes an awful lot of sense in Miami, from his family background, connections to nearby Haiti and - last but certainly not least - the Heat's need for an upgrade at center. But I'm just not so sure if the Heat would be willing to strangle their cap room to pay for him.

BW: Last February the Kings came into Miami and rolled over, looking like the classic case of a visiting team that had enjoyed South Beach too much. Except for one player. Dalembert played like it was a playoff game, scoring 18 points with 13 rebounds off the bench and standing out from his teammates. Then he attended several Heat playoff games because he lives in South Florida. This is a slow dance that has been going on for awhile. Dalembert is not a perfect center but the Heat are in terrible need and he appears to be willing to come even if it is for below market value.
---
Kwame Brown | #NBArank: 304th
AGE: 29 | STATUS: Unrestricted | 2010-11 SALARY: Charlotte Hornets - $1.2M
STATS: 26.0 mins, 7.9 pts, 6.8 reb, 0.6 blk, 2.6 PF | 51.7 FG%, 58.9 FT%
ADVANCED: 12.8 PER, 14.9 USG%, 55.0 TS%, 110 ORtg, 1.9 Est. Wins Added
Hollinger's 2011-12 projection

: 10.0 pts, 10.4 reb, 49.6 FG%, 10.8 PER (per 40 minutes)

Tom Haberstroh: Kwame Brown stinks. And by that, I mean he still carries that rancid "bust" smell that tends to undervalue players late in their career. People look at Kwame and see a tragic figure; he was the No. 1 draft pick out of high school and has averaged double-figures just once in his 10-year career. But at this juncture in his NBA lifetime, he could be a real bargain. I'll say this: NBArank slotted him as the 304th-best player in the game, 100 spots behind Joel Przybilla and I think I'd rather have Kwame next season. Stink and all. And yes, this is what it has come to.

Michael Wallace: Kwame might feel he owes it to Michael Jordan to remain in Charlotte and continue his late-career surge after the Bobcats took him in last season on a minimum deal. When I asked him about this very subject late last season, Brown said he was happy in Charlotte and didn't plan on leaving. But if he has any desire to matter nationally again and pursue a championship to sort of reestablish himself, he's gotta look at Miami and Boston in free agency.

Brian Windhorst: Quietly Brown is coming off his best season in eight years, really blossoming once Paul Silas took over in Charlotte and gave him an injection of confidence. In his career, Brown has not handled pressure situations all that well and it caused him to be beaten down. Playing for the Heat would be a nightly pressure situation. But he's not a teenager anymore, maybe he's turned the corner. But at best, he's down the list for the Heat.
---
Jeff Foster | #NBArank: 232nd
AGE: 34 | STATUS: Unrestricted | 2010-11 SALARY: Indiana Pacers - $6.7M
STATS: 20.7 mins, 3.3 pts, 6.3 reb, 0.6 blk, 2.3 PF | 47.9 FG%, 56.3 FT%
ADVANCED: 14.3 PER, 10.1 USG%, 49.7 TS%, 122 ORtg, 1.8 Est. Wins Added
Hollinger's 2011-12 projection

: 8.0 pts, 14.9 reb, 47.9 FG%, 13.3 PER (per 40 minutes)

TH: Foster might be the best kept secret in the league. And that's probably because he can't stay seem to stay on the floor. He's a rebounding monster, something the Heat could use with Ilgauskas and Dampier gone. Among 59 qualified centers, Foster's rebounding rate last season was second only to Dwight Howard. Yes, better than Tyson Chandler. Better than Dalembert. Foster's offensive board rate was tops for the league, making him the league's greatest put-back artist. But he can't really be counted on, right?

MW: Foster has always been a solid rebounder and a tough presence who is capable of hitting scoring in the post when needed. Again, as is with most free agents on the Heat's potential radar, this comes down to how much he's willing to sacrifice in salary for the chance to make up for lost time on a team that contends for a championship. But I like Foster alongside in a rotation with Haslem, Chris Bosh and Joel Anthony down low. It's certainly an upgrade from last season.

BW: Foster has forged a reputation for being one of the toughest and most rugged big men in the league. He's spent all 12 years of his career in Indiana and the Pacers have hung onto him for a reason, because he's got value. Most think he's going to re-sign there. But a series of injuries, especially severe back problems, have really limited him over the last two years. He's on his last legs and could help a team in a limited role, but it would be just that.
---
Joel Przybilla | #NBArank: 198th
AGE: 32 |STATUS: Unrestricted |2010-11 SALARY: Charlotte Bobcats -$7.6M
STATS: 14.4 mins, 1.8 pts, 4.0 reb, 0.4 blk, 2.2 PF | 56.8 FG%, 51.9 FT%
ADVANCED: 6.2 PER, 7.7 USG%, 57.3 TS%, 94 ORtg, -1.1 Est. Wins Added
Hollinger's 2011-12 projection

: 4.6 pts, 11.2 reb, 54.3 FG%, 6.4 PER (per 40 minutes)

TH: If the Heat need to fill their newly-formed hole of centers with "Z" in their last name, Przybilla is their guy. The long-time Blazers backup was traded to Charlotte last season as salary filler, but if he can get back on the court and overcome his knee problems, I see him as a Jamaal Magloire-type for the Heat. As the NBArank suggests, the 32-year-old maintains a strong reputation, despite only playing 36 games last season. Michael, you think Przybilla's size can help the Heat underneath?

MW: Who? Dang, I almost forgot he was still in the league. But there's something to be said for that size, no matter how fragile he's been in recent years. I don't get a strong sense that he would be a good fit for the Heat on either side of the ball. But stranger matches have been made.

BW: Career was completely derailed by two knee surgeries to the same knee two years ago, the second coming when he fell in the shower. He was a strong role player at one time, now he can't jump and his career might be over.
---
Eddy Curry | #NBArank: N/A
AGE: 28 | STATUS: Unrestricted | 2010-11 SALARY: Minnesota T'Wolves, $11.5M
STATS: Did not play in 2010-11
ADVANCED: Did not play in 2010-11
Hollinger's 2011-12 projection

: N/A

TH: The Heat have kept Eddy Curry on their radar for some time now, but haven't pulled the trigger. It's not hard to see why. It's worth remembering that in his prime (yes, he did have one), he was not a good rebounder. One of the worst in the league in fact. So even if he drops the weight and gets serious about playing, the Heat would get another Joel Anthony in the paint when it comes to boards. But I would not be surprised in the slightest if he came to the Heat. I would call him a flier, but I can't bring myself to associate "flying" with Curry.

MW: If it wasn't for the connections Curry has with Dwyane Wade's offseason trainer or the agency that represents LeBron James, I'm not sure we'd be hearing this much about Curry. He hasn't been relevant - or anywhere near basketball shape - for three seasons. But for some reason, the Heat and Curry have mutual, conditional interest. Where the Heat might see a low-risk opportunity, I see the second coming of Jerome James. Still Miami won't have much to lose in this gamble. After all, Curry just might be serviceable. He certainly won't cost much.

BW: Have I mentioned how hard it is to get a center on the free agent market? We've just talked about a guy who is one misplaced shove to the back from retirement and another guy who cannot jump and Curry is farther down on the list. Mothers, hope your sons grow up to be left-handed pitchers or 7-footers, they always are in demand. Curry has supposedly been preparing for the Heat's training camp for months. If the Heat even give him a nonguaranteed contract at least it's a sign he's passed the tryout, which he's already failed with the team at least once. The guy has been in mothballs for three years. It would be a remarkable story but, wow, is it a longshot.
---
Other potential targets: Tyson Chandler (unrestricted), Nene (unrestricted), Kurt Thomas (unrestricted).
---
Monday's edition of The Heat Market: Miami's free agent wing options.
---