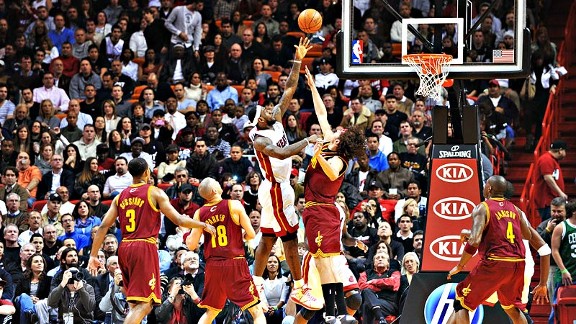 Steve Mitchell/US Presswire
LeBron is flying high for the Heat now, but will he ever rejoin the Cleveland Cavaliers?
On Tuesday, LeBron James and the Heat will face off against the Cavs for the fifth time since the two-time MVP left the only franchise he had ever known. The wounds have healed some for both sides, but still, a Miami versus Cleveland will always hold some more meaning than their respective records would suggest.

Have we seen the last of LeBron in a Cavaliers uniform? Is Kyrie Irving the favorite for Rookie of the Year? Is Norris Cole enjoying a better debut season than Tristan Thompson? Was beating Miami was the Cavs' brightest moment of 2011? Will the Heat play the Cavaliers in the opening round of playoffs?
In another edition of the Heat Index's 5-on-5 series, our stable of writers and voices play some "Fact or Fiction" with the story lines surrounding the Cavs-Heat matchup.
1. Fact or Fiction: LeBron James will be a Cavalier again.
Tom Haberstroh, Heat Index: Fact. Time heals all wounds even if it won't turn ashes to jerseys.
John Krolik, TrueHoop Network: Fiction. Stranger things have happened. But not a lot of them.
Jorge Sedano, ESPN radio/790 the Ticket: Fiction. Did we all forget about July 8, 2010? Yeah, most people haven't either. Though, I guess there is a possibility if Dan Gilbert all of a sudden writes an apology letter in Comic Sans. Outside of that, the only way he ends up a Cavalier again is if he trades himself in a future edition of NBA2K.
Michael Wallace, Heat Index: Fact. But for now, I only see it happening in the instance where, when it's all said and done - and much is forgiven - the Cavs do one of those 'sign for a day' deals so LeBron could retire as a Cavalier. But I don't see him actually playing for them again.
Brian Windhorst, Heat Index: Fact. Insane you say? Never? Impossible? Too much bad blood, right? Not in professional sports, where you can always go home again. And when it does happen the Cavs fans, for the most part, will welcome him back. Don't believe me? They're building a statue in Cleveland to Jim Thome right now and he ditched Cleveland for straight cash back in 2002. Not today and not tomorrow but someday James will consider it because time heals wounds, it just does. The Heat will not be championship contenders forever. James has outs in his contract after the 2014, '15 and '16 seasons for the record.
---
2. Fact or Fiction: Kyrie Irving will beat Rubio for Rookie of the Year.
Haberstroh: Fact. As much as I think Ricky Rubio has teenybopper appeal for basketball fans, Irving has scoring, PER and the No. 1 overall pick status on his side.
Krolik: Fact. Irving is having a great scoring season for a rookie and passing the ball well, so Rubio's ROY claim would have to be based on the fact that he's a good defender while Kyrie is a bad one. And ROY voters are notorious about ignoring defense.
Sedano: Fact. As much as I love "La Pistola's" game (Spanish for "The Pistol." Yes, I'm showing off my Spanish speaking skills. By the way, I have no idea if he even likes that nickname, but I'm going with it), he has Kevin Love on his team and he's shooting less than 40% from the field. Kyrie is carrying the Cavs and is shooting 50% from the field.
Wallace: Fiction. Rubio is the bigger national/international media darling and he has more of a flair for the spectacular. That doesn't mean he's better than Irving, who I'd take in a heartbeat if the two were up for grabs. But as we've seen with the MVP voting, things get political and agenda-driven.
Windhorst: Fact. Rubio has some slick passing highlights but Irving has been the much better overall player. In fact, it is not even close. He has continued to impress opposing scouts and coaches with his maturity and skill level, even if he hasn't made SportsCenter as much. There's a reason the GMs recent voted Irving to be the most successful current rookie in five years.
---
3. Fact or Fiction: N. Cole is having a better rookie year than T. Thompson.
Haberstroh: Fiction. The Cole Train has gone off the rails recently. He's missed more layups than he's made this season and has four assists in his last five games. I'm as guilty as anyone for overreacting to Cole's hot start and Tristan Thompson is proving that he's already an average NBA player. Thompson gets the nod, but I reserve the right to jump back on the Cole Train if need be.
Krolik: Fact, although it's kind of apples and oranges. Cole's numbers have fallen off, but he's still a bit part of Miami's "pace and space" attack because he, like Chalmers, puts pressure on the defense on both sides of the floor. Thompson has given the Cavaliers a lot of energy, and I think he has potential, but his offensive numbers are cringeworthy right now.
Sedano: Fiction. It's close. But, the Cole Train has slowed down after a fantastic start to the season. The last 2 weeks have been quite pedestrian. Thompson's FG percentage has been has been good so far. Points are a wash. Thompson's blocks and rebounds wash out with Cole's steals & assists numbers. It comes down to PER. Thompson wins by a hair.
Wallace: Fiction. I'd say it's a wash so far. Even in games when Cole doesn't score, he still dictates tempo and puts pressure on the defense in transition. Likewise, Thompson certainly has had his moments. But both seem to have hit a truncated rookie wall at times.
Windhorst: Fiction. Cole had a tremendous start and that great performance against the Celtics has carried him for awhile. The reality is he's been struggling for the last three weeks, turning the ball over a bunch and seeing his playing time and shooting percentage shrink lately. That's OK, it happens, he's a rookie. Thompson has been an effective bench player for the Cavs so far, showing off his extreme athleticism. He's been unsteady too because he's very much a rookie as well. He also might not play tonight with an ankle injury.
---
4. Fact or Fiction: Beating Miami in March was the Cavs' highlight of 2011.
Haberstroh: Fiction. As deeply therapeutic as it was for Cleveland fans to watch their team destroy LeBron and the Heat at the Q, lottery night was the real turning point for the franchise. Funny how a lucky ping-pong ball can change everything.
Krolik: Fiction, because I think winning the lottery with the Clippers' pick was a more long-term moment. Personally, I wouldn't trade Kyrie for that one game when both teams' fates had been decided, but I think that night, on a purely visceral level, was more satisfying than the ping-pong balls bouncing the Cavs' way. Wow, I'm really hedging on these.
Sedano: Fact. Not only was it the highlight of 2011 for the Cavs, the fans at the Q reacted as if it was payback not only for The Decision, but for: A) The Indians losing the 1997 World Series to the Marlins; B) The Fumble; C) The Drive and; D) the fact someone thought it was a good idea to make several sequels to Major League. Lots of pent up frustration. I guess it's hard to blame them.
Wallace: Fiction. I'd say finally snapping that NBA-record losing streak was the highlight. Beating LeBron's new team ranks second to that. Had Cleveland beat Miami in that first December meeting, that would have been the high-water mark.
Windhorst: Fiction. It was winning the draft lottery with the Clippers pick they traded for in February. Irving is that good.
---
5. Fact or Fiction: MIA will open the playoffs vs. CLE (now an 8th-seed).
Haberstroh: Fact, because that 1 vs. 8 East match-up in lockout-shortened seasons is always destined for drama. Am I right, Heat fans?
Krolik: Fiction. I don't think the Cavs will make the playoffs, and it could be tricky for the Heat to beat out the Bulls for the top seed. The matchup could happen, but the odds seem to be stacked against it.
Sedano: Fiction. I wanted to say fact, simply because I think it would make for great theater. We rarely get any interesting story lines for a first round series. So, I'd like it to happen, but I think the Knicks will get back in the playoff picture and Boston could be a likely 8th seed. Now that I think of it, that works too. Maybe @sportsguy33 can take part in 5 on 5?
Wallace: Fiction. While it's good that the Cavs are ahead of schedule and playing relatively well so far this season, I'm not so sure they'll be able to hold off Boston, New York and Milwaukee - three teams that are likely to get going eventually. Cleveland will contend for a playoff spot, but I doubt they make it this season.
Windhorst: Fiction. The Cavs are not a playoff team. They got off to a solid start at 6-6, but their schedule has a couple of brutally challenging periods and they're in a 15-game stretch right now against top competition that is already taking its toll on them.
---