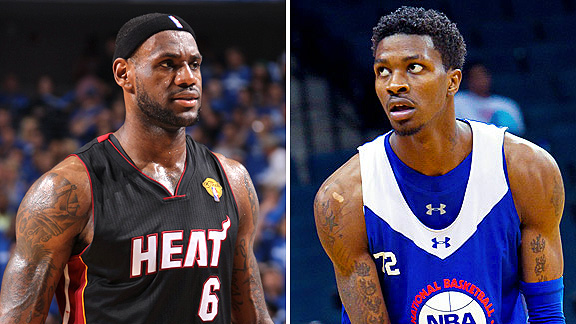 Getty Images/Davide De Pas
You are a top high school basketball recruit.
You have a menu of colleges that are hot on your tail, but you can't seem to pick which one to attend. You need some help deciding. So what do you do?
You ask LeBron James to make the decision for you.
Or at least that's what Chris Walker did. And he did it on Twitter. Our own Brian Windhorst has the story for ESPNHS:
Walker is a 6-10 junior forward at Holmes County High School in Bonifay, Fla. He's one of the top recruits in the 2013 class – currently ranked No. 5 in the ESPNU60 -- with interest from many of the programs in the nation. He's also a big James fan and thinks so much of him that Walker sent James a message on Twitter asking where he should go to college.

Apparently, it was a serious question.

"I'm a top 5 player in the country in class of 2013. Where should I go to college Mr. James?" Walker asked James on Twitter.

"If LeBron hits me back and tells me where he thinks I should go, I'd do it," Walker told ESPN's Jason Jordan in an interview this week. "In my opinion, he's the best player in the league and I really look up to him. Plus, he's the King. Gotta listen to the King, right?"

When James heard about the request he offered some advice, and a few school suggestions.

"The advice I would give Chris Walker is to follow his heart and go where he believes he can help the program and they can give him a great education," James told ESPN.com.

"Of course Ohio State and Kentucky are my two favorite programs for many reasons. They have great basketball programs, great coaches, players and are two of the best colleges in America. But with that said, Chris you will know where you want to go when the time comes. I'm looking forward to seeing you make the decision and take your talents to that program and shine."
Even though LeBron never attended college -- much less either school -- it's no surprise that LeBron chose to push Ohio State and Kentucky to the youngster. The Buckeyes were LeBron's favorite college team as a kid growing up in Akron, OH., and he still maintains close ties with Ohio State big man Jared Sullinger.
The Kentucky allegiance is a fairly new development, which is spurred by his respect for Kentucky's coach John Calipari. (If you watched closely, you noticed LeBron wore Kentucky's road shorts during his recent workout with Kevin Durant). LeBron (@KingJames) doesn't hide his affection for Kentucky, having tweeted about their talent this season on several occasions, including last Thursday.
As Windhorst notes, LeBron consulted Tyreke Evans, John Wall and Sullinger before they chose their collegiate destination. Interestingly enough, Evans and Wall went to play for Calipari before jumping to the NBA. Also of note? Buckeyes coach Thad Matta has made LeBron an honorary alum.
To borrow a line from LeBron:
What should Chris Walker do?