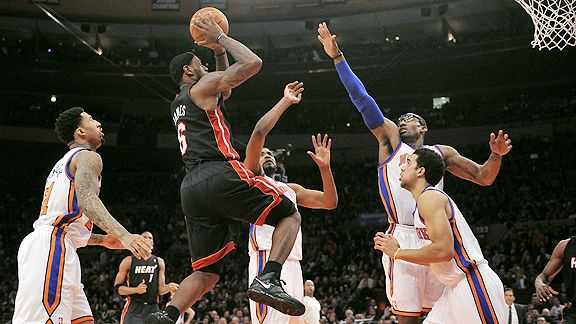 AP Photo/Kathy Kmonicek
Will LeBron James attack the Knicks' interior defense or try to sustain his success from long range?
Stifle the Knicks' pick-and-roll
Defending the Knicks' pick-and-roll attack was the No. 1 key for the Heat when these teams met 11 days ago at Madison Square Garden and it remains Miami's top defensive imperative. The Heat performed brilliantly in that game. Their point guards pursued Raymond Felton aggressively off the initial high screens, staying on his right shoulder. Back line rotators were poised and ready for Amare Stoudemire's slips and rolls to the basket. Off-ball defenders made kickouts to shooters difficult by plugging the passing lanes. By the time the second half rolled around, Knicks ball handlers had absolutely nowhere to go coming off screens -- and few desirable places to go with a pass. If the Heat can shrink the AmericanAirlines Arena floor in the same way, they should post another banner night defensively.
How Joel stopped Amare
Stoudemire ran circles around Zydrunas Ilgauskas early in Game 1, so Erik Spoelstra made an adjustment that changed the game: He stuck Joel Anthony on Stoudemire. Heading into the first meeting, Stoudemire had scored at least 30 points in nine straight games but Anthony shut him down in the second half. The Knicks star was 0-for-8 with two points after the 4:26 mark of the second quarter when guarded by the springy Anthony. Coaches always stress the importance of a defender moving his feet (not his hands) to "beat his man to the spot" and Anthony demonstrated textbook execution against Stoudemire. Stoudemire routinely caught the ball at the elbow and settled for jumpers when Anthony ignored his array of jab steps. Anthony managed to stay balanced in a wide stance in front of Stoudemire, cutting off his angles for potential penetration. Look for Knicks coach Mike D'Antoni to run more pick-and-rolls against Anthony to create more movement and less time for Anthony to square up on Stoudemire.
Heroball and LeBron
LeBron James delivered a masterful performance on the big stage at Madison Square Garden, scoring 32 points on 23 shots as part of his second triple-double of the season. But despite his gaudy numbers, the Knicks have to be pretty satisfied with how they defended him. Why? They kept him away from the rim and forced him to hit tough shots. James nailed pull-up jumper after pull-up jumper on that Friday night, shooting 7-for-9 on long 2s and 3-for-6 from downtown according to Hoopdata. And each of them was contested well. For all of James' talents, that's simply not sustainable. Outside of that game, James has shot 38.8 percent on long 2s and 36.5 percent from downtown this season. The only time James experienced a hotter hand on the perimeter was in Cleveland when he shot 10-for-17 from outside 16 feet. How'd he do against Cleveland the second time around? He missed all but one of his six shots from that area. The Knicks would be wise to coax LeBron into playing hero with low-percentage shots again even if they gambled and lost in Game 1.
Chase shooters off the line
It's really difficult to give the Knicks' pick-and-roll full coverage in the middle of the floor and still account for the Knicks' snipers lurking from 24 feet, one reason New York leads the NBA in 3-pointers attempted per game (24.7). In the first meeting, the Knicks attempted their average, but converted only eight of those 24 tries. They missed a few open looks but, for the most part, the Heat closed out decisively and aggressively. Still, there was probably a little too much open space for shooters on left side of the floor when the Knicks were running their pick-and-roll game on the right side for Stoudemire. The Knicks drained six of 11 3-point attempts along the left third of the arc in that game. The Heat's help defenders will have to stay light on their feet, ready to pounce if a penetrator or Stoudemire enters the paint, but also aware that they might have to change course in an instant and close out on Wilson Chandler and Danilo Gallinari.
Control the tempo
Are the Heat a breakneck transition team or a grind-you-into-submission half-court outfit? The answer is yes. Few teams have the versatility to be comfortable in any kind of basketball game and the Heat are clearly one of them. The trick for Spoelstra is getting his guys to use that flexibility to counter-program. When matched up against Golden State and New York, the Heat should force those teams into a more deliberate game and dominate the one-on-one matchups. When playing teams like Orlando or Milwaukee that prefer to play at a slower pace, Miami should rev up the engine and prevent its opponent from setting up defensively in the half court. The Knicks invite chaos, and the Heat must be selective. Can Miami turn those long Knicks misses into transition buckets while, at the same time, preserve a more controlled game that favors their lockdown half-court defense?