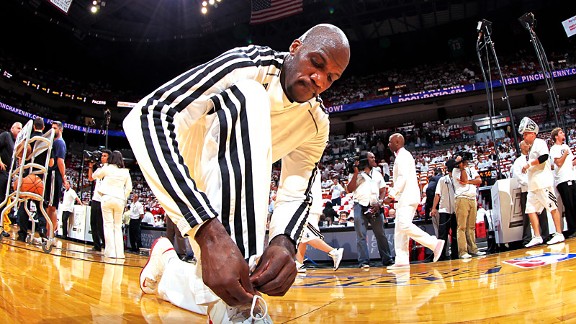 Issac Baldizon/NBAE via Getty Images
With Chris Andersen suspended for Game 6, Joel Anthony steps into the spotlight.
INDIANAPOLIS -- Did you forget about Joel Anthony?
If you did, it's hard to blame you.
It seems like a decade has passed, but it was only two years ago when Anthony was the Heat's starting center in the playoffs and regularly logging 20 minutes a game. But Anthony has been a forgotten man for the Heat this past season as Heat coach Erik Spoelstra decided to stretch the floor with shooters in his "pace-and-space" system. Without a jump shot to speak of, Anthony didn't fit, nor did he have the finishing abilities of Chris Andersen, whom the Heat picked up at midseason. Anthony sat on the bench for 18 games of the Heat's streak of 27 straight wins.
But now, up 3-2 in Indianapolis, the Heat need him.
With Andersen suspended for Game 6 for his altercation with Tyler Hansbrough in the Heat's Game 5 win, Spoelstra indicated that Anthony would be called upon to help fill in.
So what can we expect from Anthony?
He's a pick-and-roll detonator on both ends of the floor. Defensively, he deploys his wide stance, quickness and long arms to wall off the gaps after a screen. Offensively, he's a liability as a roll man because he has fly swatters for hands. With Roy Hibbert's tendency to drop back in pick-and-roll coverage, Anthony may not be an asset there anyway.
Hibbert was asked at Saturday's shootaround to give his scouting report on Anthony. His response may have been the most generous assessment ever handed to Anthony.
"He's a strong guy. Terrific rebounder, terrific post player," Hibbert said.
If we're being honest with ourselves, Anthony is closer to "terrible" than "terrific" as a rebounder and post player. For his career, Anthony has gobbled up 11.2 percent of the available rebounds on the floor, which is right in line with Mike Miller. As for his post game? He once set Twitter on fire by airballing a reverse layup.
What Anthony will bring in Saturday's game is shot-blocking and hustle -- two things that Andersen already provided off the bench. But what sets Anthony apart from Andersen is an incredible knack for thwarting the pick-and-roll on defense. Anthony swarms the ball-handler and has remarkable ability to retreat to the basket and recover to his man. He covers more ground than perhaps any player on the team other than LeBron James. For this reason, he has often been called "Avatar" by his teammates.
Pacers coach Frank Vogel said at the Pacers shootaround that Anthony lacks Andersen's finishing skills around the basket, joking "anything less than 1,000 percent [field goal percentage] would be a dropoff."
Vogel is right. Anthony learned basketball as a 16-year-old in Montreal by reading a book he picked up at his school library. Spoelstra says that when they invited him to training camp after Anthony spent three years ay UNLV, Anthony struggled to score in an empty gym. Heat assistant coach Keith Askins used to play a game of peek-a-boo where Anthony would have to turn around and catch a bullet pass from Askins, who stood 10-feet away, and do it over and over until he could consistently catch the ball. He still can't.
A month has passed since Anthony has played 10 or more minutes in a game, but you can expect he'll get more than that in Game 6 if Spoelstra decides to continue using a big man off the bench rather than going small with Miller or Shane Battier.
Chances are good that Anthony will fumble a pass, blow up a pick-and-roll or swat a hook shot from Hibbert. He is a memorable player, for both good and bad.