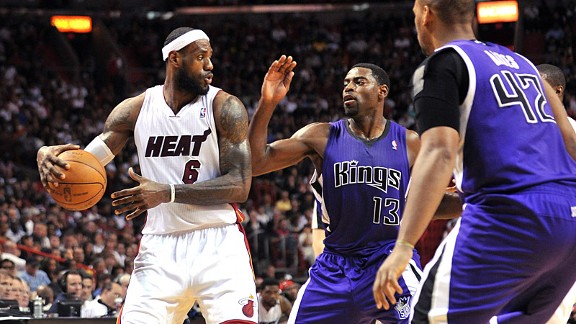 Steve Mitchell/US Presswire
In another installment of the Heat Index's 3-on-3 series, our writers give their takes on the storylines before the Heat face the Kings on Saturday.
1. Fact or Fiction: The Heat are not a good road team.
Tom Haberstroh: Fiction. They haven't been a good road team so far this season, but I'm not so sure that means anything. The Heat's big three used to thrive off of the boos, or so they claimed back in 2010-11. Some of their very best games together have come in opposing gyms; just look at last postseason. I'm chalking this one up to small sample size.

Michael Wallace: Fact. If you subscribe to the theory that you are what your record says you are, then the Heat are an average team on the road with that 7-8 record heading to Sacramento. With the Jazz, Warriors and Lakers on deck, Saturday is as close to a sure thing as the Heat might get on this trip.
Brian Windhorst: Fiction. To me, anything over .500 on the road is reasonably good, and I suspect the Heat will be there at the end of the season. They were 18-15 on the road last season. They were also 5-5 on the road in the playoffs, which turned out to be pretty darn effective. They certainly are not a great road team -- and that will keep them from winning 60 games -- but I don't think they'll be concerned about winning anywhere when it counts.
---
2. Fact or Fiction: The Heat should pursue Greg Oden.
Haberstroh: Fact. No downside. Whole lot of upside. The question becomes whether they feel obliged to outbid other teams when they already face the luxury tax and the repeater sledgehammer. If it requires using the amnesty clause on Mike Miller, I think the Heat will pass.
Wallace: Fact. But only for a discounted veteran's minimum price and under the right circumstances. Word is Oden isn't close to being ready to condition himself for an NBA return -- mentally or physically -- right now. He's a project in the truest sense.
Windhorst: Fact. Let this sink in for a moment. Last year, the Heat had Eddy Curry and Juwan Howard on their bench all season. For half the season, they had Mickell Gladness. Oden is nowhere near ready to play. There is zero percent chance of him playing this season. But if he's willing to accept a minimum contract, I see it as a decent risk/reward investment.
---
3. Fact or Fiction: The Heat should pursue DeMarcus Cousins.
Haberstroh: Fiction. No need to shake things up now, and I really don't think he could fit in defensively. He's actually a project on both ends of the floor considering he's an abysmal shooter around the basket and would need an entire offseason to just get a clue about the Heat's defensive principles. They can't afford to develop anyone now. Bosh will be just fine.
Wallace: Fact. But the Heat have no shot to get Cousins unless they're willing to part with Bosh. And even that might not be enough. The Kings might be sellers, but they're not suckers. They know they have a very valuable asset in Cousins, regardless of how big a headache he is right now.
Windhorst: Fiction. The Heat are attempting to go all out to win the title this season and next season. Making a move for Cousins might pay off down the line, but he comes with so many issues and a lack of maturity and self-control that it's hard to believe you could rely on him in the postseason. The Heat have enough talent. They need consistency, and Cousins lacks it big-time.