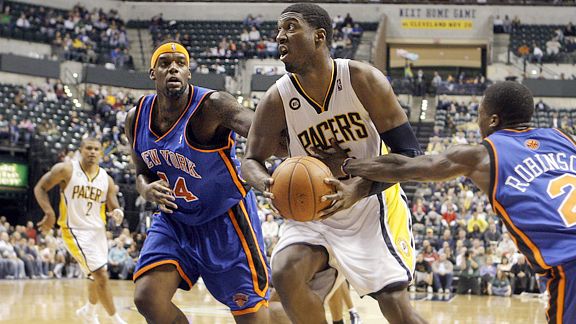 (AP Photo/Michael Conroy)
Eddy Curry has lost so much weight he's almost unrecognizable. (He's the one in the headband.)
By Henry Abbott
He has only played 11 minutes, but as Chris Sheridan just explained, slimmed-down Knick big man Eddy Curry is already playing a pivotal role in the Knicks' thought process about Allen Iverson.
Curry could also play a pivotal role in helping to unravel a couple of NBA mysteries.
The first mystery is obvious. When will the misery end for Knick fans? The team David Stern, and a zillion other people, grew up loving, has lost all sparkle. The Knicks are a miserable team hoping to use the city of New York and Cablevision's deep pockets (anything but the roster) to lure a top free agent this summer. However, if Eddy Curry can prove he's a desirable NBA player, the Knicks' whole situation changes dramatically -- either because they'll have another quality player at a key position, or because they'll be able to trade his hefty contract and bring in more talent.
The other mystery is William Wesley. What does he do? I spent ages poking around that issue. Curry's recent life is a bit of an answer. Curry has had every problem a person could have. Murder in the family. Accusations of misconduct. Financial problems. A career in shambles. Health problems. Weight problems.
Enter William Wesley. The story has been told many places, but the basics are in Alan Hahn's training camp report from Newsday:
William "Worldwide Wes" Wesley was in attendance yesterday, marking the second straight year the well-connected attache to many NBA stars (including LeBron James) has been present at Knicks camp. Wesley has an interest in Curry's progress, of course. He is the one who set Curry up with strength coach Tommy Weatherspoon and basketball trainer Jerry Powell to work with Curry this summer. For most of June, Curry stayed at Wesley's home outside of Detroit.
What does Wesley do? He's integral to a lot of things, arranging mortgages, arranging trades, arranging jobs for coaches and a whole lot more. But he's also, clearly, something of a camp counselor for people like Curry, and the Knicks have placed a ton of trust in him.
Everything changes if Wesley's work pays off. He'll be hailed as a genius. The Knicks will swell with pride.
If it doesn't ... then the joylessness you have seen on the court so far is what the Knicks will be.
As Hahn points out, Wesley is also famously close with LeBron James (and, complicating things somewhat, Allen Iverson). If the Knicks and Wesley can have success together in resurrecting the career of Eddy Curry, the good vibes that come along with that couldn't hurt the free agent conversation next summer.
In the meantime, Donnie Walsh and William Wesley will be watching Curry closely, knowing they both have a lot at stake.