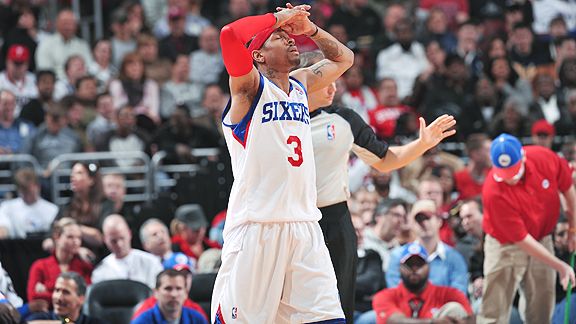 Jesse D. Garrabrant/NBAE via Getty Images
Allen Iverson says he just had a large amount of fluid drained from his left knee.
By Henry Abbott
An aging superstar, after trying retirement on for size, finds a new team.
Despite everything he has done, despite everything he has won, believe it or not, there are still those who doubt him. They must be taught otherwise.
Amazingly, some do not know the depths of the competitiveness in the man's soul. Age, slowing him? Please.
He graces a mediocre team with his big name and big game, creates a fan sensation, sells some tickets and prepares, in his mind, to rewrite the history of the franchise by mixing his improved jumper with the creative and daring forays into the paint that made him famous.
Only ... returning from the layoff is tough. The aging is real. The drives into the paint are met with bigger, stronger, faster and younger defenders.
There are some stumbling blocks out of the gate. The body is not quite what it once was. There are some losses.
The internet has always said this celebrity is like a zillion others in enjoying the nightlife. Who cares? Maybe nobody. But it's clear the player did not arrive in championship form, and may have to "play into shape" a little.
Some of what's happening with the body, though. That's new. Check out all the fluid in that knee. Draining that fluid helps the symptoms, but trainers and doctors agree draining the fluid doesn't do much about the underlying cause. Addressing that the conventional way is extremely time consuming, and is centered on weeks or months of taking it easy.
This is the story of Michael Jordan, long-retired Bull, as a brand-new Wizard in 2001.
"There was only the illusion of a remedy," writes Michael Leahy in his book about Jordan's return, "When Nothing Else Matters." "After the draining of the knee, Jordan could move again. But the tendon remained inflamed -- a draining did nothing for inflammation. If he did not rest, the pain would be coming back, along with more inflammation, more swelling, a nastier case of restricted movement and a heightened chance for another injury."
A major point of Leahy's book is that Jordan didn't listen to his body, nor anybody else. He pushed too hard. He had the whole franchise at his beck and call, with nobody to temper his impulse to play through anything and everything. And the dark cloud of knee trouble parked itself over the entire season. In the final analysis of that season, Jordan played just two-thirds of his typical workload, sitting out 22 of Washington's 82 games, seeing just about 2,000 minutes of action, compared to his typical 3,000+. When he did play, by just about every measure he was the worst he had been as a pro. His field goal percentage, his rebounding rate, his PER ... all down.
Coincidentally, word that Jordan's knee had been drained became public before a 2001 game in Philadelphia, where Jordan faced the upstart Allen Iverson. The younger guard's team was fresh off the NBA Finals and was heavily favored against the bickering Wizards.
That very night Reebok announced a lifetime Reebok contract for Iverson. Iverson and Jordan were on track to start side-by-side in the All-Star game. Iverson was threatening.
It was a shootout. Jordan launched 27 attempts, Iverson 31. But, with a sleeve over his right knee, Jordan scored 30 points, the win and the bragging rights. The day before, Wizards coach Doug Collins had promised to limit Jordan's minutes, but that was quickly forgotten as Jordan played all but ten minutes. He was notably slowed by the end of the game, but had 14 straight decisive points in the first half, putting the youthful Iverson -- who scored 40 in a losing effort -- in his place.
Eight years later, it's a whole new story, but a familiar one. Jordan is in retirement, a status Iverson is tip-toeing around. Now Iverson's the aging star on the bad team, fighting the years and the younger defenders in the paint, looking to win an improved legacy.
And, the fluid is now in his knee.
One of the reasons to have a veterans like Allen Iverson on your team is because players like that have been through the wars, and have learned from the things they have seen first-hand. What lesson does Iverson take from Jordan's experience? That knees are to be babied in the latter stages of one's career? That conditioning is king? Or that conventional advice be damned, toughness is the card that trumps all others.
Evidently, the latter. Iverson says he just had an enormous amount of fluid drained from his left knee. And he adds that there's almost no chance the knee will keep him from playing.
Iverson, as quoted by Bob Cooney on Philly.com about the large quantity of fluid that was just drained from his knee:
"I think it stems from me starting so fast and not having a chance to get a chance to practice and stuff, and not doing any running, just not playing over a month and jumping right into the fire. Hopefully, that's what it's from. I guess as much as I play, I guess it will go away, hopefully."
Of course, for a basketball player, it's never the worst thing to follow in the footsteps of the best player who ever played. But that doesn't mean it's the best, either.