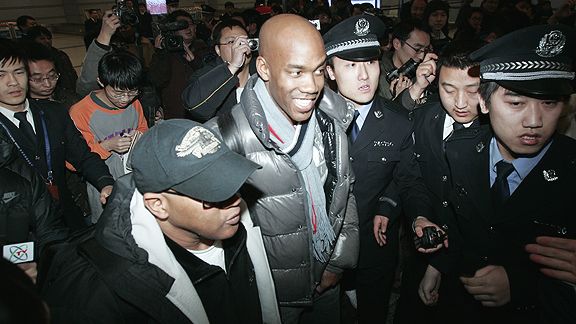 (ChinaFotoPress/Getty Images)
Arriving in Taiyuan, which writer Anthony Tao calls "unapologetic about its devaluation of human worth."
On Deadspin, Anthony Tao has had a front row seat (PG-13 for language) for the Chinese debut of Stephon Marbury. It's an amazing tale of globalization -- an NBA star, of sorts, has come to a bleak, polluted urban Chinese landscape. What's even more amazing is that, again, thanks to globalization and the efforts of Tao, it's easier to have a sense of what Marbury is like when he's in Taiyuan than it was when he was in New York.
The article is a must-read. Here's a moment from Marbury's first game:
Fans begin to toss objects onto the court. A few minutes later, they make it rain, hurling anything close at hand that's replaceable or inexpensive. The floor is soon peppered with lighters. The PA announcer — a guy who has alternatively started "Fenjiu team, jiayou! (add fuel)" chants and asked fans to "please sit down, please sit down, there're lots of people today, please sit down" — futilely tries to maintain order. Marbury saunters about, not quite sure what to do. He pats the air with his hand as if to say, Calm down, but for the first time tonight fans are not under his spell. They chant, Heishao, heishao! — "black whistle," a reference to the mafia — and while point-shaving and match-fixing is not uncommon in Chinese sports, the chant itself is banal.
If this happened in the U.S. it would lead off 80 ESPNews segments and make a magazine cover. Here it is just another day at the old ballgame. Either Marbury realizes this or he appreciates, for the first time, what it means to be in China, because he smirks, just a little.
The game resumes, and with five seconds to go and Shanxi down by one the ball is inbounded to Marbury. When he drives right the defense collapses on him, so he zips a pass to Maurice Taylor at the top of the arc, whose buzzer-beating three-pointer is just short.
Fans are too shocked to react. The Dongguan team celebrates on the court. Marbury kicks a water bottle as he leaves the floor, grabs his stuff from the locker room, blows off a small group of fans and journalists, and bee-lines it with his assistant into the night.
You can now see all of Marbury's first game online. You can also see statistics from his second game, when he had 15 points and 15 assists in a loss to an elite team.