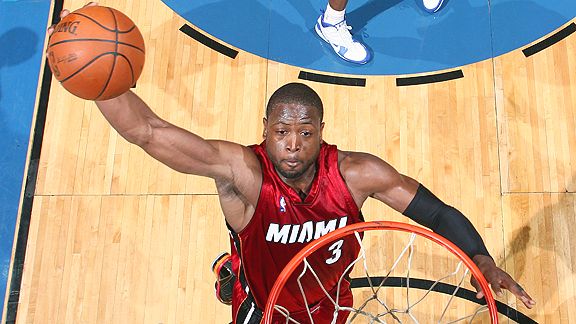 Ned Dishman/NBAE via Getty Images
"Yeah, we need to add pieces," says Wade, of the Heat.
Dwyane Wade hasn't been asked about free agency as much as LeBron James has, but surely it's close. He anticipates the question, and has a safe answer at the ready.
"I'm in Miami," he told a gaggle of reporters at All-Star weekend. "This is where I want to be."
But he did not just leave it there. "I want to make sure," he added, "that we do everything we can to make sure we build a winning program. We do that ... I'm satisfied."
TRUEHOOP AT THE 2010 ALL-STAR GAME
Big show in big D.
• Non all-stars who could win.
That's the sound of an impending free agent telling his team he'd like some quality help, and soon. The trade deadline is six days away. That's the last opportunity to add a major player before Wade's free agency.
In case there was any misinterpretation, a reporter asked if the Heat needed to add some pieces to entice him to stay.
"Yeah, we need to add pieces!" Wade said, busting into laughter at the obviousness of the situation. "Aint' no question about that!"
Wade says the Heat have not had an elite roster in years. "We're not one of the top teams in the League," he explains. "You want to have an opportunity every year. You're not Magic, you're not Michael, you're not Larry. You're not going to win the championship every year. But you do want to have an opportunity to compete for that. I feel like we haven't had the opportunity since '06. I feel like, while I'm in my prime, before my prime leaves me in about four or five years, I want to make sure that I can give my all to the organization."