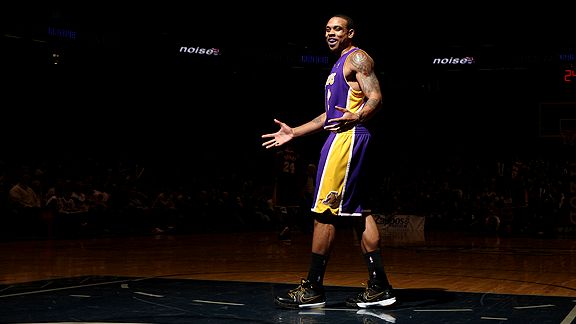 Nathaniel S. Butler/NBAE via Getty Images
A star of All-Star Weekend, who remembers unemployment.
June 14, 2007 was a bad day to be in the Cleveland Cavaliers' post-game locker room. Down the hall, the San Antonio Spurs were running around with champagne, cigars and trophies. Tony Parker was guffawing. Even Tim Duncan cracked a smile.
The Cavaliers had just completed one of the worst Finals performances of all time, having been swept with relative ease. The season was over.
At his locker near the door, one Cavalier was facing an especially long summer. Rookie Shannon Brown was coming off a season in which he never really got to make a name for himself.
The season was over. His averages, over 23 games: 3.2 points per game to go with one foul, 0.9 of a rebound, 0.6 of a turnover, 0.4 of an assist, and 0.3 of a steal.
That is not the stuff dreams, or NBA careers, are built on.
Whereas LeBron James may have been sad that his first attempt at a title had gone haywire at the end, Brown was facing tough questions about his future in the NBA.
I remember watching him get dressed. Slowly. It was tempting to ask questions about his plans for the off-season, or the game that just ended, but it almost seemed cruel. Everyone in the room knew that his season had not gone well, and that even though he was a first-round pick with a guaranteed contract, his future in the NBA was uncertain.
He answered questions politely, and with a smile, but you could feel the effort that was required to do so.
As Andrew Kamenetzky writes on ESPNLosAngeles, the situation would return with a fury a year later, when he found himself out of work.
"It was hard," admitted Brown, tapping an empty plastic sports drink bottle against the medicine ball. "I went through a time where I cut my phones off and just sat around. Didn't really want to talk to nobody. Didn't want to see nobody. Didn't cut on the TV. I was just trying to figure out life, I guess. I've always had high expectations for myself and failing is not really an option. I had to sit back and evaluate myself, my life, the things that I've been through. Where I was, where I could possibly go."
"I did a lot of praying, man."
Brown was also expecting his first child, which theoretically meant even more pressure. But instead, a son on the way offered something to focus on besides question marks: Being a father. "My son came and gave me almost a new life," says Brown. "He gave me a breath of fresh air and really helped put things in perspective." Brown eventually received a one-year contract from the Charlotte Bobcats, but the birth coincided with the first day and a half of training camp, inconvenient timing for a player hoping for an immediate impression. Larry Brown, however, allowed Shannon to miss camp to witness his son's arrival, an experience he "wouldn't trade in for the world."
As it turned out, the infant served as the first bookend to a season about to drastically change Brown's career.
After a productive 30 games in Charlotte in the 2008-2009 season, Brown was traded to the Lakers.
Since things could hardly have gone better. Brown has not only become a key rotation player for one of the defending champions, but also the popular pick to win Saturday's dunk contest (which often comes with lucrative endorsements), and another championship ring.
All of which makes Brown the case study in how sometimes, things can turn around quickly.