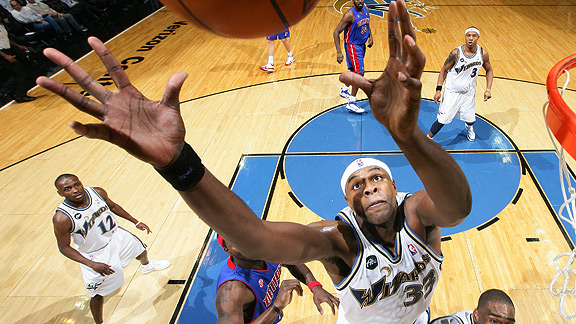 Ned Dishman/NBAE via Getty Images
At 30, Brendan Haywood is rebounding better than ever.
Now that trade season is really underway (with the reported swap of Mavericks Josh Howard, Drew Gooden, Quinton Ross and James Singleton for Wizards Caron Butler, Brendan Haywood and DeShawn Stevenson), the consensus among basketball watchers is that the Mavericks have improved themselves with the addition of Caron Butler -- who has long proven he's capable of big-time feats such has averaging 20 points per game.
This is hardly just a Caron Butler trade, however. In fact, for the Mavericks, the big prize of the day may well be center Brendan Haywood.
Ask adjusted plus/minus
The Wizards have been pretty miserable this season. But they have been dramatically less miserable with Brendan Haywood on the court. Basketball Value pins his adjusted plus/minus at better than plus-eight points per 100 possessions. That's one of the top 30 ratings in the NBA, ahead of the likes of Ray Allen, Tim Duncan and even Caron Butler. 82games.com says that Haywood is part of the Wizards' nine most effective lineups. When a player has those kinds of plus/minus statistics, but is not an All-Star, if typically means he knows something about playing D.
Ask the backboard
When he's on the court, Brendan Haywood grabs about 18% of the available rebounds. At age 30, that's the best rate of his career. It's also good for 21st in the NBA, in nice company with Andrew Bogut, David Lee, Shaquille O'Neal, Kendrick Perkins and the like. It's also slightly better than Drew Gooden, whose place Haywood would take in Dallas.
Ask the tape measure
There are countless challenges to winning the West, but the biggest of them all is beating the Lakers. And a defining aspect of the Los Angeles roster is the extraordinary length of Andrew Bynum and Pau Gasol. Now the Mavericks -- with Haywood, Erick Dampier, Tim Thomas and Dirk Nowitzki -- have four players seven feet tall (or close) to mix and match.
Ask Dwight Howard
There's no need to even count the zillion points the Wizards routinely give up when Haywood sits. All you have to do is ask current defensive player of the year Dwight Howard, who recently declared Haywood the third best defender in the entire NBA.