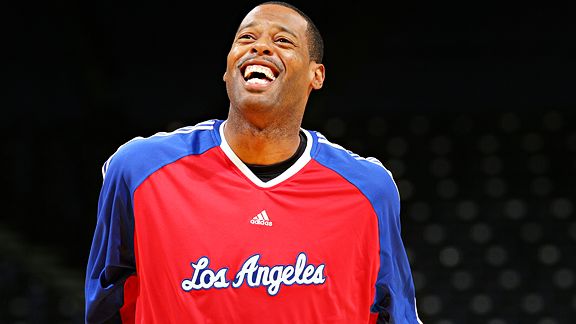 Rocky Widner/NBAE via Getty Images
Big man: Camby fills a major need for the Blazers.
The Los Angeles Clippers are trading Marcus Camby to the Portland Trail Blazers for Travis Outlaw, Steve Blake and cash.
All the players have expiring contracts.
For the Blazers, Camby remedies an enormous basketball problem: The total lack of centers since injuries to Greg Oden and Joel Przybilla. It also puts a bounce in the step of a team that has also endured injuries to Brandon Roy, Nicolas Batum, Rudy Fernandez and, to a lesser extent, LaMarcus Aldridge.
On ClipperBlog Kevin Arnovitz once wrote the definitive story on Marcus Camby's defense. Arnovitz is a Clipperologist with an analytical mind. I'm a Blazer fan with a blog that needs some smart thinking about this trade. Here's the conversation we just had:
Abbott: OK, so big picture. When you first hear of this trade, as a Clipper fan and a hoops geek, what's your thought?
Arnovitz: The Clippers have officially surrendered the 2009-10 season. That's not to say that the deal is ill-advised, but I think anyone who has watched the Clippers closely this season knows that Marcus Camby has been essential to any success they've had on the court.
Abbott: That being said, why trade his expiring for other expirings?
Arnovitz: We'll know more about the specifics of the cash changing hands once the deal is official, but Portland's cash represents real savings for the Clippers. I also think we're learning that short-term rentals can get you one of two things (1) marginal players with expiring deals (2) impact players with longer deals. At the end of the day, the Clippers decided that they didn't want to compromise their cap space ... but the opportunity to net a couple of million dollars was attractive.
Abbott: Before we get to talking about Outlaw and Blake, tell me what I can expect, as a Blazer fan. We should be having a party, right?
Arnovitz: Camby is one of those guys who polarizes basketball junkies. Some think he's one of the game's best defenders. Others believe that he's completely overrated as a defender and point to his pick-and-roll defense as evidence. (He has a tendency to drop back on virtually every screen.) After watching him closely for a couple of seasons, I now fall into the first camp: He's tremendously effective. The Clippers were 7.7 points per 100 possessions better with Camby on the floor. He leads the league in rebounding rate. He's also a good facilitator in the high-low game, and leads power forwards (his nominal position as a Clipper alongside Chris Kaman) in assist rate. The kids in the locker room look up to him and the coaching staff thinks he hangs the moon.
Abbott: I noticed on Basketball Value that adjusted plus/minus suggests Camby's not only an elite defender, but also one of the Clippers' best offensive players.
Arnovitz: Yes. He knows how to move the ball from the top of the perimeter. And he is a master of the offensive tip.
Abbott: By the adjusted plus/minus metric, he's a top 30 NBA player.
Arnovitz: I think that's a fair assessment. My favorite Camby moment of the season: After his 25-rebound performance against Chicago last month, I asked him if rebounders can get into a "zone" the way scorers can. His response: "Sometimes you feel like the ball is like a magnet. But with me, it's not about just going out there and getting it. I study my opponents a lot. I study the projectile of the basketball, try to get myself in a good position to rebound shots." Henry ... I love a center who studies projectiles.
Abbott: You just like that he's a little geeky.
Arnovitz: Who wouldn't want a center who studies projectiles?
Abbott: Geeks win championships!
Arnovitz: Yes they do!
Abbott: OK, so we had talked about something like this a while ago, and you had your eyes on Martell Webster. Who is not in this deal. Is that a disappointment?
Arnovitz: Sigh. Absolutely. The Clippers are in a funny place, in that -- for a losing team -- they're rock solid at four positions. Small forward is the missing piece and there was an expectation that a deadline deal for Camby might allow them to fill that hole in the long-term. In my fantasy world, Webster (or Luol Deng) was that guy.
So tell me about Mr. Outlaw.
Abbott: I have thought about that player way too much, and will struggle to keep this concise. But some ideas: When he came into the NBA he could not shoot A LICK. Every time he started to, he'd coil and spring in the most bizarre fashion -- some guys lean right or left when they shoot. He would get his upper body going in both directions before he landed, which is really amazing.
It is to everlasting credit, however, that the guy has learned to become a very special kind of shooter. Few NBA players go from never being allowed to shoot to having repeated plays called for them with the game on the line. And every single player who ever makes that leap is, you can guarantee it, a hard worker. Which matters. Outlaw is frank that he really wants to be a star. That's his motivation, and I believe he'll keep working hard because of it. He's a real-deal long athlete, he has this ability to score. He's also everybody's best friend, and to my eyes an important part of why the Blazers have generally been a cheerful team.
However, he is not the most aware player. Some players are really quick thinking, but that's not him. The exact cluelessness that makes him impervious to crunch-time pressure also makes him a liability in complex defensive schemes. His defense has gotten much better, and the sky's the limit for his individual D. But you know how Boston so cleverly rotates to keep everyone covered with help? Hard to picture him thriving in that system. And, there was a game the Blazers lost when Brandon Roy was doubled in the corner on the big play, and he seemed to have no plan. Afterward, we learn that Outlaw was supposed to have cut down the lane, but for some reason didn't. Which was too bad.
Arnovitz: In your eyes, do the Blazers instantly become a potential Northwest Division champion now that they have a top-shelf center who can protect the basket?
Abbott: They're five games behind Denver, with intimidating Utah and Oklahoma City in between. This is an amazing division, now and for many years to come. At the season's outset, when the Blazers were all healthy and training camp was something to dream on, the team made news by rigorously refusing to admit to any goal beyond winning the division. It seemed so modest at the time. Now they have been so hurt -- Roy is the ballgame, and he hasn't played in weeks with a tricky hammy that could act up any time. Even with Camby, they still only have one real center -- it's easy to see that they could finish second or third in the division and still declare the season a success.
To me the more important accomplishment is they are now certainly once again a team with the potential to make things interesting in the playoffs.
Arnovitz: And the logjam at forward ... this clearly eases that?
Abbott: Right. For Portland, a big part of the analysis is that while one can love Outlaw, when healthy he was only going to play limited minutes, during which time a good player like Nicolas Batum, Martell Webster or Rudy Fernandez would be on the bench. Camby brings his production in place of Juwan Howard and Jeff Pendergraph. Both are total gamers who have been fun to watch, but are playing out of position and out of their primes.
Arnovitz: In that spirit, I'd tell disappointed Clippers fans something else: They're going to see a lot more of DeAndre Jordan, and I think that's a good thing. Jordan will take his lumps and occasionally embarrass himself, but his development is vital for the team's future. The void left by Camby will potentially give Jordan an intensive two-month boot camp as a rotation NBA center. They'll also see a bit more of the irrepressible Craig Smith, who can score 1-on-1 from the block in bunches.
Abbott: If you have a player who goes by "Rhino," you ought not cage him.
Arnovitz: Precisely.
Abbott: Now, let me play Steve Blake's agent for a second.
He has not been great this year. Andre Miller has been better, especially since his argument with Nate McMillan. Since then Miller has been remarkable, and I was telling people all All-Star Weekend that it did not ring true that Miller was done in Portland. However, coming off an injury Blake's shooting numbers are a little down. But over the last several years, Blake has been a very good shooter. He's that best of things: A player the other team will leave in the corner -- he's usually the fourth or fifth best offensive player -- but who will also stick the open 3 when the ball is swung. He's not done. But for a shooting slump, he'd still be everyone's darling. And to those who say he can't lead an up-tempo team, David Thorpe says hogwash: He ran one of the fastest offenses in NBA history in Denver in 2006.
He's an intense dude. A workout maniac. Sometimes in crunch time I feel like he goes into intensity overload. At the line, with the game on the line, his face does not portray cool confidence. However, I think you want a passionate worker like that. Everybody in the Blazer organization loves having him around, and it wouldn't shock me if he was a Blazer again some day.
Arnovitz: The Clippers are in an interesting spot with regards to their third guard. Sebastian Telfair has a player option of $2.7M next season. The Clippers would clearly like to move him -- and were reportedly hoping to do so in a package that included Camby. Telfair should be back from injury fairly soon. When he returns, would the Clippers banish him to the end of the bench in favor of Blake in an effort to induce Bassy to seek employment elsewhere next season?
Abbott: Battle of the former Blazer guards. Boy, oh, boy, if they did that, it would be a real condemnation of Telfair, to bench him at the exact moment they are apparently trying to be up-tempo.
Arnovitz: On the other hand, the Clippers don't have a lot of depth at guard, and it's likely that Blake could see some time at the 2 behind Eric Gordon. Final thought: Clippers fans are accustomed to finding faint silver linings and here's one that surfaced out of this transaction. Early reports had Marcus Camby very, very upset that he was being dealt from the Clippers -- who are 10 games under .500 -- to Portland, a potential playoff team with arguably the league's most supportive fan base. That's a far cry from "Get me outta here!" -- something players might have said in seasons past. Camby is regarded as the utmost professional and he was very comfortable as a Clipper.
Abbott: Couldn't it also be that he just liked Spago?
Arnovitz: Now he can go to Voodoo Doughnut!