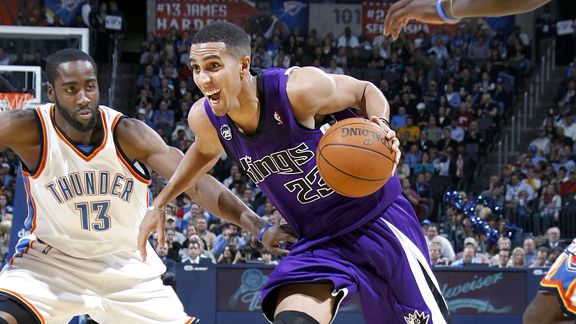 Layne Murdoch/NBAE via Getty Images
The Rockets have been needing a scorer; Kevin Martin is one of the most efficient in NBA history.
David Thorpe has been training Kevin Martin every summer in person, and on the phone day in and day out, since Martin was a little-known guard at Western Carolina. You could argue that they essentially "made it" (Martin as a player, and Thorpe as a trainer) together. In the hours after learning that Martin had been traded to the Rockets, Thorpe shared his views about why things didn't work out in Sacramento, how Martin will fit in Houston and why he thinks Martin can be a solid NBA defender.
Were you as surprised as the rest of us to learn late Wednesday night that Kevin Martin had been traded?
Yes, only because it seemed that no one really had an appetite to trade him. There were certainly teams that were making inquiries, and I get privy to some of those because teams will often call me first to get insight on what Kevin's mindset is. So I knew teams were interested. But it always seemed like the Kings would hold off until the summer, and I understood why they would do that. I can't say I was too surprised, when the team has been struggling, and has such a need for inside help, getting an offer like Carl Landry, I understand why they'd want to do that.
You're a basketball expert, but you're also someone who knows Kevin Martin very well and considers him almost like a family member. For you in that role, how do you feel?
I feel amazing.
There's a little touch of sadness. If I take off my basketball analyst and basketball trainer hats ... Kevin has a very special connection to the city of Sacramento and to the Kings. I was a nobody, and only had one or two players who were just barely in the NBA when the Kings took Kevin in the draft. And the Kings decided to take him in the first round and ultimately decided to stay with him long enough to learn how to be an NBA player. He became a pretty good one and they paid him a great contract. Kevin and I talked a lot about retiring as a King one day, and having his jersey hanging in the rafters with a couple of championship banners. And, obviously that failed. That didn't happen. Doesn't really matter who's to blame. The end result is it failed. That's sad.
On the other hand, that's a team that, over the last four years has gotten younger and younger. Kevin should be entering his prime. He was playing for a coaching staff that didn't really know him or his game all that well, and had a bunch of 23-and-younger guys, for the most part, next to him, who were far from their potential. They're going to be good players one day, but how long is it going to be? Now Kevin gets to go to a storied franchise that's got multiple championships, in a city that's basketball-crazy like Sacramento is.
The great thing about this is that in some respect he's going back in time, to a head coach and two or three assistants who coached Kevin when he was just starting out. So that's exciting. And the idea of playing with the talent that Houston has, they've got some talented veterans, I think will be a better complement to what he brings, and hopefully he'll be a better complement to what they have.
Houston, without Landry and with an injured Yao Ming, is pretty thin in the frontcourt. But Rick Adelman's an innovative coach. How is this Houston team going to play, now?
There's a short-term and a long-term approach. The short-term approach will be: This is our team without Yao Ming. Let's try to manufacture wins. I think one of Adelman's real strengths has been that he's a very pragmatic guy. When he's got slashers and passers, they run more of this open-floor Princeton stuff. And when he doesn't then they'll feature the great, dynamic dribble-drive game of Aaron Brooks. And obviously, they did a lot with Carl Landry.
So I think they'll get back to utilizing Kevin, and Trevor Ariza. Now he has two wings who are really athletic and can move without the ball -- Trevor really learned that in that triangle system in L.A. There'll be some adjustments, because they obviously haven't been doing that a bunch because of what Aaron does. They'll feature Scola more. But Kevin's going to have to carry a big scoring load, because Carl was one of their two best offensive players.
And then when Yao comes in, that's really the game-changer. Kevin, historically, has been one of more efficient shooting guards ever to play the game, based on the stats we use now, and he's never really had a low-post player that commanded a double-team. The idea of dumping it into Yao Ming and running two-man stuff off him, running some of Adelman's Princeton stuff off Yao, with his shooting abilities, and Kevin's ability to move without the ball ... it's pretty exciting.
I also think the Jordan Hill component is interesting, because they've had some success in finding ways that guys like that can really be productive. Look at the production they've gotten out of maligned big men: Scola, Hayes, Landry ... Hill is an interesting component. And they're going to get a number one pick from New York at some point in the next couple of years. You've got that great mix of veterans and youth, where Kevin was coming from a program that was almost all young guys.
There's a lot that we can do because veteran experience allows you to do a lot more.
There has been this idea that Houston needs a superstar, or at least a go-to crunch-time scorer. I don't even know if you believe that, but if you do, is Kevin Martin that guy?
I never really believed that. With some exceptions. Wade and Kobe and LeBron are at the highest level of that. But two years ago the champions were the guys who had three great players. Go back and watch Celtic tape and I think you'll see Eddie House hit some pretty big shots, too.
I really believe that if you've got a super special featured scorer, then great. But it's good to have more than one guy.
And I don't know if Kevin's good enough to be a "give him the ball and get out of the way" kind of guy. I don't think that's really playing to his strengths. I think you can run sets for him late in games. The other night in overtime he scored nine straight points for the Kings, because they actually ran some stuff for him and it worked out well.
I think, though that Houston's going to have some really dynamic actions with a number of guys. You're talking about a starting five of Brooks, Ariza, Martin, Scola and ultimatley Yao. All five guys can get 25 points in a game. Not a lot of teams have that.
I think Kevin can be an important fourth-quarter player for them. Obviously, he's got to get to the free throw line a lot, and typically he makes 80-plus percent. And that's important too.
Over the course of the rest of this season, having swapped these players, do you think that the Kings get better or worse than they have been? And same question about the Rockets.
You know, I don't know yet about the Rockets. I've not studied them the same that I've studied Sacramento. I'd like to think that they can get better, but I don't think it's a sure thing. As much as I love Kevin, my honest assessment is I don't know. I haven't seen them enough.
But I honestly think the Kings do get better. I've said it pretty much all throughout this trading process, to people who've asked. Listen, I love Kevin like he's my son. But that team is desperate for interior scoring that's consistent, mature and reliable. Spencer Hawes and Jason Thompson show flashes. Every game, one or the other shows a flash or two. But they're nowhere near the finished product that Carl Landry is right now.
This also allows them to play Tyreke Evans as more of a pure scorer, which is, I think, what he wants to do. It gets Beno Udrih on the floor more, and Beno was really playing very well for the first part of the season. And it also opens up more room for Omri Casspi and Donte Greene who clearly have futures in the NBA.
Kevin was almost a scapegoat for all their ills. They had lost eight of ten before he even returned from injury. But no one really cared to talk about that. The bottom line is that they were bad, there's no arguing that. I think now that team's vibe is going to be "OK, we got rid of Kevin, now we're going to be better." And sometimes that's all you need -- an idea that you've got a problem fixed. If things don't work out, that's a different story, but I think those guys are going to think they've got the problem solved now, and I actually think they'll end up getting better because of it.
Were Kevin Martin and Carl Landry both a little devalued by injury histories?
I don't think, in Kevin's case, I feel like there were some really flukey things that happened. The ankle injury last year, it was not treated correctly. It should not have been a long-term thing. But because it ended up being a long-term thing, because of some mistakes they made in trying to figure out how to treat it, that only compounded the problem this year. He broke his wrist. How many players suffer frequent broken wrists? I'm knocking on wood as we speak, I don't want Kevin to be the first. But it's not as if he has a nagging injury that keeps flaring up.
In the case of Carl, he's got some issues, and you're right, he's really a potential All-Star. Maybe they wouldn't normally be willing to get rid of him. But I think, just like in the Kings' case of wanting to shore up a real problem inside. I think the Rockets felt, you know, we have a really good power forward, especially when Yao is back. But what we don't have is, obviously, a guy who can average 20 a night. Aaron has that, or Trevor has that, for a week or two. But to do that over the course of a season ... regardless of injuries, this may be a deal you do, just because the pieces fit better.
People say that Kevin Martin and Tyreke Evans can't play together, but you don't think that's so. Why not?
Everybody thought it was a foregone conclusion. I don't think that's accurate at all. I think they could play together. I think you'd have to put them in a system that featured them both, and that wasn't happening in Sacramento. They really wanted to feature Tyreke in an open floor, that got Tyreke a lot of penetration. I'm not critical of that. But it's not what they've been doing over the years for Kevin to be so efficient.
I'm not so sure Tyreke couldn't play even better offense if you put him in a pattern. But they chose not to do that. So, in a way, it's almost like a self-fulfilling prophecy. But I don't think that's how the Kings saw it. I think they saw it like that was the way to win, and they're better off getting a big who can play with Tyreke, and they'll figure out the shooting guard or point guard component to play next to Tyreke later.
But for a minute or two there, if they held on to beat Boston, for example, maybe they wouldn't have felt like that. I don't think it was written in stone that Tyreke and Kevin couldn't have developed over time.
These situations are always fluid, and everyone's human. Agents are always chiming in.
I talked to an executive from a bad team. I asked him if a certain player wanted to leave. He said "everybody wants to leave! We're not good. Our players aren't happy. Our coaches aren't happy. Our management's not happy. If we listened to every agent, who wanted a trade, we wouldn't be able to field a team."
That's one thing I'm very proud of. Kevin's not done anything publicly, and almost nothing privately, outside of his own family. He talked to his agent and his friends, and only told them how he really feels. Recently, for a seven o'clock start, he was driving to the arena at two. He still was trying to find a way to play better and help the team, and not really bitch and moan about playing with young guys or whatever, because quite frankly he was being paid well to do the job and that's what he was going to do.
Kevin Martin has a bad reputation as a defender. But you've told me many times that with a good system, a good coach and some good athleticism, anyone can be part of a good defense.
As long as they have desire. Defense always starts with desire. Disposition. You've got to coach that. One of the flaws in what's happened in Sacramento, and the players can all take some blame for this too, is that they've just had a lot of changes. You went from back-to-back playoff appearances in Kevin's first two seasons (Kevin was a factor in one of them) under Adelman. And then they went through Eric Musselman, Reggie Theus and Kenny Natt. And now Paul Westphal. So you've had different philosophies, different strategies, and different ways they want to execute every day in practice in how they want to teach their defense. I think ultimately, they never really taught any kind of defense there. They've had a bunch of players go through there, and they've all been terrible defensive teams. So, until they have a foundation of how they're going to defend, I think you couldn't help but fail as a defensive player.
On the contrary, going back to the Jeff Van Gundy and Thibodeau days in Houston, they've always had a foundation to play good defense. Kevin is going to go play for coaches who, then they first coached him, they made him play defense. When Kevin was a second-year player, fighting for his life, they had him guard Tony Parker. No one thought Kevin was anything but at least an average defender, if not better than that. He was young back then, but he wasn't a liability. And he was actually a better rebounder for his position back then.
I'm really actually excited that they're going to hold him accountable to be that same player. It's hard to defend a lot when you are asked to score a lot. Carl Landry dealt with the same thing. Your attention can drift from defense. But that coaching staff is going to coach Kevin up and make him play into their philosophy. So I think he'll get better. Kevin doesn't want to have a reputation as a bad defensive player. He wants his reputation to be accurate. He wants to be playing in a way so that he can be accurately labeled as a solid defensive player and a great offensive player.
You give Kevin coaching input every day, or close. How does what you advise him to do change now that he's a Rocket?
Actually, we've already started. It has always been up to me, starting each year some time around the All-Star break, to find a way to really get him motivated at the highest level. Obviously, he loves to play. And he wants to do well for reasons that are simple to see. But that's not good enough to really compete at a high level. So you've got to sometimes push his buttons to get him to do that -- set goals. A couple of years ago, for instance, we set a goal to be the best player in the NBA for that week. And we got it. He won player of the week. And that was important.
But I don't have to do that now. Now it's about: You have to find ways to help your team win. There's nothing else to discuss. Doesn't matter if you score five points a game. If you can help that team more than it loses, or more than they expect to win, then you're doing your job.
How does that manifest itself? I don't know until I see them play. If I think he needs to drive more, I'll tell him that. If I think he needs to take more charges, I'll tell him that. All that matters now is getting those W's, and getting the Houston Rockets in the playoffs and beyond. So I don't have to press any buttons to get him fired up. We just have to be technical, about how to help that team win.