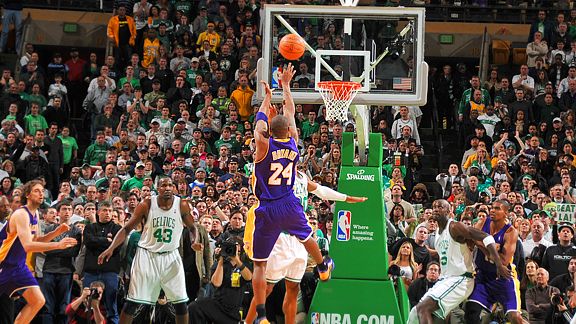 Jesse Garrabrant/NBAE/Getty Images
The Celtics are among Kobe Bryant's seven 2009-2010 victims.
Through the years, there have been many different sets of data about clutch shooting. Any which way I have ever seen it sliced (last five minutes of close games to last ten seconds), as I have written on TrueHoop before, it has looked like Kobe Bryant has been a guy who shoots a ton in crunch time, and hits at a pretty good, but not elite, rate.
I'm open to the idea that he could still be the best clutch player in the NBA. At that time of the game, there's value in being able to create scoring opportunities. Bryant may shoot those difficult fallaways that often miss, but he'd be a far worse player if he couldn't get a shot off at all. And that's the situation some lesser players would find themselves in.
Quite honestly, I think the real way to crown a crunch time king would be with video. Somebody should make a TV special where they string together every crunch time touch of the handful of elite end-game players (Bryant, LeBron James, Chris Paul, Carmelo Anthony etc.) If we want to tell the world that somebody is the most likely to succeed in a certain setting, let's take an honest and complete look at how they do in that setting. Show me the turnovers, the misses and all that. Let everyone watch all of that video -- not just the makes! -- and at the end of that I think we'll end up with a good sense of who's the best.
A lot of sports fans think it's crazy talk to even consider candidates other than Bryant. And they're especially vocal right now, when Bryant seems to be hitting game-winners just about every night.
So, how's it going?
Very well.
Peter D. Newmann of NBA Statistics and Information Research has tallied some numbers that take into account this season. Here are some of his findings:
This season, Bryant has made seven of the 12 shots, with a chance to win or tie the game, in the last ten seconds of regulation or overtime.

Bryant's the only player in the last decade who has made seven such shots in a season.

Bryant has made 26 of the 89 potential game tying or game-winning field goals he has shot over the last decade. That's 29.2%, which is slightly above League average.

His game-winners, against the Heat, Bucks, Kings, Celtics, Grizzlies, Heat and Raptors come in a season when no other player has hit more than three such shots. Derrick Rose has the second-most attempts, with eight.

The best field goal percentage, on potential game-tying or game-winning field goals in the last 10 seconds of the fourth quarter or overtime, belongs to Chris Paul. He has hit three of his four shots. Chris Bosh, Chris Duhon, Tim Duncan, Raymond Felton, Rudy Gay, David Lee, Rashard Lewis and O.J. Mayo are all two of three. This season, the League as a whole makes just 26.7% of its shots in that situation.

Over the last decade, by field goal percentage the best shooters in this setting have been Carmelo Anthony (13-28, .464), Pau Gasol (9-22, .409), Tony Parker (11-29, .379), Chris Paul (9-24, .375) and Shawn Marion (10-28, .357). Bryant over the same period is 26-89 (.292).

Bryant has attempted by far the most such shots of anyone over the last decade. His 89 is trailed by Vince Carter's 69, Paul Pierce's 57, Dwyane Wade's 51 and LeBron James' 50.

Bryant's 26 makes also lead the League, followed by Carter with 20, Ray Allen with 17 and Allen Iverson's 14. Carmelo Anthony, Tim Duncan, Dirk Nowitzki and Paul Pierce have each made 13.