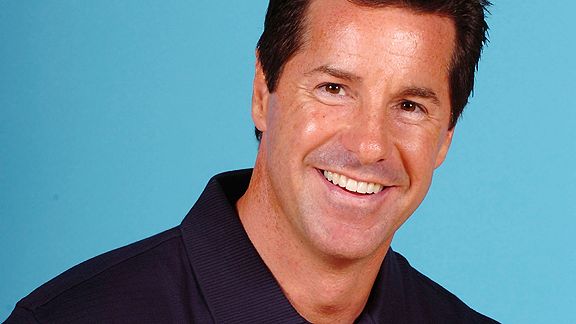 Matt Brown/NBAE/Getty Images
Neil Olshey took over the top front office job when Mike Dunleavy was fired.
There are only a handful of people with the authority to make consequential personnel decisions in the NBA. Last Tuesday, Neil Olshey joined that fraternity when Mike Dunleavy was fired, and Olshey was promoted to general manager of the Los Angeles Clippers. The Clippers' gig is a mixed bag. The team has set itself up well for 2010 free agent class and has a solid core of talent. In addition, they've built a gleaming training facility and Los Angeles is still a desirable landing spot for a pro athlete. On the downside, the Clippers are forever trying to unshackle themselves from their history of failure. The Clips have had only two winning seasons since they arrived in Los Angeles in 1984. Their volatile owner, though now willing to spend, is still an impediment to the maturation of the franchise.
By many accounts from around the league, the organization's decision to elevate Olshey won't change much of the Clippers' day-to-day managerial operation. Olshey is a known entity in front offices around the NBA, but fans in Los Angeles and elsewhere aren't very familiar with him. We reached Olshey by phone Friday night while he was crisscrossing the nation scouting conference tournaments to talk about what lies ahead for him as the newest general manager in the NBA.
The Clippers' press release stated that you "will assume the duties created by Dunleavy's departure." How do you interpret that?
To be honest with you, I really don't interpret it. I've been on the road and I didn't want any distractions this week. You know how important this week is. I'm getting to see Kentucky play three days in a row. I'm going to see 19 games in five days. Short of trying to help [Clippers interim head coach] Kim [Hughes] and do everything I can to help the team finish strong these last 16 games, the next big decision for this organization is the draft. This is one of our last opportunities to see these guys in a competitive environment prior to workouts. That's why I didn't go back to Los Angeles and why I didn't hook up with the team on the road. When I get back, I'll sit down with [Clippers' president] Andy Roeser and we'll map out what a lot of this means, but for right now it's business as usual. I was sitting in Madison Square Garden scouting a Big East game when I got the call. The next day at noon? I was back at Madison Square Garden scouting the Big East.
Also from the press release, what does "a full commitment to dedicate unlimited resources" mean?
[Clippers owner] Mr. [Donald T.] Sterling has done nothing less than give us unlimited resources. We've made every trade we wanted to make. We've signed free agents to high-dollar figures. We've drafted the players we wanted to draft. Mr. Sterling let us make moves at the deadline to open up a tremendous amount of cap room, which we intend to use. He's also willing to spend money in other areas. We have the premier practice facility in the League. Mr. Sterling has spent the money; we just haven't delivered the goods and that's going to have to change.
Have you been empowered to hire an assistant GM?
I have not even had that conversation. To be honest with you, when you look at our model, not much has really changed from this perspective: Had Mike [Dunleavy] finished up the season as coach, there really would've been no difference. I would've been on the road scouting. Gary Sacks, our director of college scouting, would have been looking at players. All the guys who are out there watching games for the organization right now are the exact same guys who would've been out there watching games prior to any of the stuff that's happened. Part of the reason the organization has the faith in me it does is because of the freedom that Mike gave me. He knew there would never be anything done behind his back and everything would eventually make it to his desk. The job was never overwhelming for him because he was allowed to think big picture and think about the future of the organization, but he allowed me to handle the day-to-day. I think the presence around the league that created -- the ability to make deals under his guidance -- is why Andy Roeser and Mr. Sterling are willing to move forward with me.
We've spoken before about numbers and analytics. I was at the MIT Sloan Conference last weekend. There were 16 teams represented -- Denver, Dallas, Houston, Portland among others -- but the Clippers weren't one of them. Will the Clippers eventually be one of those teams that invests in this approach?
There's a ton of stuff there. But before we bow to the great software program, let's remember that Denver has succeeded for a lot of reasons. They moved Allen Iverson for Chauncey Billups. That didn't have anything to do with basketball analytics. Let's not confuse that. Dean Oliver does a great job. And we have people who do this. Jason Piombetti, our scouting coordinator who comes from the Dodgers organization, does a ton of this stuff. We have our own database -- NBA, college, international, NBDL. We might not have a full-time guy sitting in a room running programs, but we use a lot of the same tools. There's a happy marriage between the two. Daryl Morey also has really good basketball people advising him as well. But I recognize that analytics isn't just a luxury, it's a necessity now. We combine all of it. We might not take it to the extreme that Daryl and [Rockets vice president of basketball operations] Sam [Hinkie] do, but we're not sitting in a room saying, "He can play and he can't." Also, the NBA's stat cube platform is as good as anything one of these stats guys can create.
But isn't there a difference between data and information? A team can have the platform, but can they interpret the data?
No question, but from a standpoint of knowing your points per possession with Rasual Butler in versus Al Thornton, or with Steve Blake on the floor -- a lot of that is used by us internally. The unrestricted free agents we brought in at the deadline to get a look at? When we evaluate them, it won't just be how they passed the eye test or the wins and losses. There will absolutely be a diagnosis using basketball analytics when we decide who we want back.
A lot has been said about the idea that very little is going to change in the Clippers' organization structure, but do you bring anything unique to the job?
There are few people in front offices around the League who have more interpersonal relationships with players than I do. There are about 100 players in the League who I have either coached, worked with individually, coached at either the Roundball Classic, the Reebok Summer Classic, or ABCD Camp for Sonny Vaccaro, coached or worked out before the draft, or came through while I was at SFX. There are also all the offseason workouts that Tim Grgurich and I did together back in the days when you could open up the gym and let guys work out. Many of the free agents in this class are guys I worked with individually or coached in some capacity in the past.
You're watching a lot of college basketball this week. Are college players coming into the pro game less refined? Back in the day, if a player lacked that kind of refinement, he was labeled a "project." Now it seems like, with a couple of exceptions, everyone is a project when they're drafted.
In some sense of the word, everyone is a project. I don't care where they got drafted, there are going to be holes in their game. Some guys aren't in the college game long enough to develop a full range of skills. If they show enough upside, all of a sudden they're in the NBA.
In the past decade, have NBA teams become more attentive to player development in order to adjust to that reality?
Probably about eight to 10 years ago, teams became more cognizant that you're drafting these players as assets and you need some help polishing them. So you'll have head coaches and assistant coaches working on the big picture game plan, you also need someone living in the gym with these guys working on their game. There are multiple examples in the League right now of guys who had holes in their game that were helped by the quote-unquote "workout" guy.
You were one of those "workout guys" and you speak with a real passion about the player development process. Is there a part of you that's a little sad that you won't have much time -- if any -- to do that kind of work?
Yeah, I think there is. From a work product standpoint, nothing is going to change. Obviously the thing that will change is visibility or accountability. But the beauty of having the facility for me is that, during the offseason, if I heard a ball bouncing, I'd go downstairs. I'd work with DeAndre [Jordan] or shag balls if Blake [Griffin] wanted to shoot free throws. I worked Marcus Camby out during the preseason process before we hired [assistant coaches] Tony Brown and John Lucas. One nice thing is that players know when they come into the organization, they don't look at me as another suit. These guys remember me. For instance, DeAndre Jordan was on my team at ABCD Camp. 99 percent of the reason we drafted him had nothing to do with what we saw at Texas A & M. It's because I watched him go head-to-head with guys like Josh Smith and Dwight Howard at ABCD camp.
What's the lousy part of the job?
The toughest part of the job is anything you have to do that hurts a kid. If you have to waive someone or let them know you don't want to re-sign them.
Kind of like that scene in Bull Durham?
Yes. "This is the toughest job a manager ever has." You bring guys in because you like them, but at some point the relationship has to be broken. Having to get rid of them or move them knowing them, knowing their families, knowing they bought homes, knowing they're a part of your life and they're not going to be any more is hard. Marcus Camby -- that was the right basketball decision for us given the circumstances, but it killed me from a personal standpoint because it fractured my relationship with Marcus a little bit. I love Marcus and respect him, so that was the hardest thing. You build up a relationship over a couple of years and then based on long-term business needs, you have to fracture that relationship.