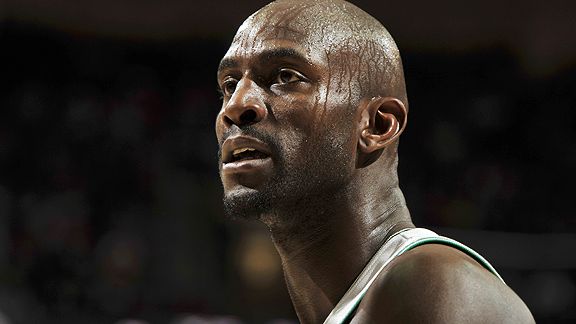 David Liam Kyle/NBAE/Getty Images
Kevin Garnett and Boston aren't looking like contenders.
Zach Lowe of CelticsHub has been wrestling with the Celtics' performance this season:
In late January, when the C's were in the middle of a 4-7 stretch, I tried to calm the panic by pointing out that several recent champions had gone through 4-7 or 5-6 down periods in the regular season.

But 18-19 over what is essentially half the regular season?

Only in very unique circumstances do you find a title team that has gone through a "stretch" like that. If you're looking for a precedent, you'll find it with only the few "mediocre" champions in league history (such as the '78 Bullets or the '75 Warriors) or those who went through strange, injury-filled regular seasons only to peak in the post season (the '94 Rockets). Could the C's qualify as such a team? Maybe.

Otherwise, title teams don't play sub-.500 ball for half the regular season. They just don't.

It may be time to ask: Should we reevaluate our expectations for this team? Will you be happy with another conference semi-final loss? Would a conference finals appearance be a wild success? I don't know the answers to those questions, but with every discouraging loss -- Boston is 2-9 now against Orlando, Cleveland and Atlanta -- it feels less and less likely that this team will pull it together during the playoffs. Which, by the way, are almost here.
Bear with me as we head on a little detour: I was walking to work this morning, and thinking about defense. It's half the game, and it's not really measured accurately. If anyone ever told me that we weren't missing much, I'd counter with: Did Kevin Garnett only bring a little bit to Boston's defense in 2007-2008? He was hardly the only change -- assistant Tom Thibodeau, for instance, played a major role -- but that Celtics team went from the NBA's 16th best defense allowing 106.9 points per 100 possessions the season before, to the absolute best in the NBA, allowing just 98.9.
Some of that was getting young players like Al Jefferson off the floor. But without Garnett, does anybody even think the Celtics would have had a top five defense?
A lot of stat geeks will tell you that, by various different kinds of analysis, Garnett has been literally the best player in the NBA over the last decade or so, and that defense is certainly a huge part of what he brings.
Championships, though, are tough to come by, even for players who perform at that level for that long. Is one title enough to reward all of Garnett's effort? If the Celtics aren't contenders, is it possible he'll get more?
In the closing of his post, Lowe then gets into the really hard questions. If this Big Three Celtics are not going to win another title, why pay through the nose to keep it together? Who's going to carry this team next time they're in the Finals? Shouldn't you pay them, instead?