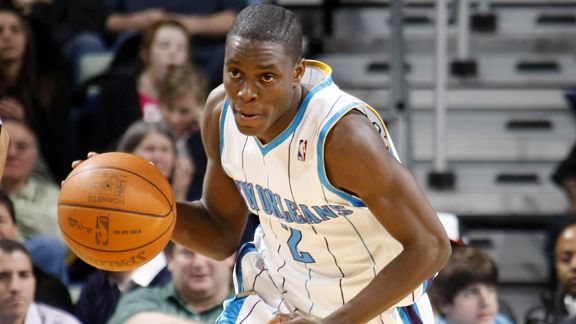 Layne Murdoch/NBAE/Getty Images
Chris Paul's teammate, rookie Darren Collison, says the contest is over.
There are several different ways to judge speed -- with or without the ball, for instance. Or over the full length of the court, or slicing through the lane.
Any way you look at it, though, there is an ever-evolving list of players who are among the NBA's fastest.
A few years ago Tony Parker, Leandro Barbosa, T.J. Ford and Allen Iverson headlined any debate about the NBA's fastest player. Barbosa and Ford are still amazingly fast, but this is one category where the stars move along quickly. Youth is a huge advantage.
Within the last couple of years, Rajon Rondo, Monta Ellis, Chris Paul and Derrick Rose have all been popular picks, but each of them has endured an injury or two, which has either taken them off the court, or at least slowed them down a hair.
With nods to Aaron Brooks, Dwyane Wade, Kevin Martin, Nate Robinson and LeBron James, any current list would have to focus on newcomers Ty Lawson and Darren Collison. And Collison says there is no debate. In the current issue of HOOP magazine, the Hornets rookie tells Josh Gordon:
I definitely think I'm the fastest player. I got a chance to watch Ty Lawson's game and he is probably up there. I'd definitely say I'm the fastest.