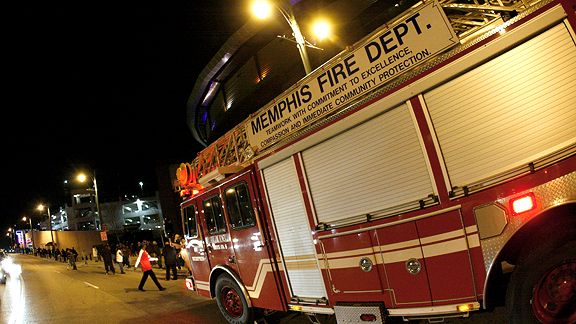 Joe Murphy/NBAE/Getty Images
The fire department showed up, and, as the story goes, extinguished the Clippers' season.
I heard it first on a local Clipper broadcast. You've probably heard it too, from former coach and GM Mike Dunleavy, current GM Neil Olshey, or any number of Clipper players, fans or employees.
It has become their favorite story of this season.
And it goes like this: The Clippers were defying expectations, at just one game below .500. Baron Davis was in shape. Blake Griffin was healing. Young players like Eric Gordon were getting it. Rasual Butler was playing D. They had won five of six, and those five were against the Celtics, Sixers, Blazers, Lakers and Heat.
The Clippers were up a dozen points, shooting 63% from the field against the Grizzlies in Memphis. Baron Davis was at the free throw line near the end of the third quarter.
They were, compared to almost any other moment in recent Clipper history, on fire, even to the point that the arena's emergency lights started going crazy, and the scoreboard told everyone to evacuate the building.
No kidding!
As it turned out, a water main had broken.
Whoops. There was a 36-minute delay as the plumbers did their work. When play resumed, nothing was the same. During those 36 minutes, somehow that magic scorer's touch transferred from Davis to Memphis big man Marc Gasol, who went crazy. The Clipper lead evaporated quickly, and they lost by two.
On the plane home, the team learned that Blake Griffin would need season-ending surgery.
The Clippers then went on to lose their next three and 31 of the next 41. Dunleavy was fired twice -- once as coach, and later as general manager. And the season has generally been revealed to have been the kind of bust sportwriters always thought it would be.
But the feeling from Clipper nation is ... if not for that pipe.
And I get it. I know that every good story has a key detail like that. They're fun to notice. I also get that it's hard to have hope as a Clipper fan, and that moment, before the pipe broke ... that was a high water mark for Clipper hope. But what's a safer bet, that the Clippers were on the road to greatness, but for bad luck ... or that the Clippers were always so-so, which would have always been clear but for some uncommonly good performance (maybe even luck) over that six-game period.
Isn't it more likely that the win streak was the fluke? The Grizzlies won the flood game because no Clipper could stop Marc Gasol. There have been similar good reasons (ranging from the intermittment commitment of Baron Davis to the trading of Marcus Camby) for just about every loss since.
The Clipper season may have, in retrospect, soured at that moment. But you'll never convince me the team's season went to hell because of that plumbing issue. You know how I know this? Because every team that has ever done anything that mattered has dealt with challenges far greater than 36-minute delays. In the unlikely event that the win streak wasn't a fluke, and that 36-minute pause really did stop the players from performing their best ... well, it was never going to be a good season for the Clippers anyway.