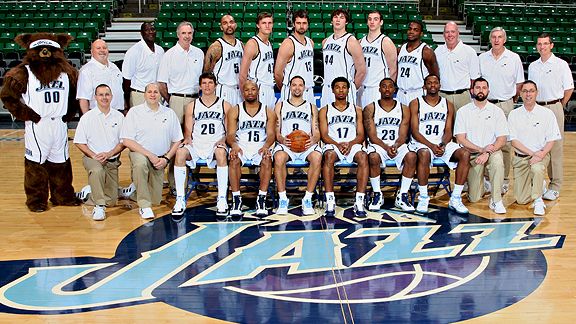 Melissa Majchrzak/NBAE/Getty Images
"Almost anything we did with our money," says Greg Miller "would get a better return on investment."
The second in a series based on conversation with Greg Miller, CEO of the Larry H. Miller Group of Companies that owns the Utah Jazz.
If you ask most NBA fans to name their dream job, they'll probably say something like "to be like Mike."
But if you ask the 2010 version of Michael Jordan himself, the answer -- at least in terms of how he has voted with his dollars -- is clearly that he'd most like to be an NBA owner (which he now is in Charlotte).
But is Michael Jordan's dream job a good gig?
It's tough to get straight answers from owners, who, understandably, aren't crazy about opening their books.
The common thinking is that outside of the NBA's biggest markets, owners may well have to dip into their own pockets now and again, but by the time they sell the team they will have made a killing. Not to mention, a lot of the payoff of owning an NBA team is non-financial:
For those passionate about hoops, it's a chance to interact daily with legends of the game -- both the players on your team, and the people who run front offices and the like. (To 29 majority owners, it's a chance to rub elbows with Michael Jordan as a peer, which is about as much as anyone gets to "be like Mike.")

Owning a team also does amazing things for an owner's profile in the business world. There is hardly any investment more showy than a sports team. That reality drives media mentions and radically alters an owner's public profile. Mikhail Prokhorov, for instance, has long been seen as one of the handful of Russian billionaires with ties to the Kremlin. He recently said that part of the reason to buy the Nets is so that people around the business world will come to know him as the guy who owns the Nets -- which is a great way to be known in a lot of circles.

It's also just a really exciting business. Think about it! I don't care what kind of business you run. If your team wins a Game 7 with a buzzer beater, that's about as exciting as work can be in this world.
I ask Greg Miller, CEO of the Larry H. Miller Group of Companies why his family owns the Jazz. Is it because they are so passionate about basketball, or because it's a good long-term investment? Maybe a little of both?
His answer: "Neither."
The Jazz, you see, are a different kind of NBA team, with a different business approach.
Miller explains that when his father bought into the Jazz in 1979 it was "almost entirely altruistic." If the Jazz couldn't find an owner determined to keep the team local, Miller believed the city that had been so good to him and his business -- Salt Lake City -- would never get another NBA team. He wanted to save the city from that loss. "He decided to take the risk," says the younger Miller, "as a gift to the community."
Immediately upon taking over, Miller went about applying some of the principles that were successful in his other businesses. That included doing just about everything possible to make the business self-supporting, which is an ongoing challenge. But it's still not like the Millers invested in the Jazz to make a buck. Not even close. "It's really a community asset," Greg Miller explains, "that our family is charged with running."
It's hard for sports fans, who live and die with every win and loss, to sympathize with the idea of the people who make the decisions having priorities that come before basketball. Miller attends nearly every home game, and establishes his hoops bona fides with tales of sitting in the nosebleed seats of Denver's McNichols arena when he was a child. But to Miller and the Jazz, the team's on-court success is one of many priorities, and as an investment or income source it underperforms compared to almost everything else the Miller family does.
Tough though that may be to hear, it may also be smart. Spending without limit to win was the Knicks' undoing, and the Jazz have been one of the NBA's winningest franchises, while more or less keeping an even keel on the business side. They are poised to make serious noise again in this year's playoffs.
"Some years we make money," says Miller of the Jazz, "and some years we lose money. ... We're in a fairly small market. We don't have the luxury of paying whatever we wish. Every nickel counts. We have a strong season ticket base, and very strong relationships with our corporate sponsors. We have no fat in the organization. We're very lean, and very efficient. But we have to work with the resources that are available to us. We can not deficit spend. We can not put our other businesses in jeopardy. We have an obligation to those employees. There's nothing I'd like more than an NBA championship. Everybody would love nothing more than to see the Jazz succeed, but we don't want it bad enough to put those employees at risk."
Miller doesn't even sign up for the idea that NBA owners reap massive profits when they sell. He's aware that the team would sell for a lot more today than what his dad bought it for, but that's no proof team ownership is a good investment. "Almost anything we did with our money," he says "would get a better return on investment." Miller also points out that to realize any of that value, they'd have to sell the team, which he doesn't see happening -- he hopes to pass the Jazz down to the next generation of Millers one day.
Owning the Jazz does benefit the other companies in the family portfolio, however. "It open doors to us," explains Miller. "Being the owners of the Jazz gives us access to decision-makers. I'm confident that if we weren't involved with the Jazz, some of those wheels would turn much slower."
The other day, I spent 12 minutes watching the video that greets new employees when they begin work at the Larry H. Miller group of companies. It's unremarkable as a corporate video -- some suits, some strategic thinking, some rallying of the troops. But about five minutes in I suddenly realized: Holy cow! They haven't even mentioned the Jazz yet!
Think about that. The mission is to get Larry H. Miller employees fired up. They talk about the merits of the free market economy. They talk about a family vacation at Lake Powell in April 1979. They talk about why they support "the local high school football team." Only after several minutes do they mention the massive professional sports enterprise they own to the delight of millions.
There might be other businesses in this world that use the Jazz to motivate employees more than this company does.
It's a funny thing for an owner to be in the position of moderating fan passion. Most stoke it. I have seen Wyc Grousbeck showing pulse-pounding Kevin Garnett highlights set to loud music. We have all seen the countless ways Mark Cuban has come to fire up people about the Dallas Mavericks (he sits by their bench, he trains in their locker room, he screams at their referees).
Greg Miller, on the other hand, told me a story about when he was young. His dad invited him to attend a Jazz game, before the family had any thought of buying the team. Greg wanted to hang out with his friends instead, and declined. His dad explained that the seats were in the second row, and they might never get to sit that close again. Only then did Greg agree to go.
It wasn't even the point of the story, but afterwards it struck me: The guy who runs the Jazz has a story about turning down a free ticket to a Jazz game. That's probably smart and right and healthy once in a while. Even die-hards should have other important things on their calendars. But a lot of people would kill for that ticket!
The Jazz have proven that, with solid level-headed long-term decisions, an NBA team can perform at a high-level with ownership that makes the team conform to bigger business strategies. But can Jazz fans understand the idea of an owner who has priorities bigger than basketball? We'll dig into that topic more in the third and final post of the series.