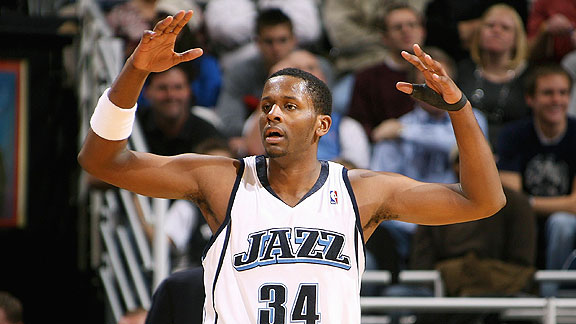 Melissa Majchrzak/NBAE/Getty Images
Care to trade places with this guy for the next week or so?
DENVER -- Saturday night should've been a coming out party for Jazz forward C.J. Miles. The former second-round pick, who was drafted straight out of high school, has had a tumultuous five-year journey to the Jazz's starting lineup in this series. During that stint, Miles has spent time in Jerry Sloan's doghouse (kennel?), been shuttled back and forth from the D-League to the big club and fought mightily for playing time.
The first half of the seesaw Game 1 affair between Denver and Utah was the culmination of Miles' long path. The lanky southpaw matched Carmelo Anthony shot for shot. Miles attacked Denver off the dribble, and got to the stripe five times in the game's first five minutes. He followed that series with a smooth 3-point bomb in transition. Miles tallied 13 points in the first quarter, and 17 for the half -- two more than Anthony.
Miles was smoking hot, but about a minute into the second half, he collided with Chauncey Billups and left the game with a woozy case of nausea. At that point, Wes Matthews took over the assignment of guarding Anthony. Matthews' trip to this moment was every bit as improbable as Miles'. Ten months ago, Matthews, undrafted in 2009, was toiling in Summer League, trying to claw his way on Utah's roster. He succeeded. With the departure of 2-guard Ronnie Brewer to Memphis at the trade deadline, Matthews inherited Brewer's starting slot in the Jazz lineup and played a key role in the Jazz's torrid March.
Anthony, however, finished Game 1 with 42 points, most of them at the expense of Miles and Matthews. When a scorer as lethal as Anthony goes off to the extent he did, it's unfair to lay the entire blame on his defenders. But with Mehmet Okur now done for the series with a torn left Achilles tendon, the Jazz simply can't afford to give up points at the rate they did in Game 1 and have a chance to take the series. It will now be up to Miles and Matthews to check Anthony. They don't have to shut him down -- there is only so much mere mortals can do to combat certain forces of nature -- but the young tandem must make some adjustments.
Anthony will inevitably bury a few contested 18-footers from the right side of the floor, but he was able to post-up then face up on the right block far too easily on Saturday. When Anthony got an early pick-and-roll from Nene, the Jazz defenders were helpless to fight over or around the screen. And when Anthony was roaming off the ball, Miles and Matthews were far too passive.
In Jerry Sloan's perfect universe, veteran defensive ace Matt Harpring would be the man charged with challenging Anthony -- and Sloan said as much prior to Game 1 (Andrei Kirilenko -- out with a strained calf -- would be choice No. 2). Harpring is a perimeter scorer's worst nightmare, but chronic knee and ankle injuries have forced the veteran into semi-retirement.
When you see Harpring at practice playing the role of onlooker, you can't help but wonder how things might have played out differently had he been on the Pepsi Center floor Saturday night. "When you guard a player like Carmelo who has size and strength that he's got, you have to get him outside of his game," Harpring says. "When he crosses the 3-point line, you start bodying him up right away."
Harpring's point is dead on.
Take a possession in the third quarter, with the game tied 73-73. Billups works up top before he swings the ball left to Arron Afflalo on the left side. Where's Anthony? He's lurking on the weak side along the 3-point line. As Anthony begins to cut toward the paint, Matthews is a good 10 feet off him. Afflalo returns the ball to Billups as Anthony darts to the stripe unimpeded. Billups feeds him at a spot inside the foul line (Anthony still hasn't been touched by a Jazz defender).
A single dribble, then a lay-in. That's all it takes.
"Off the ball, my goal is to constantly touch him, constantly put my body on him, wear him down throughout the game," Harpring says. "As a bonus, you get him frustrated, or talking to the refs, or worrying about you rather than worrying about his game. [Saturday] night, he was just in rhythm all game. There was no disruption to his rhythm -- open jump shots -- it was just too easy for him."
Miles acknowledges the ease with which Anthony was burying jumpers and smiling on the return trip down the court, although Miles still concedes that Anthony was going to get his, irrespective of the defense.
"We're definitely going to make some adjustments, but he's going to score," Miles says. "He's too good and will get too many looks at the basket not to score. We just want to limit some of the easy baskets."
Doing that means denying Anthony ownership of the floor, something he took for granted in Game 1. He set up wherever he wanted to, whenever he wanted to.
"We can't just let him walk to the spots he wants to be in and spots he's comfortable in," Miles says. "We need to take away some of those easy 14- and 15-foot jump shots. He made shots everywhere [Saturday] night, but we have to try to make it harder on him."
Are Miles and Matthews too youthful, too green and too nice? When asked what he saw in Anthony's eyes on Saturday night, Nuggets acting head coach Adrian Dantley chuckles.
"He probably didn't see Kirilenko, that helps," Dantley says. "When you have a rookie on you, a guy like Matthews ... it's difficult, his first game ... and CJ Miles, that makes [Anthony's] job easier."
Dantley is no Phil Jackson. His intention isn't to get inside the heads of Miles or Matthews, but his honest assessment of the matchup can't be dismissed. Dantley is essentially saying that neither Miles nor Matthews fully grasp the craft of defending a beast like Anthony, and that cuts Anthony a break. Dantley adds the same disclaimer that Miles expresses.
"But the bottom line was that Melo was hitting the shots," Dantley says.
Harpring doesn't deny that Anthony will fill up the box score, but he also maintains that disrupting a guy like Anthony requires more vigilantism than most young players realize.
"When a guy gets going like that, you got to make a hard foul, you've got to do something to get him out of his rhythm," Harpring says. "If you want Carmelo smiling in the fourth quarter after he makes a couple of shots, then that's on you. That's a pride thing, when you're guarding someone. If it's me, I'm fouling out before that happens. You don't go out without fighthing."
Matthews has been watching film of Anthony's exploits in Game 1. While examining the way he played Anthony, he noticed something about his performance that he plans to take into Game 2 on Monday night.
"When you think you're playing physically, you're not as much as you could be," Matthews says.
For the Jazz to get out of Denver with a win, they must ratchet up their instincts. And though nobody will say it aloud, they might even have to play Anthony a little -- gasp -- dirty.