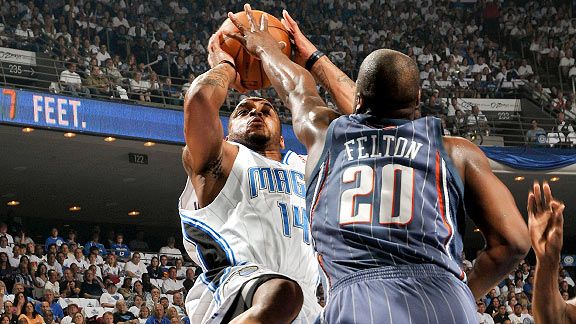 Fernando Medina/NBAE/Getty Images
Although the Magic beat the Bobcats by nine, they easily could have lost.
Some very smart people are picking the Orlando Magic to win this year's NBA title. Stan Van Gundy's team has a great offense and a better defense, and they don't just beat up on weaklings -- they also happen to match up well with all of the NBA's top teams. Yet, in the first game of their campaign to return to the Finals, the Magic could have easily lost to the 44-win Charlotte Bobcats, who wouldn't have even made the playoffs in the Western Conference.
Hypotheticals matter not at all, and are best avoided. But they're irresistable in analyzing crunch time of this particular game. With 33.1 seconds left, the Magic led by five. From that point, the Bobcats were forced to foul repeatedly. Thanks to impeccable Orlando free throw shooting, they coasted to a nine-point win.
But the lead that forced the Bobcats to have to foul was based on three plays that could have easily gone the other way:
With 1:12 left, the Bobcats' Raymond Felton hit a 2-pointer that was millimeters from being a 3.

Immediately after that, the Magic's Mickael Pietrus, apparently hoping to draw a foul, took one of the most contorted 3s in NBA history. Coaches everywhere cringed just to see Pietrus release that shot, which featured his lower body headed for the locker room while his upper body sprawled for the scoreboard. Somehow, the ball splashed neatly in the net.

With 33.1 seconds left, Bobcat Gerald Wallace initiated an aerial assault on the Magic's Dwight Howard, who's a shoo-in to be the NBA's repeat Defensive Player of the Year. When airborne shooters and defenders meet in the air. Say what you will -- the contact tends to favor offensive players in the eyes of referees. Howard's body went straight up and down, but the key contact was arm-to-arm -- and it certainly seemed Howard's arm was inclined forward, into Wallace's, which is not allowed. Wallace made the basket, somehow, but didn't get the "and one" free throw.
Say Felton wore smaller shoes, and Pietrus had not said his prayers -- that mythical free throw could have tied things.
Was the Magic's win illegitamite? Not in the slightest. Does the fact that the game easily could have been much closer matter? Not in any profound way ... unless you're Larry Brown, determined to fire up the Bobcats for Game 2. It'll be a cinch for him to build the case that the Bobcats can play the Orlando Magic well, and with a lucky break here or there they could shock the world.